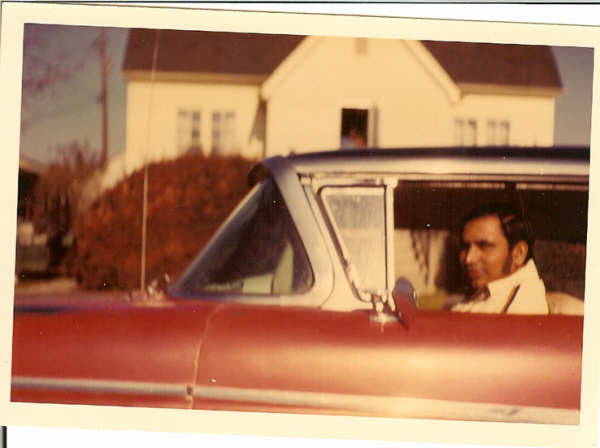 March 19th, 2014 – It's been 6 years since you passed away. A lot has changed since 2008. You have 3 grand children now: Zunaira, Mustafa and Inaya. They are all healthy and happy, Alhamdulillah. Mustafa has some of your personality – very friendly and likes talking to people, unlike me, which is good, Mash'Allah. Your daughter Sana also got married last year, but I think you know that already. Imam Tahir did the Nikkah and made a nice dua for you.
You would also be happy to know that Sameer, Sana and I paid off your pledge to the Evergreen Mosque project. Although the masjid is not yet completed, it has progressed a lot since I was last working on it in 2009. It's in better hands now. Your old friend, Abdul Quddus Jaka is really pushing hard to get it completed. Insha'Allah it will be done soon and you will also get some of the Sadaqa Jariyah (Continuous Charity) for donating to it. Ameen. Unfortunately, the new masjid will not be part of SBIA, since they have created their own organization in Evergreen now. I didn't want this to happen, because of all the time, effort and money that everyone had put into trying to get this brand new masjid designed and built from the ground-up for SBIA, but alas, we cannot have everything we want. I will still consider it as a part of SBIA anyways.
On the bright side, you will be happy to know that SBIA recently purchased a new larger facility – very close to where you use to live in North San Jose. Its two stories and 70,000 s.f. And, yes, I'm helping them design the future layout, Insha'Allah. That's what you wanted me to do Architecture for, remember? You said that Muslims in America will need Architects in the near future. You told me this when I was about to start high school in 1988. Yes you were right, although Architecture is a tough business, I'm still trying to do it. I'm also still working on some projects with that long haired hippie Muslim Architect from Berkeley, Iqbal Serang, who you introduced to me back in the 90's. He's still a long haired hippie. Some people don't change I guess. But he is a good guy. We also worked on the AML (Fiji Masjid on A street) project together. We were able to help them out when they were in a bind with the city of Hayward. The President, Amjad Khan said you were good friends with him and you guys organized Milad programs there in Hayward. I didn't know that.
Recently I met another old friend of yours for the first time, Abdul Hamid Bath, who use to be the President of the Yuba City mosque. He came down to San Jose for a documentary ("An American Mosque") film screening we had at SBIA's new larger center about the Arson attack of the Yuba City mosque in 1994. He told me that you were his good friend and you use to come up to Yuba City often for Milads and other functions. I never even knew that. He also still had your number in his cell phone.
Oh yeah, SBIA also tried to get rid of moon sighting for determining the Islamic months and go with a calculated calendar instead! Can you believe that? Myself and Ayub Patel started an online petition to try and stop that from happening, because the board was trying to sneak it through. Some people said I was creating "Fitna" in the community because of this petition. Perhaps they were partially right, but Alhamdulillah (All Thanks to God) we were able to start a conversation between the masjid board and the community and we got a compromise of "Global Moon sighting" instead of "Local Moon sighting." Not exactly what we wanted, but I guess it's better than nothing. I hope you are happy about that, since I know that moon sighting was very important to you and you always tried to keep this Sunnah of the Prophet Muhammad (S) alive even in this day and age of "modern" technology.
Many people I run into always have good things to say about you and they tell me how you were one of the few people they could turn to for help. Like Sr. Ameena Jandali with ING, Sr. Habibe Husain with Rahima foundation, Raana Faiz with Hamrahi Radio and Sr. Samina Sundas with AMV. I recently saw Dr. Agha Saeed, who although is having some physical problems, is still mentally sharp and is trying to revive the AMA (American Muslim Alliance). He wants me to help him. I will try, because he was your friend, and I know you would have wanted me to. I'm also helping Mertze Dahlin with a project at his house. Although he is 80 years old now, he is still the same Mertze. Always doing whatever he wants to do, Mash'Allah! I met Adnan Qadeer in Berkeley a few times as well. He always has good things to say about you. Anyways, a lot of people tell me they make dua for you like Moulana Anwar who recently came to my house (which was your first house) and made a special dua (supplication) for you there last year. Usama Canon told me that you were one of his inspirations in starting the Ta'leef Collective. That was nice of him to say. Feraidoon Mojadedi is still doing the Grand Mawlid (Celebration of the Prophet's Birthday) event. It has gotten very big now, Mash'Allah. He always gives you credit for the idea and has everyone in the audience (over 1,000 people) make dua for you every year, for the past 7 years!
There are many other people and many other events where people talk about you and remember you in a positive way. From Shaykh Humza Yusuf who said a few good words about your support of Zaytuna in its early days (it's a college now), to Idris Bayan who told me that you went and got pizza for him when they ran out of food at the mosque during an event. He regularly visits your grave at the Chapel of Chimes cemetery in Hayward (I'm sure you have seen him there). You have touched the lives of so many people in a positive way. Even Kasim our mechanic told me you appeared in one of his dreams. A few other people have told me the same thing. Recently I also saw you in one of my dreams, which hasn't happened for a few years. You were driving in a convertible car and eating ice cream. I'm no expert on dreams, but I'm pretty sure that means you're spirit is in a happy place, Insha'Allah (God Willing).
I know you already have seen and heard all these things, but I wanted to write it down, so my son can learn a little about his grandfather in the future, Insha'Allah. Naushaba and I named our son Mustafa Sattar Rydhan to honor you, but also so then when people hear our son's full name, they will also remember all the great things that you did for the American Muslim community of the SF Bay Area and maybe they will tell him their fond memories and stories about you, just like they always tell me.
May Allah (God) accept all your good deeds and grant you Janaat-ul-Firdos (the highest level of Paradise).
Ameen.