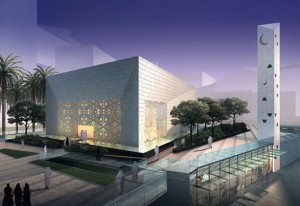 Recently, The Islamic Monthly Magazine had a contest for people to describe what a Mosque, 50 years in the Future (in North America) would be like. I submitted a piece called "The Silicon Valley Mosque" which was one of the winning entries, although the judges thought my description was more for a mosque 20 years in the future, rather than 50. I don't have any spaceships or flying cars in my piece, so I guess they are right!:) Anyways, here is a portion of my piece. You can read my full article on the Islamic Monthly website (link is below). Enjoy:
It's the year 2064. The United States of America, as well as the rest of the world is a very different place. Whites are now in the minority and Spanish is the second official language of the US after English. Islam has overtaken Christianity as the most followed religion in the world. That brings us to the Mosques of today. No longer are they just a place for daily prayers, Jummah (Friday) congregational prayers and Ramadan iftaars as they were in the past. Today the mosque is much more a part of the overall community, just as the Church was in the past, used for public gatherings, voting in elections, emergency shelters and town hall meetings. And here in Silicon Valley – the hub of technology and innovation, the Mosque is also considered a "high-tech" facility.
The Silicon Valley mosque (SVM) has a large multi-media room with theater-style seating where documentaries and other films are screened, but also popular sporting events such as the World Cup Soccer matches, International Cricket Tournaments as well as the Super Bowl – which now includes international "American football" teams in Toronto, London, UAE and Afghanistan.
Of course the SVM will also be a Wi-Fi hot spot with its own "Sattar Buksh" café inside. It will be open to the general public and will be used by students as well as professionals alike. The revenue from the café as well as the high-end 5 star Halal Restaurant next door will help to fund the mosque operations. In today's world there are very few people who actually work in offices with cubes anymore. Everything is done remotely pretty much. Except prayers, which although are streamed online through the mosque's built-in video recording system operated automatically by computer (but still monitored by humans), which still need to be performed in person and in congregation at the mosque.
There is no separate room or "back entrance" for Women. There is only one large prayer space which both men and women can use, although the men pray in the front area and the women pray behind them in keeping with the tradition of the Prophet Muhammad (S), who also did not have any walls separating the men and women at his mosque in Medina in the 7th Century.
The Board of Directors of the SVM is made up of Men, Women, Youth, Seniors and not only American Muslims, but also Muslims from different sects such as Shia, Sunni, Sufi, Salafi as well as people of other faith and no faith as well – so that everyone can give their input on the Mosque activities and programs which the whole community can use. There is also a representative of the LGBT community, because in today's world, especially in Silicon Valley, everyone is treated respectfully and with dignity even if we may not agree with them. Whenever the SVM holds an event it is always open to the general public and in fact the board of directors makes sure to invite their neighbors and people's of other faith as well. Everyone is always welcome to attend any program at the SVM and are just required to take off their shoes and wear modest clothing when entering the actual prayer area.
NOTE: You can read the rest of my piece on the Islamic Monthly website here.
Also, if you will be at ISNA Detroit, please join our panel discussion on "How to Avoid Common Mistakes on Mosque Projects" on Saturday August 30th, 2014 from 11:30am to 12:45pm at Session 6J in Room 413AB at the Cobo Center in Detroit, Michgian. I will be moderating a panel discussion with experienced American Muslim Architects Christopher McCoy (Kentucky), Fakhruddin Sabir (Texas) and Maryam Eskandari (via Skype from Boston).
You can Check out our Facebook Event Page here.