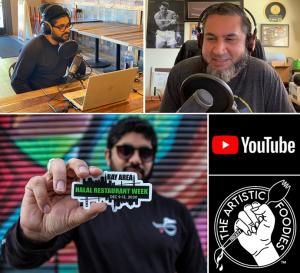 My friend Abbas Mohammed and I started a new podcast last year called The Artistic Foodies, which is about life through the lenses of ART and (Halal) Food!
Our first episode is about the success of the first-ever #HalalRestaurantWeek in North America which was organized by HalalFest, Inc. here in the SF Bay Area in Dec. 2020.  We interviewed some Chefs, Halal Restaurant Owners as well Foodies who participated in the event.
At the end of the interviews we give some tips and advice to Halal Restaurant Owners on how to market and promote their business and respond to negative reviews online.  We also give advice to Halal Foodies on how to properly give constructive feedback to a Halal Restaurant without hurting the small business.
You can listen to our podcast on Spotify, Anchor.FM, YouTube and of course our website: www.TheArtisticFoodies.com. The YouTube link for Episode 1 is below (Please also subscribe to our YouTube channel):