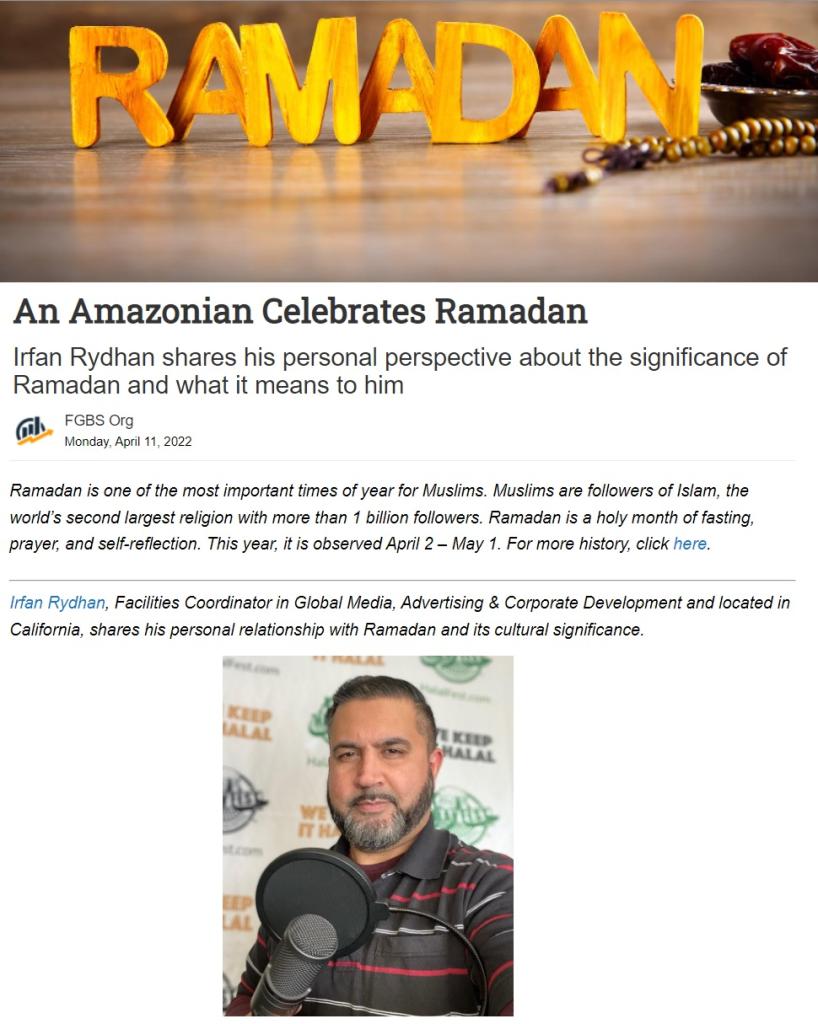 NOTE: I originally wrote this for my org (FGBS) newsletter. Some items have been edited, as the original links were only visible to internal employees within the FGBS org at Amazon.  Below is an updated version which includes public links to my YouTube channels. Feel free to comment on my blog below. Thanks
About Ramadan
Ramadan is the ninth month in the Islamic Calendar, which follows the Lunar cycle. Many Muslims, including my family, still follow the traditional method of marking the beginning and end of the Islamic month based on when the new crescent moon (Hilal in Arabic) is visibile to the naked eye. Others use scientific calucations and astronomical data.
During Ramadan, observers fast daily from dawn to dusk. We refrain from food, drink (including water), and other worldly pleasures. Right before sunrise, many Muslims wake early for suhoor (Arabic for pre-dawn meal) before their day-long fast.
Children, those nursing young children, or people who are ill and/or have medical conditions are exempted from fasting.
Abstaining from daily food and drink – albeit for a short amount of time – provides a glimpse of what it's like to be hungry and thirsty. This makes us more sympathetic to people in need and, hopefully, inspires more empathy toward our fellow humans.
Ramadan is also a period of purification, increased prayer and self-reflection, self-discpline, and giving to charity. One avoids bad habits in the effort to be a better person – more patient, kind, and empathetic.
Celebrations & Traditions
Ramadan is observed and celebrated in different ways around the world. For example, in Pakistan (where my late father emigrated from) shops and restaurants are usually closed during the day. However, once the day's fast is over, everything lights up at night and the streets are bustling with people enjoying special Ramadan street foods and desserts.
In the U.S., where I was born, Ramadan celebrations include many of the same traditions from around the world. For example, we meet with family and friends to break the day's fast (iftar in Arabic). We gather for dinner featuring special cultural dishes, which are typically only made during Ramadan. This often includes dates (my favorite are California Medjool), samosas (a fried dumpling stuffed with veggies or meat), and the popular Rooh-Afza drink (a sugary red syrup mixed with ice-cold water or milk and topped with crushed pistachios). For recipes on how to make these popular Ramadan favorites at home, click here.
Food is likewise central to Eid-ul-Fitr (Arabic for Festival of Breaking the Fast), which signals the end of Ramadan (May 1-2 this year).
Personally, I use the month of Ramadan to focus more on the spiritual teachings of Islam. I do a "Digital Detox" by spending less time online and watching TV. Instead, I listen to the recitation of the Qur'an (Islam's religious text).
In terms of traditional greetings, you can say Ramadan Mubarak (Ramadan Blessings) or Ramadan Kareem (Generous Ramadan). For Eid, it is traditionally Eid Mubarak (Holiday Blessings).
For more about celebrating Eid-ul-Fitr and Ramadan, Irfan and other Amazonians share their personal stories via video.
Ramadan in the Workplace
As Covid-19 restrictions lift and many offices reopen, there will hopefully be a return to having more opportunities to learn about and celebrate Ramadan in the workplace.
For example, a daily iftar and suhoor are being offered in an Amazon Prayer Room at a Fulfillment Center in California, and the Latinos@ is planning an Eid event this year.
Not all Muslims fast during Ramadan. For those who do, the majority continue working. It is helpful when colleagues understand this means Muslim Amazonians may not join coffee breaks or team lunches during Ramadan.
Additionally, it is appreciated when managers are flexible regarding work schedules. During fasting, some people prefer starting work later in the day when they have more energy. Others leave early to prepare for iftar (breaking the daily fast). Many will take the day off to celebrate Eid-ul-Fitr.
Those observing Ramadan also devote more time to prayer. Muslims typically pray five times daily and a midday prayer is common (12:30 pm – 1:30 pm). Therefore, it is helpful when managers and colleagues collaborate with those observing Ramadan to choose the best meeting times. Some Amazonians even block out daily prayer times on their calendars to avoid scheduling conflicts.
Thank you for sharing, Irfan! We wish everyone who celebrates "Ramadan Kareem (Generous Ramadan)!
Want to know more?  Interfaith at Amazon hosted "Ask me about…" Ramadan Q&A event on April 21. Participants included Irfan Rydhan. Together, with various faith/non-faith backgrounds, Interfaith seeks to recognize and celebrate Amazonians from across the globe who observe the month of Ramadan. To watch the recording of their Live Panel Discussion about Ramadan, click here