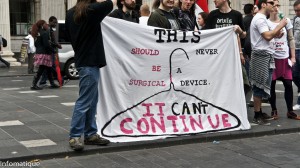 With Scalia dead, The Supreme Court of the United States is deadlocked 4:4 holding the fate of women in their hands. It's Whole Woman's Health v. Hellerstedt, and it's ugly. Texas has 10 abortion clinics as of last June.
Despite that abortion is legal in the United States since 1973 curtesy of Roe vs Wade, this coming ruling due by end of summer could effect women nation wide. It's time to call upon the Goddess.
The access to abortion has been restricted in some capacity in over 30 states. Despite the United Nations specifically declaring access to abortion a human right or despite the right to self determination, there seems to be a larger right, the right of seemingly white men and faith-based groups to legislate women's bodies in a quest to "take back America" and restore "in g*d we trust." But is this really about holy?
In a televised speech on June 7th, presumptive democratic nominee for president, Hillary Clinton said, " When he (Trump) says, 'Let's make America great again,' that is code for, 'Let's take America backwards.' Back to a time when opportunity and dignity were reserved for some, not all…"
I wonder with Secretary Clinton, the same thing? Is this the time to return to kitchen table abortions and coat hangers? Where women meet in secret alleys with strange men claiming to be doctors who may or may not be? Or when cocktails of drugs might induce spontaneous menses abortions? That sounds like taking people back alright. Where else are we going back to? Chattel slavery? Time to call upon the Goddess.
Listen, in this column its my opinion, the free and unlimited access to abortion is every woman's right unmitigated and at all times, without any restriction. Period. Not all writers at Patheos Pagan, or pagans, heathens or other wise will agree with that. That's ok. There is no litmus test for belief entry in our community, just the space to be in community.

The call to Goddess right now however is unbinding the restriction of womanhood in the name of protecting innocence. Autonomy of a woman's own body should be enough to end this conversation. But it's the same old patriarchy, power, and abuse. The use of religiosity to define "life" as being indwelling of fetuses outside the uterus, the use of guilt, deception, fear, and coercion to force and manipulate woman's right to self determination.
Interestingly, I have always felt that the real issue has less to do with unborn babies and more to do with women's choice to deny what men have decided they should do.
1: Women must be dutiful
2: Women must be obedient
3: Women must bear child
4: Women must be a mother.
That's really the issue. When a women says no to dutiful, she is a bitch. When a woman say no do obedient she is defiant. When she refuses to 'lay with man and bear a child she must be a dyke, or something is 'wrong' with her. If she declines to give birth, is she has an abortion; she is a murderess. The list of pejoratives is endless. It is time to call upon the Goddess.
The right to self determination is the sacred rite to decline the role of mother, and Christians especially don't know how to deal with that. This is because their scared text is painted in "women shall be mothers" along side subservience. Hence the 'destruction' of self determined Lilith, and creation of Eve. Except, Eve wanted more for herself and ate from the Tree of Wisdom. She wanted the Wisdom to Know and the apple was damn good. Women will always create a way, and abortion will aways be here. Patriarchy can try to cover the Goddess and in turn attempt to prevent her mysteries, but it fail. Job failed g*d in the bible, and the Queen of Heaven is still here.
Abortion isn't aways some extreme case of rape or pillage, or needs to be painted as shame. It isn't shameful. Sometimes, it's simply "oops" and that's ok! Ultimately it's Goddess ebbing and flowing in a woman's body and determining when and how to be the agent of personhood and sovereign state.
Yet that said, we are in Tower Times and the assault of women's access to reproductive health is part of the erasure of women's rights. It is our duty as feminist and agents of the Goddess to covenant and call upon our sisters and allies to appeal the Supreme Court of the United States. On the precipice of possibly the first woman President of the United States, and shattering of the cracks in the glass ceiling, we can't head backward.
Now Is The Holy Moment. Here is what you can do!
Resources: