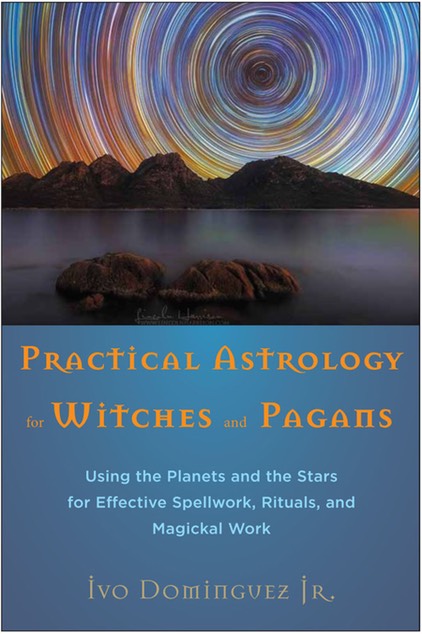 How many of you, like me have stood in front of your local book seller's inventory of astrology books with a bit of bewilderment? So many astrological dictionaries, annual sun sign forecasts, and lets not forget the relationship manuals? Each of these books a piece in a long sought after mystery, but how does one actually learn that mystery? In this day in age, many of us go online, can download a report, or have an app on our phone. Yet what does it mean, really? These planets, signs, houses, and aspects?
Here is where Ivo Dominguez, Jr. and his masterful work, Practical Astrology For Witches and Pagans: Using the Planets and the Stars for Effective Spellwork, Rituals, and Magickal Work, comes in. This work stands alone and in many ways, I feel will provide or the western magickal communities' astrological needs what Ellen Cannon Reed did with her seminal The Witches Qabala.
Dominguez, Jr. has done the extraordinary, in that he has literally taken the cosmic universe in all its splendor, and turned it into something we can hold in our hands (both literally and figuratively.) He has the distinction of being a teacher who can shape ideas in subtle ways that allow the student and reader to sequentially learn without being overly didactic and consumed by content. We see this in skill in his previous titles Casting Sacred Space and Spirit Speak, and Practical Astrology is no exception.
Like much of Dominguez, Jr.'s writing, there is a base line expectation that the reader is approaching the text with a foundation in magick. While he doesn't specify what that foundation is, (that is the skill of a master teacher), he is writing to an audience with some fluency in the practice of visualization, quantitive learning, and exploring magical systems. While Ivo introduces the signs, houses and aspects clearly, the writers voice is one of teacher to familiar student; a book for magic workers. Keeping that in mind, right away there is invitation to simple ritual and non-dogmatic practice. A practice that immediately invites the use glyphs to represent god forms, deities, peoples, and meditations. There is an even mixture of "why" and "how" dispersed with guided imagery that funnels everything into the perspective that Ivo is painting for you. While the tapestry that Dominguez, Jr. paints is rich, and at times seemingly complex the application is precise and easy to navigate.
Two things stand out most in this book. Firstly, is how Ivo opens by nuancing the Veda, and in the truest expression of honoring where we have been as a culture, he invites a new vision with a visualization of a celestial temple of a stained glass ceiling of twelve panels. These panels are the signs, where in beyond the planets illumine projecting shifting images onto the floor. The symbolism reveals this magnificent representation of the twelve houses has they would be in a persons chart. The visualization takes the infinity of astrology and transforms it into a simplicity that is breathtaking. This visual is the anchor of the book, and provides the tapestry from where we return.
Secondly, as a long time student and teacher of hermeticism and kabbalah, it comes as no surprise that Dominguez, Jr. juxtaposes Western Occultism, the Tree of Life, and astrology in this book. This is really what makes this work to me paramount. Comparatively the two layer seamlessly, and anyone working with the kabbalah now has this tool to incorporate astrological elements. Astrology involves a bit of math, as does the kabbalah, and both as a quantitative systems can seem daunting.  For the first time, I found both kabbalah and astrology accessible. I discovered an understanding of the magic square and the more I gave myself permission to work the lessons, from simple to complex, the more questions I had and the more things began to unfold.
The book concludes with everything you would expect from a master teacher like Dominguez, Jr. and a publishing company like Wieser Books; complete appendixes, correspondences, and graphs and charts. All that is missing is Ivo himself. And with Dominguez, Jr.'s extensive national teaching schedule, he's easy to find.
Practical Astrology for Witches and Pagans is the type of book you will return to, and return to often. It's not just a read once then sit on the shelf. It's the book that warrants a return. The kind of book that begs to be re-read, worked and left dog eared. I can't recommend it enough.
---
Disclosure of Material Connection: I received this book free from Weiser Books I was not required to write a positive review. The opinions I have expressed are my own. I am disclosing this in accordance with the Federal Trade Commission's 16 CFR, Part 255 : "Guides Concerning the Use of Endorsements and Testimonials in Advertising."