There he goes, carrying his cross, on his way to Calvary. We watch as he goes by, but nobody really wants to look. It makes us uncomfortable. It is a gruesome sight and a gut-wrenching experience. "He had no form or comeliness that we should look at him, and no beauty that we should desire him. He was despised and rejected by men; a man of sorrows, and acquainted with grief and as one from whom men hide their faces he was despised, and we esteemed him not" (Isaiah 53:2-3). People stand there and stare: some in disbelief, others in sheer indifference. And there, in the crowd, you and me. We are perpetually part of this multitude until Judgement Day comes. We see him walking by, bearing the weight of the world on his back. At times we cry because we are saddened and hurt. Other times we simply turn our backs and walk away from his passion. The soul experiences dramatic tension.
Why? Maybe because we don't feel responsible for his suffering and pain. Perhaps we don't know who he really is and why he's being tortured in such a violent way. Could it be fear? Are we scared? Some of us are. We are also guilty of his condemnation though. He bears the marks of our sins on his flesh. The wounds and scars on his body signify our betrayal and indifference. His suffering and pain, his love for us. His death, his victory over sin and death. Oh death, where is your sting?
"Surely he has borne our griefs and carried our sorrows yet we esteemed him stricken, smitten by God, and afflicted. But he was wounded for our transgressions, he was bruised for our iniquities; upon him was the chastisement that made us whole, and with his stripes we are healed. All we like sheep have gone astray; we have turned everyone to his own way; and the Lord has laid on him the iniquity of us all" (Isaiah 53:4-6).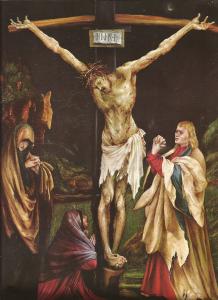 His disfigurement is our own human disfigurement
But there is no need to hide our face behind the cloak of shame. It is necessary to fix our eyes on his disfigured face. Not to beat ourselves down with useless guilt but to realize that his disfigurement is really our own disfigurement. It is a disfigurement of our humanity, compassion, and charity. We have turned away from his naked crucified body and plunged into our own egotistic selves. Though he is the fountain of living water and the only one who can satisfy our thirst, we have dived into the unquenchable sea of materialism and vanity.
"For my people have committed two evils: they have forsaken me, the fountain of living water, and dug out cisterns for themselves, cracked cisterns that can hold no water" (Jeremiah 2:13).
"All is vanity. All things are wearisome; more than one can express; the eye is not satisfied with seeing, or the ear filled with hearing. What has been is what will be, and what has been done is what will be done; there is nothing new under the sun" (Ecclesiastes 1:1.8-9). 
Like a lamb that is led to the slaughter
They mocked him, spat on him, and abused him. "He was oppressed, and he was afflicted, yet he opened not his mouth; like a lamb that is led to the slaughter, and like a sheep that before its shearers is dumb, so he opened not his mouth" (Isaiah 53:7). But what did he do? What were his crimes? Why is he being punished and condemned to death? He is innocent; a victim of political and religious bureaucracy. A true practice of religion should lead us to love God and neighbor. The true art of religion means "relating to the Divine." In this sense, we can relate to him -who is Divine- in his suffering and pain. Is there anything we might experience that he can't relate to, besides sin? And even though he didn't commit sin, God "made him to be sin who knew no sin, so that in him we might become the righteousness of God" (2 Corinthians 5:21). He knows exactly what it's like to be human. He knows the experience and the consequence of sin, though he never committed sin.
For the sins of your Church and for the sins of the entire human race, you laid down your life. Yet we are still far away from you. We turn a blind eye to your agony every time we ignore our neighbor's need. We crucify you all over each time we refuse to love the least of these. We are filled with so much misery and hate. Oh, how we offend you, Lord! How much longer will you endure our transgressions? How much longer before you return and make things right? Lord, have you seen the mess we're in? Forgive us for we know not what we do! Or do we? I'm not sure anymore. What to do with so much anger and confusion in the world? What to do with so much anguish and despair? Who to blame? How can I point the finger at others when I myself am a sinner? How can I change the world if I can't even change myself? How can I expect anything from anyone if I can't fulfill anyone's expectations?
The feelings of powerlessness and misery are too much to bear and overcome. So we run, and hide, and sin. Yet you still thirst for us. You never cease to call us back into the loving arms of our Heavenly Father. We are your lost sheep. We are your prodigal sons and daughters who cry out "Abba, Father!" "Where are you, why are you hiding?," you ask. But "even though I walk through the valley of the shadow of death, I will fear no evil, for you are with me; your rod and your staff comfort me (Psalm 23:4)." 
You never stop loving us and you never run out of patience for us. After all, you were broken for us. And in your brokenness you lovingly embrace our own frailty. Your love endures forever and what will separate us from your love? Nothing will. Not even our fear to love you. Not even our fear to tear down the walls that surround our hardened and weary hearts. Christ, never stop being patient with us!
Mourning and weeping in this valley of tears
And since we have been kicked out of Eden, we must continue walking in this desert, under the burning sun, and through a weary land that is occasionally watered by our tears. Desolation and dryness of the soul follow every brief moment of consolation and joy. "Memento mori" (remember you will die): it is a frightening but helpful reminder that glooms over every step and breath we take. After all, we come from dust and to dust we shall return. It is better to embrace this truth than to pretend we're immortal. The good news is that you promised us eternal life. A life we are often afraid of because we can't see it. This is where faith steps in. But what a difficult thing it is to have faith sometimes! For many, most of the time.
Christ, we need your grace.
We need your mercy in our fallen world. Help us to be more aware of your presence: in our prayer, in the sacraments, in our neighbor. Help us to love as you did. Help us to resist temptation as you did. Help us to carry our cross as you carried yours. Help us to die to ourselves as you died for all of us to bring us a new life. Help us to hope and believe in this new life that springs up from your death. Take our hearts of stone and place in us your own sacred heart. May this Lent bring us new hope and a renewed faith. May we soon again sing your praises and delight in your Resurrection. But in the meantime:
"Deliver us, Lord, we pray, from every evil,
graciously grant peace in our days,
that, by the help of your mercy,
we may be always free from sin
and safe from all distress,
as we await the blessed hope
and the coming of our Savior, Jesus Christ."
Photo: Matthias Grünewald, "The Crucifixion"