"Within the family 'which could be called a domestic church, individuals enter upon an ecclesial experience of communion among persons…The Church is a family of families, constantly enriched by the liv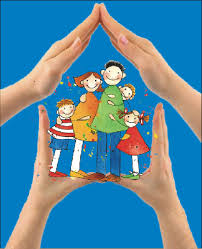 es of all domestic churches. In virtue of the sacrament of matrimony, every family becomes, in effect, a good for the Church. From this standpoint, reflecting on the interplay between the family and the Church will prove a precious gift for the Church in our time. The Church is good for the family and the family is good for the Church. The experience of love in families is a perennial source of strength of the life of the Church…" (Pope Francis, Amoris Laetitia 86-88).
"Togetherness" is the key that unleashes the wealth of family life
What does family life look like from a Catholic perspective? I like using the image of a monastery or a convent to help me understand the vocation of the domestic church. There are many similarities. Convents and monasteries are communities of faith where monks and nuns, brothers and sisters, live under the guidance and servant leadership of a superior, abbot or abbess. They pray, eat, work, and have leisure time together. They learn to be patient with one another, practice forgiveness and grow in their love for God and each other. In the domestic church, parents are the "superiors" providing leadership and guidance to their children. And just like those monks and nuns, families are encouraged to eat, pray, do chores, have fun, and grow in their knowledge and love for God together. Families in quarantine have an opportunity to relate in some ways to cloistered monks and nuns since we can't leave our homes unless it is for essentials. This is a time to rediscover how "togetherness" unleashes the inexhaustible wealth of family life.
Click here to continue reading…