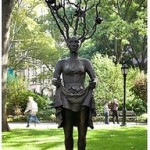 This quotation just found me:
"In summer the song sings itself!"   William Carlos Williams
That song-singing-itself is where my soul is perched this first week of summer. Summer is here! In Southern California it's not quite so easy to track the seasons by the weather; it is more visible, palpable, and audible with changing traffic patterns, new bird sounds, neighborhood hum. And I enter this fallow period of my part of the culture with trust that the Holy One will find in me a singer whose song needs deepening and tuning. It's not exactly a sabbath, nor a vacation. It is more a time where there are no Big Events of the calendar, no planning to be done, no "big frogs to be eaten," (a saying in our house when the agendas are piled high). And for my spirit it is a time when I can open myself to the filling, refreshing, and nourishment of the Spirit, almost underground, without the scrutiny or judgement of others.
Anne Sexton, the poet, writes:
And God is filling me/though there are times as doubt/ as hollow as the Grand Canyon,/ still God is filling me.
That's what a I long for in this season, a filling song that renews, that satisfies, that inspires, that comes to me because I am awake and calm a enough to hear it as it appears.
Just this morning I allowed  myself, and then I welcomed, the moment to work without attention to the clock, mine or anyone else's. I slept until my body awoke; I lingered without regard to a schedule over sacred texts as I was pondering how to articulate what it in my heart and soul. I have some post-its nearby that carry over some of yesterday's wishes, and have room for what emerges for today in this open time. I could feel my entire being moving to a cadence that revived hope and remembered trust that "All will be well, all will be well, and all manner of things will be well." (Lady Julian.) My dreaming is becoming more hopeful and confident, after long weeks of visions of thwarted efforts. I look forward eagerly to venturing out today to where fresh flowers, fruits and vegetables are available, meander among them, re-experience that God fills our mouths with good things. I am savoring the writing of poets and novelists whose words sing with praise and insight into human simplicity and complexity.
There is plenty of busy-ness afoot in the world, both mine and the larger circles of human endeavor. A critical election is being waged all across the country. Another iteration of Olympic Games is being produced for the world. Crucial church gatherings are convening in big cities. Entertainment opportunities are multiplying is every conceivable venue in town. I will participate in and avail myself of them as necessary and opportune. But my heart is tuned to a different drummer. I am imagining that I am in a protected space and time where all that has been expended and given out has a chance of being restored, where mourning can be turned to laughter, and a new song can find its way from my toes all the way up through my body to my voice. I am claiming the words  of the prophet Isaiah, who promises that Grace will come when in returning and rest, quietness and confidence , I become strong again:
You shall have a song in the night when the holy festival is kept, as when one sets out to the sound of the flute to go to the mountain of the Lord, to the Rock of Israel.                                                            Isaiah 30: 29
I am taking a few weeks off from the blog, from my weekly work, in order to hear that song as it emerges in me.
The dance of a Summer day calls my steps; may I respond to the rhythm and melody of its music.     Caitlin Matthews