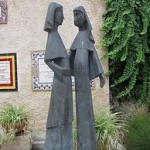 Tomorrow we begin a Lenten journey. Following a model of Jesus and a tradition of the Church, we make an incursion into our routine in order to create a space in which our attention can be directed to the presence and invitations of the Holy One in our own lives, both widening our vision of God's love for us and the world, and deepening our knowledge of ourselves, warts and all. Those of us who choose this practice will do it in various ways, but as I am poised to begin on this Mardi Gras, I pause to give thanks that I will not be journeying alone.
I have just finished reading a book about friendship, which I have reviewed for Patheos. Here is an excerpt of my review of Love and Salt by Amy Andrews and Jessica Messman Griffith, which can be found in the Take and Read blog at Patheos this week:
The dramatic arc of the story takes these women through the delight of a shared journey, through the suffering of hopes deferred, and most powerfully, into shared tragedy and loss. Here is where the sacred conversation becomes the crucible in which their faith journey is shaped and purified. They very generously share snippets of letters, both sent and unsent, in and around this period, each revealing her own doubt, anger, despair, what I would call wrestling with God. "It makes me cry right now to think of you weeping in secret. So let it be as it is: a time of eating much salt, alone and together…Yet this time is not merely that. I see that I still love you, take pleasure in your ways, and yearn for your good and mine." (Andrews, 238). To see that spiritual friendship can bear and sustain "eating much salt" together is poignant and powerful example of what the Spirit does when two come together in Christ's name.
I know that I have often thought of Lent being the "lonesome valley" which I have to walk alone. This book reminds me of my own experience of this past week while on retreat with the group of women who call each other "The Ammas," after the Desert Ammas of the early Church. Seven  us in physical presence, and two in spiritual presence,  gathered at a beautiful and beloved retreat center up in Santa Barbara, to share the "love and salt" of our own lives as we strive to be bearers of the fruit of the Spirit. We were conscious that what was emerging for is in the sacred conversations and silences might be leading us each to a Lenten practice. Yet we also knew that the presence to and with each other there and when we are absent from one another was shaping the journey that lies ahead of us. We spoke of past hurts and slights, of signs of hope and growth, and we wrestled with the difference between peace and joy. Our lenses on life are particular and are utterly different from each other. However, the fact that we were having these conversations, accompanied by hilarity and solemnity, sometimes simultaneously, gave us courage, strength and tenacity to go down the hill to the fields of God where we are planted.
During the six weeks of Lent I may see some of these women, I will gather with some, will be in e-mail or phone contact with some; some I won't see at all. But as I choose my own Lenten practice, I know I will be accompanied by them. And with the articulate and brave writers, Amy and Jessica, of Love and Salt. And with the readers of this blog. And those who have gone before me in the company of the faithful, even those precious Desert Ammas of so long ago. It makes the journey–with its strangeness, its challenges, its bumps and turnings–more possible, because I have my spiritual friends accompanying me.
May our journey be blessed as we travel together!