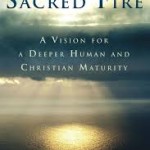 What a gift to discover this book in the middle of Lent! Ronald Rolheiser, Roman Catholic writer in spirituality and theology, has written a book that covers new and evocative ground for those who have been on the journey of Spirit a long time in this book, Sacred Fire: A Vision for a Deeper Human and Christian Maturity. He divides that journey into three parts: Essential Discipleship; Mature Discipleship, the one he addresses most thoroughly in this book: the struggle to give our lives away; and Radical Discipleship, which he touches on briefly: the struggle in this part of the journey is "the struggle to give our deaths away." As I read it from my location as someone well into retirement, conscious of my mortality more clearly than ever before, I welcomed Rolheiser's naming of the challenges that face the one trying to be faithful all the way to the end of one's life.
He writes with with clarity, drawing from Scripture, Christian traditions and mystics, and life experience about the struggles of Mature Discipleship. I found his telling the truth about how the "seven deadly sins" take shape in the later years of life to be accurate and challenging; he is not afraid to name the temptations and fallback positions that come so easily to one who is weary in well-doing. His candor is set in a deep hope and trust that living with and through the struggle is not only possible, but it is probable. There is a sense of joy that pervades his description and analysis. His charge to continue to let the world of Spirit and everyday action expand over years of life is welcome. He is inclusive of women and their full participation in the community of faith, as an example of how the institutional Church needs to continue to open itself to the world that God loves. Without a condemnatory or critical tone in his voice, he dares the Mature Disciple to aspire to be more than just good, but to be a saint.
In page after page I found hope, vision, and refreshing insight into Biblical stories that can be claimed as our stories. His expansion of the example of the pondering of Mary, the mother of Jesus, was skillful and illuminating:
Simply put, to ponder, in the Hebrew sense, means to hold, carry, and transform tension so as not to give it back in kind, knowing that whatever energies we do not transform we will transmit…under the weight of the cross (Mary) is holding and carrying the tension
,
standing in strength, refusing to give back in kind, and resisting in a deep way
…
speaking these words: "Today I can't stop the crucifixion; nobody can…But I can stop some of the hatred, bitterness, jealousy, and heartlessness that caused it–by refusing to give back in kind…" (147-148)
That kind of exemplary exegesis of the life of Mary takes my breath away!
As a reader in the Protestant tradition there are places where I am not completely in sync with Rolheiser in regard to both theology and Church practice. Yet in in the main I found his book to be one to which I will be returning again and again as a voice that gives wisdom and direction for the living out of my days, especially his words that give hope and a road map as I age and get closer to death. I was excited, challenged and delighted, maybe even set on fire, for the journey as I read this book. I will be sharing it and telling of its rich illumination and warmth!