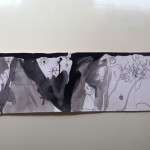 I am packing to go on a journey—a pilgrimage of sorts, an adventure to discover things I have not seen before. My grand-daughter has created a picture of such a journey for a princess, over mountains and rivers, through canyons with wild weather and unpredictable winds. What does one bring for such a journey? This will also be the journey into a new  year of life for me, not a Big Birthday that ends in a zero, but a new set of days and experiences in which I am invited to live with energy, intelligence, imagination and love. How does one prepare for such an adventure?
A friend who is on a sojourn of her own reported that traveling light for her has meant deciding whether to bring her hairdryer or her French press coffee maker. I am making decisions about what to bring with me in this new year, but, more importantly, what to leave behind. I remember the apostle Paul at the juncture where he charges us to "forget what is behind" in order to press on to the calling of Life before us.
I want to leave behind my regrets and memories of things that went awry–spanners in the works, trips and falls, words not fitly spoken; I want to live deeply in the reality that there is forgiveness—offered and received for mistakes and intentions that disrupted the flow of wholeness around, through and in my life.
I want to leave behind untrue images of myself, those  that are grandiose and those that are dishonestly impoverished.
I want to leave behind the list of hurts and slights that accrue over days of ordinary living—being left out of invitations, being misrepresented and misunderstood, being ignored in an important consultation.
I want to leave behind my rush to judgement about the reality of another person's life and circumstance, believing that I might know and understand better what is the right thing to do in every instance.

I want to leave behind my anticipatory anxiety, my worry, over what might happen, fear of the future, even when there are no clouds on the horizon. I want to allow my muscles of trust in the goodness and compassion of the Holy One to get stronger as I use them without the fetters of fear.
I want to leave behind the habits of conversation that, although they are witty, even trenchant, are inaccurate or pejorative or just plain mean. And I want to leave behind the seductiveness of gossip, both offered and received; all of it weighs me down as I travel.
I want to leave behind any remnants of flagging faith that whisper to me that because of my age, my gender, my denomination, my health, my status, there is no point to keeping on trying to be be of use, to be faithful. I want to say "no" to despair wherever it tries to pop into my luggage of life.
I want to keep leaving behind those images and concepts of God, of sacred text, of people of faith, of right and wrong that are inadequate and no longer useful in the Light of the ongoing revelation of the Spirit in and to me of the Mystery we call God, through the Word, through the community, through contemplation.
With this catalog of things I can leave behind, I can travel lightly, trusting that what I need will be provided and there will be room for any new thing I will be given along the way!