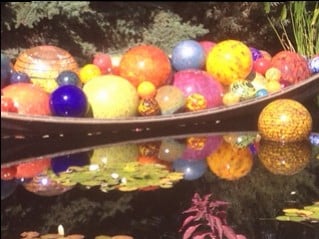 Growing up in my own tradition, I did not realize that Beauty was a spiritual quality. The verse in Scripture concerning beauty with which I was most familiar was in Proverbs 31, and it was interpreted negatively. Describing a capable wife, extended by my tradition to mean any woman, it concludes by saying, "Charm is deceitful, and beauty is vain, but a woman who fears the Lord is to be praised." When one added to that interpretation a Protestant predilection against ikons and ornamentation in worship, and a great fear of a personal vanity, the community conversation of aesthetics was almost absent.
Imagine my surprise when increasingly in the past few years, the phrase in Scripture echoed in many liturgies from older translations of the Psalms: to worship the Lord in the beauty of holiness has continued to shimmer for me in corporate worship and in my own reflections. I remember Psalm 27: One things I have asked of the Lord, that will I seek after; to live in the house of the Lord all the days of my life, to behold the beauty of the Lord, and to inquire in God's temple. (V.4). Since no one has seen the Holy One, how and where do I behold the beauty of God? I don't equate all beauty with God, but I believe that Beauty is a quality of God, and that all that is beautiful bears divine characteristics.
My recent journey was resplendent with beauty–natural beauty in sky and hills, seasonal beauty in golden aspens against green forest, and artistic beauty. The first exhibit of an artist I saw was in the natural beauty of the Denver Botanical Gardens, where the glass artist Dale Chihuly, had installed a panoply of various pieces within the settings of natural plants and water. Each time I rounded a corner there was a new installation that took my breath away. The one that invited my spirit most profoundly was the glass boat filled with glass balls, resting quietly on the pond which reflected its image. I was reminded of the words of the apostle Paul in 2 Corinthians 3:…all of us, with unveiled faces, seeing the glory of the Lord, as thought reflected in a mirror, are being transformed in to the same image from one degree of glory to another; for this comes from the Lord. the Spirit. (v.18) Here in the art exhibit in Denver was a call to me to see Beauty–to savor it, to give thanks for it, to be transformed by it and then to reflect it.
In this post-election week it has been hard for me to see Beauty anywhere because of the scorched earth rhetoric of the political process, and the roots of bitterness that wrap their tentacles around even the most benign conversations. So I have mused on this call to behold the beauty of the Lord of holiness , to let it transform me, and then how to reflect it. In teaching a class on prayer last week, I called upon the old Sarum Primer Prayer, and today ponder how it might help me live out this call:
God be in my head and my understanding—am I giving my brain beautiful things to muse upon–true things, just things, pure things, excellent things?
God be in my eyes and in my looking–am I filling my vision with the things that God finds beautiful–creation, human beings and animals, infinite varieties of color and shape?
God be in my mouth and in my speaking–do the words that I say reflect the beauty of the Holy One, words of kindness, words of affirmation, words of praise, words of healing?
God be in my heart and in my thinking–am I open to seeing the beauty of God's variegated creation with an open heart, willing to offer hospitality to beauty I have not known before?
As I move along the days between All Saints Day and Thanksgiving, I am giving myself to reflecting the Beauty of God as I continue to see it, and to let it make its home in me. Rumi helps me when he says: Let the beauty of what you love be what you do.
May it be so!