I have been privileged to review two very worthy and helpful books for Advent for the Patheos Book Club. I hope you find them as provocative and charming as I have.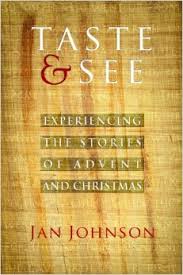 An Invitation: Taste and See by Jan Johnson
The sacred anticipation of Advent and the joy of Christmastide often seem dimmed and fraught for leaders in the Church because they can't imagine a new way to come at those familiar stories and themes. Jan Johnson offers a fresh lens with which to study, reflect and live into the narratives of the principle characters in the Matthew and Luke that are part of our Advent, Christmas and Epiphany heritage.
In a four week study with daily opportunities to read, reflect, journal and pray, Johnson designs a pathway for small groups or individuals to enter into the stories of the anticipation, birth and reactions to the coming of Jesus in small increments, with helpful notes from Biblical studies and cultural contexts that allow imagination to take hold. She creates particular comments and questions for each unit of the ongoing story, and then follows with some general questions that can help the reader find her own place in the story. I would use it eagerly with a small group I was leading in a church or community for which I was responsible.
The suggestion is made that this can be used with families, yet I found that the activities that used art or might invite small children were under-developed, and would need to be supplemented with more supplies and shape than coloring books and pieces of the crèche. Nevertheless, for families with older children and for groups of that want focused study, even for people who want to delve more deeply into the personalities of these stories, to let themselves be taught by the journey of another, this is a worthy and helpful book, and will illuminate and lighten the imagination as Advent, Christmas and Epiphany begin a new Christian year.
Also recommended: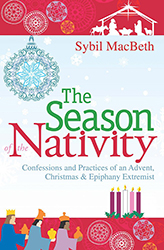 A Wider Season: Reflecting on The Season of the Nativity by Sybil Macbeth
We have a delightful challenging gift in Sybil MacBeth's new book, subtitled "Confessions and Practices of an Advent, Christmas & Epiphany Extremist." Those of us who have enjoyed her previous books, especially, Praying in Color have been introduced the author's imaginative energy that facilitates prayer, especially for those long intimidated by the prospect of praying their own prayers. Now in this book she brings that freshness to the holy seasons surrounding Christmas in visual and creative ways that ground our observances in Biblical texts and traditions of the Church over centuries. By paying experiential attention to the theology that is the root of Advent, Christmas and Epiphany, she allows the reader (practitioner!) to sink deeply into the breadth of the truths of the Incarnation of Jesus, and to the spiritual practices of hope and experiencing the ongoing revelation of God to the world.
Her passion for the honoring and celebrating these seasons are particularly helpful for those who live with children, for those who live in community, and for those who seek to make those observances palpable and visible in their own lives. In each season she offers a plethora of easy, accessible exercise to commemorate the season, without ever losing track of the heart of the message. My only dilemma will be to limit myself to the ones most fitting for my own life and most necessary for my own devotion.
I especially like her challenge to become more intentional and devoted in the seasons that bookend Christmas. Her reflections and practices call us to learn to practice living in hope in Advent, and to open our eyes to God's wider intent in the world at Epiphany! Savor and use this gift she is giving us!