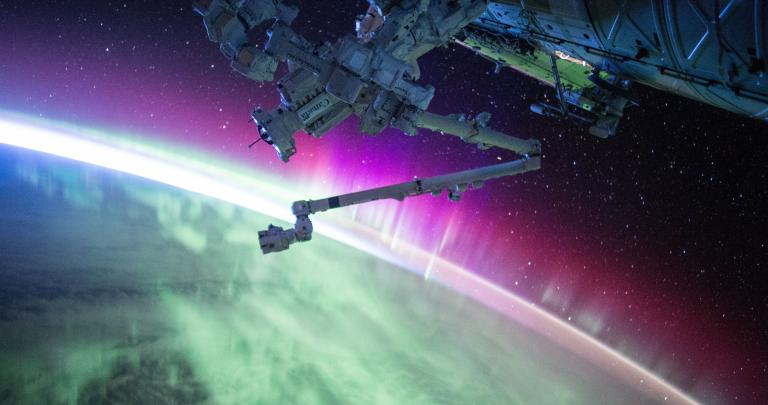 Let's begin with a story. Specifically, Hao Jingfang's Hugo-Award-winning "Folding Beijing". It's a novelette well worth the read, imagining a future city in which class structures are literally manifested by the Change, a transformation of cityspace that allows each economic tier its own turn awake on the surface, while all others sleep. The story focusses on one man with an opportunity to give his adopted daughter a better life, by slipping between class strata during the Change to deliver a message. In the process, he comes to realize that the economic divide between lives above and below is even more dire than he could ever have imagined. And then, lacking the agency to do more than try to complete his task, he returns to his daily grind in the lowest, most hopeless tier, with only his daughter's future to help him press on.
Sound familiar? We've had quite a few stories in the history of SF that follow this similar framework of revelation, then return to status quo. Who can forget the closing scene of Richard Fleischer's Soylent Green (1973), in which the protagonist's discovery is shouted uselessly over the indifferent, hungry, overpopulated masses? Or Daniel Keyes' "Flowers for Algernon" (1959), later a best-selling book by the same name (1966), in which a happy, mentally delayed person is given a treatment that produces higher mental function… and in so doing realizes how small his life was, how mocked he was, how friendless he was… and then has to return to that life when the treatment ultimately fails?
In "The Fallacy of Agency: on Power, Community, and Erasure", Aliette de Bodard advocates for storytelling that highlights powerlessness and our reliance on others. She isn't against agency, but she notes some dangers in assuming that the only stories worth telling are those in which people have the means to change their lives. As she observes:
The other thing about dismissing powerlessness is that it devalues and erases the oppressed. It's saying, essentially, that the less power one has, the less worthy of a story one is. That if someone is truly oppressed, and the story isn't about some brash rebellion, some gaining of that overt power, then it's not worth telling. That being oppressed is some sort of grey, featureless state where nothing worth notice happens—that there are no sorrows, no joys, no everyday struggles, no little victories to be snatched. That, in short, the only story of oppression worth telling is the brazen breaking of it.
Anyone who read or saw Bong Joon-Ho's Snowpiercer (2013) should recognize, of course, that there's often something empty about the act of trying to "break" an oppressive system. "It'll be different when we get there," says the band of resistance fighters hoping to get to the front of a train that has also literalized class strata in its car structure… but when they do, they discover that resistance is, and always has been, just one more part of the engine of the whole, divisive operation. And sure, you can blow up the train! But then… what exists beyond it? What does our society look like, without itself?
The Spiritual Escape from the Problem of Agency
Christianity has struggled to offer coherent answers to this problem for as long as there has been Christianity. The Bible is a fascinating story inasmuch as it offers blatant affirmations of the class system, sprinkled with verses that simultaneously flatter every class position within it. The character of Christ, after all, uses the framework of masters and slaves for a great many of his parables–and when he does, it is with great deference to the righteous power of the masters. Thus he answers a master's question about how best to serve him by citing approvingly the way that slaves serve their masters (Luke 17:7-10); and he answers a steward's question, about what to do now that stealing has cost him his job, by advocating lying to get back into his master's good graces, because loyalty to earthly masters is necessary to attain true riches after death (Luke 16:1-13). And yet the slaves are also glorified unto themselves: the meek that shall inherit the Earth, because of how difficult it will be for a rich man to enter heaven.
A little like Aldous Huxley's Brave New World (1932), no? Where every Alpha is proud to be an Alpha and can't imagine being otherwise, while every lowly Epsilon is proud to be an Epsilon and can't imagine being otherwise?
Certainly, many Christians today try to employ the Bible as an anti-capitalist text, but every passage they invoke in political debate to that end, every call from the character of Christ to give aid to one another (e.g. Matthew 25:35-40), has the easiest counter in the world: Christ is calling for individual acts of charity, not statewide safety nets. Thus he exhorts people to visit the suffering in prison… but doesn't suggest launching campaigns for judicial reform. "Bad Christian! Bad!" say many of the left, when Republicans and other rightwing Christians refuse to interpret the Bible as a call for institutionalized social welfare… but they're 100% within scriptural bounds to assert that Christianity calls for personal charity alone.
And why? Because Christ expected the world to end within his lifetime. He (or the amalgam of street prophets his character represents) imagined a period of immense turmoil within that generation of listeners, in which the stars would fall from the skies and fear and violence would plague the land and the Son of Man would descend to gather his elect (Mark 13:1-30).
So, yeah, who cares if there's a little state oppression before that happens? It's all going to be over with soon!
But what about the Secular Escape?
The real question is this:
Are we in the secular realm, with our secular stories, doing much better?
Because Snowpiercer in particular indicts a substantial body of contemporary dystopic fiction (usually YA) that loves to pretend one need only take out the top of an oppressive culture to achieve emancipation from it. This rhetoric is so popular that one of the earliest books in the contemporary genre, The Giver (1993), went from being Lois Lowry's nuanced story of how everyone in a given society becomes complicit in a social contract that sanctions murdering the difficult (fussy babies, old people) and letting one person suffer the fullness of feeling for the whole community… to a high-stakes action film that pins the whole system's faults on, well, Meryl Streep.
We in the throes of atheist discourse make a similar error, too, whenever we act as if the eradication of religion would be a magic cure-all for humanity's predisposition to tribalist groupthink and ignorance. If you're letting a secular person get away with the same sloppy mentality or behaviour set you would be howling against if they were religious… how rigorous, truly, is your moral high ground? And how useful is your activism against the root ills of human suffering?
Fetishizing Agency, Losing Humanism
Our fixation on these dramatic ideas of agency are fun, though, aren't they? They're wish-fulfillment fantasies that allow us to dabble awhile in ideation far freer than most of our real-world opportunities.
However, they're also training grounds for dehumanizing one another–as I noted in my last essay, with SF's reductive treatment of certain "bad guys"–so we need to be mindful of how much we indulge in stories where the down-and-out suddenly get glorious opportunities to destroy those who've made them suffer.
A couple years ago, for instance, the SF&F community was struggling with some rather irate members who felt that diversity was getting in the way of "real" storytelling. They felt victimized by this shift in representation in awards circuits, so I read some of the stories from those who felt their work wasn't being valued for "PC" reasons. One of those writers was Larry Correia, who felt that the Hugos were rigged because even though he had been nominated one year (an AMAZING honour unto itself!), he realized he didn't stand a chance of winning, because someone else was the clear industry favourite. I read the first in his Monster Hunters International series, and found wish-fulfillment fantasy very much at play. As the piece begins:
"On an otherwise normal Tuesday evening I had the chance to live the American dream. I was able to throw my incompetent jackass of a boss from a fourteenth-story window."
Wait… that's the American dream?
What follows is an establishing scene in which an asshole of an insecure boss has conveniently become a werewolf, and since he's hoping to use this new identity to devour employees he hates, our protagonist is finally fully justified to pull out a gun he has proudly carried illegally at work the entire time… because, Texas. No, literally:
To this day I don't know why at that moment I felt the need to make a confession to my rapidly mutating boss. Even though I was in accordance with Texas state law, I was in direct violation of my company's workplace safety rule.

"You know that 'no weapons at work' policy?" I asked the twitching and growing hairy monstrosity standing less than ten feet from me. His yellow eyes bored into me with raw animal hatred. There was nothing recognizeably human in that look.

"I never did like that rule," I said as I bent down and drew my gun from my ankle holster, put the front sight on the target and rapidly fired all five shots from my snub-nosed .357 Smith & Wesson into Mr. Huffman's body. God bless Texas.
I could go into greater length about the weird psychology of this scene–a boss who becomes a werewolf but can't think of anything cooler to do with that new ability than return to the drudgery of work and eat his subordinates?–but I think it's fairly plain that Correia did not find a convert for me in his tale. (If it's your cup of tea, grand.)
Nevertheless, as a humanist I am always drawn to the underlying lesson in the stories we build for ourselves–so I never regret reading "across the aisle", to see what broader human values our stories over the spectrum share. And there are some wonderful brainchildren, too, from people whose views are diametrically opposed to mine!
One of the most difficult, for me, is Ender's Game (1985)–a beautiful tale in the military SF genre, deeply humanist in its ultimate tragedy. Here we have the story of a child turned into a weapon, and even though he may think he is gaining agency as he progresses through his training… he remains a devastating pawn all along. What a brilliant analysis of how the individual's struggle for survival, safety, and autonomy always plays out against a structural backdrop far beyond its ability to transform.
The story's author, Orson Scott Card, is unfortunately a deeply homophobic and dog-whistling-racist Mormon, who repeatedly advocated for the state to punish homosexuality and railed against his fear of nationally militarized "urban men" under Obama. How could the writer of such a beautiful story, so insightful in its depiction of childhood bullying, miss the mark of real-world compassion by so great a degree?
The Work of Finding Better Stories Presses On
Suffice it to say, then, I advocate for secular folk being open-minded in our search for better stories. We Western atheists generally recognize the profound failings of Christian scripture, but where do we go from there? I think we can absolutely be inspired by writers all across the spiritual/non-religious spectrum, as well as the political spectrum.
The key, though, is looking at how our stories treat agency. The Bible offers a panacea for masters and slaves alike, granting everyone the agency to be saved (depending on how you interpret "the elect" and "the chosen" as Christ uses such terms) but largely side-stepping the problem of how to develop better systems in this lifetime. Likewise, though, many of our secular narratives leap ever-too-quickly to the idea that a dramatic reclamation of personal agency will magically restore society. We see it in our dystopic fictions, we see it in news reports on political changings-of-the-guard, and… well, I guess we see it when a gun is used to resolve workplace conflicts with werewolf-bosses.
Aliette de Bodard was saying nothing new, though, when she splendidly articulated what stories without as much agency have to offer the contemporary reader (and humanist!). We have always had stories about those who start without power, and who continue without power, but gain wisdom and compassion along the way.
What would our world look like, if we attended more to what such stories can teach us about the long-term path to change?