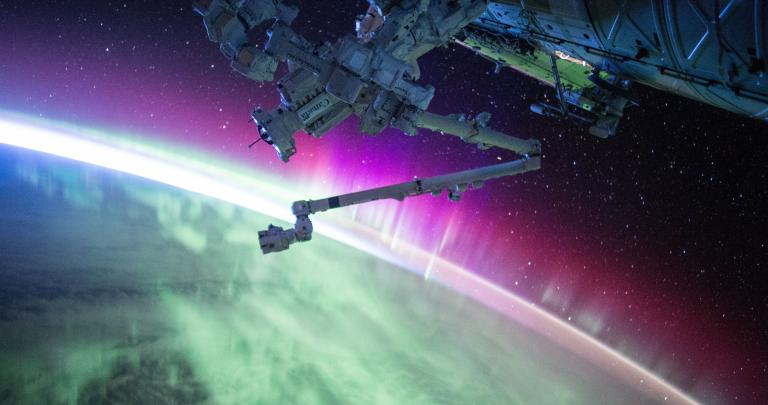 Let's begin with a story.
I start my posts with those words to call attention to the fact that everything I write is narrative. Well, obviously, some will sneer… but how often do we enact that "obvious" fact in our treatment of one another? A columnist collective like Patheos.com, where people generally negotiate authority claims in relation to their spirituality or atheism, is excellent territory for those who delight in leaping upon every perceived defect in others' arguments. It's by no means, though, the only place where we find this behaviour. In-group/out-group testing for "good guys" and "bad guys" abounds in our political discourse, our Twitter feeds, and a substantial portion of other infotainment. And it enters, too, into the writings we more explicitly label as "stories". Even, or perhaps especially, into the most fantastical works of sci-fi.
The funny thing about sci-fi is that even fellow writers in the genre sometimes forget that we're all presentists, no matter how far-flung the scenarios we're dreaming up. But thus has it always been. In texts like the Edward Bulwer-Lytton's The Coming Race (1871), where a species at the centre of the Earth is poised to surpass mankind, and William Morris's News from Nowhere (1890), a time-travelling jaunt to a future utopia, a central concern is… women, and the looming horror (for many late-19th-century writers) of a social order in which they have more social and physical autonomy.
Likewise, on a more adorable level, Star Trek: The Next Generation (1987-1994) couldn't help but situate the 20th century as the pinnacle of cultural advancement. It's no surprise, then, that its 24th-century characters were loyal to many Gen-X 20th-century activities–jazz and classical music enjoyed in the home, weekly card games and the occasional egg brunch with friends, Sherlock Holmes re-enactments as play, aerobics classes and a game strikingly similar to squash for physical exercise. What was utopia if not the achievement of most every marker of (WASP-y) middle-class status?
Today, sci-fi enjoys a great deal more mainstream appeal, but retains the same power to reveal the imaginative limits of our present moment. The more far-flung and bizarre the future on offer, the easier it is to see the where its authors strain at the moral and cultural limits of the present. As such, paying attention to the secular storytelling we're doing through sci-fi (and fantasy, which has similar tensions) can tell us a lot about the state of our humanist discourse.
How good are we, really, at dreaming up better worlds?
Personal Context: A Plug for Failure
I write and publish sci-fi. I particularly enjoy speculative fiction, and have a significant narrative preoccupation with protagonists limited by their own fears, a genuine lack of agency, or the staggering weight of past failures. I'm currently pitching literary agents about a novel set in an alternate Soviet Russia, 1920s through 1940s, where three characters struggle to "fail upwards" in their responses to a devastating new technology. (Spoiler: only one of the three manages it, and only by a thread. For all that I am optimistic on Patheos, I am… not the cheeriest of fiction-writers!)
But there's a reason I prefer to highlight the "failures". I strongly feel that good humanist practice requires no less.
And so I wince at a great number of contemporary stories–in fiction and non-fiction alike–that affect intolerance for failure. Failure to be a "good guy". Failure to make the right choice the first time. Failure to adapt as quickly as everyone else to a shift in cultural standards. Obviously, #notallscifi: we have wonderful vehicles like James S. A. Corey's The Expanse and Becky Chambers' The Wayfarers Series that celebrate our complexly human faults. But where it exists it is often most frustrating, because it's often sci-fi that aspires to a more progressive future that gets mired in moral rigidity.
For Example:
Last fall, I reviewed every episode of Doctor Who Season 11 because I wanted to see what was going on in the most accessible, family-friendly sci-fi currently on the airways. These are stories, after all, ostensibly targeting the citizens of tomorrow, while also trying to affirm the struggles of more progressively minded citizens today. So what do these optimistic, utopia-minded adventures tell us about our humanism in action?
Granted, sometimes the show upheld the idea of second chances, of room to be redeemed, and of restorative justice writ large. More often, though, redemption was saved for those who were the right sort of failure to begin with. An angry young man who'd planned a mass murder and killed a few in preparation had no narrative "out" but dying himself. A scary looking monster in a nether realm between universes was doomed to perish brutally. When given a chance to reform, an alien that had to kill to secure rank in his culture returned to the show having upped his genocidal game, and was locked away, seemingly for an eternity in isolation, in consequence.
I understand how these narrative dead-ends emerge. I understand the hard line that we want our stories to draw in the sand, to effect changes in our laws and cultures to match. Moreover, I understand our fatigue with stories that try to soften or humanize the perpetrators of staggering harm before giving a platform to all those who've been harmed. I understand, too, the inclination to portray everyone who has traditionally lacked agency as suddenly having immense agency, and repositioning more "traditional" protagonists in the same caricature positions that other demographics occupied in sci-fi periods come before.
But there are pitfalls to these good intentions, and some of these pitfalls speak to a deeper absence of genuinely humanist storytelling.
Doing Better than the Stories Come Before
In my last post, I discussed ahistoricism in our approach to secular storytelling, and emphasized how often we overlook past successes in representation to make ourselves seem more revolutionary now.
But of course, not every ancient story is ideal. One of the benefits of having a fuller sense of our literary history, though, is the ability to learn from its failings.
Atheists I think understand this well. We look at the Bible's reductive language around evil, or the hodgepodge way in which the character of Christ sometimes calls for treating enemies like friends, but also not casting pearls before "swine" or giving anything holy to "dogs", and we recognize the moral mess this framing of human beings creates.
Where humanists need to go further is by offering better in our secular stories. And that can be difficult, because every cultural context has used its stories–and its fictional ones especially–in part as an outlet for frustrations. A place to vent, and to exact narrative triumphs against those who would oppress us in the world at large.
Two recent stories in the sci-fi/fantasy world embody this problem well: Brooke Bolander's Nebula, World Fantasy, and Hugo-nominated
"Our Talons Can Crush Galaxies"
(2016) and Alyssa Wong's Nebula-Award-winning "
Hungry Daughters of Starving Mothers
" (2015). The former is unabashedly a revenge tale, written as a pointed counter to the usual narrative for trauma against women (in which the rape, torture, and/or murder of the victim tends to take grotesquely titillating centre-stage) and the attendant narrative for perpetrators in many a news cycle (i.e. lamenting how their violence has lost 
them
access to a myriad of opportunities). The latter is also interested in role-reversal: it features a vampiric species that feeds off people's emotional essences, and opens with an attack 
on
 an entitled Ivy-League student, thereafter left by a dumpster, that would have resonated strongly for readers in the year of
Brock Turner
.
Bolander and Wong are strong writers. The moral universes of these stories, though, require the same reductive view of perpetrators of violence that other stories horrifically level against the victims of violence. Bolander's protagonist describes the story's original perpetrator–the murderer who then becomes a victim when she resurrects to destroy him–as someone who "should have been drowned at birth." As for his punishment, "his matter is speaking across a large swathe of space and time, begging for an ending to his smeared roadkill existence." Now where have we come across the concept of infinite suffering for finite human crime before?
Wong's Turner-esque caricature, meanwhile, has been given a serial-murderer twist that profoundly hyperbolizes the everyday banality of "evil" among the entitled young male college set. "The fucker has his own parking spot!" the protagonist thinks, after stealing the serial-killing Ivy-League student's form and emotional essence. "No taxis for us; he's even brought the Tesla." Oh no, he murders and drives a Tesla! It's a story that places "pick up artists and grad students" in similarly easy equivalence–gesturing at huge swaths of people as deserving of predation in largest part, it seems, due to their class-gender profile and the historical privileges it has afforded them.
What's Old Is New Again
A famous ethical debate in sci-fi involves Tom Godwin's "The Cold Equations" (1954), a story about a pilot faced with the difficult decision to blow a young female stowaway into space so that his life-saving shipment of medical supplies will arrive in time. He is devastated that he has to murder this person because she did not obey the "cold equations" of space, but… murder her he does! The circumstances of the story make this conclusion even more unsettling, though, because editor John W. Campbell sent it back three times for rewrites, until Godwin finally let the girl die (in his earlier versions, a workaround emerges). As such, the story was constructed to give the illusion of "inescapable laws of physics": to create a hypothetical situation in which the murder of a young female person becomes justifiable. (And yes, the age and gender mattered, too, which is why many felt that this story was an exceptionally creepy bit of fantasy.)
Today, if sci-fi instead focusses on the need for more personal accountability in the wake of flawed systems (e.g. the egregiously poor safety margins in Godwin's ship's design), it's vulnerable to charges of "PC" storytelling. But how else would one define Campbell's tinkering to make a certain, hard-nosed libertarianism appear the only logical choice in Godwin's story?
We atheists are especially susceptible to this same skewing, which is why so many in the secular sphere tend also to find themselves locked into the equally "rational" rigidity of the MRA movement, incel culture, and various libertarian-leaning and white/Western-supremacist philosophies that are presented as the only logical response to the world in which we live.
Again–"Let's begin with a story," I say most every post, because everything we write is narrative. Obviously, some will sneer… but is it obvious? Is it really?
How often do we fall prey to the belief that what we write is different? That what we narrate is justified in its treatment of other people, because what we narrate is based on cold, hard, capital-T truth?
Toward a Less Reductive Approach to "Bad Guys"
If Bolander and Wong wrote stories that deeply troubled me in their reductive approach to "bad" men, Doctor Who Season 11 utterly disappointed in its own squeamishness regarding a way forward for male perpetrators of violence. The season closer was a sanctimonious railing against committing murder… that offered no greater restorative justice than letting the baddie rot for eternity alone in deep-freeze.
Meanwhile, Doctor Who, at its best, has the ability to offer much different approaches to moral correction. One of its most notable is the Doctor's refusal to let people travel with her through space and time if they wilfully perpetrate violence, either spontaneously or retributively. This last phrase is key, because it's indiscriminate in its metaphoric implications: whether we started it or we're "finishing" it, the violence we choose to perpetuate diminishes our access to wonder.
Full stop.
And yet, the perpetuation of violence is to some extent an inevitability for the world we live in, and our participation in its cycles does not automatically render us inhuman. Rather, for better and for worse, we remain a part of the human species, a part of the experience of being human, even when we have most unconscionably erred.
Religious stories lean on quite a few extremes to try to account for this difficulty… but so too do secular stories–in the news, in online forums like this one, and even in our most progressive-seeming fictional domains.
It's up to the humanists among us–religious and secular alike–to envision better futures for the whole… and to enact them here and now.