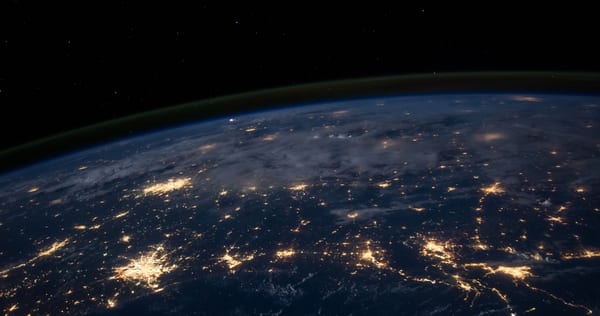 Let's begin with a story. This time, it's mine. Last Sunday, one of my science-fiction stories was published in Clarkesworld. "To Catch All Sorts of Flying Things" is a novelette in my favourite subgenre, the SF mystery, and you can read it here, if you're so inclined. But today I want to talk more about another part of Clarkesworld's latest issue.
When one of my stories gets published, I love reviewing the magazine on whole. I love seeing how the editor decided to curate a group of resonant tales for the page/screen, I love reading those tales, and I love seeing what surrounding genre issues are coming to the fore of our conversation at the same time. And as it turns out, one of the surrounding genre issues in this iteration of Clarkesworld relates to something I'd started writing about in a recent Patheos essay, "We Have Always Been Leaving Omelas." Something, furthermore, that I'd already hoped to expand upon in another post.
So today I want to talk a bit about Eleanna Castroianni's "Staying with the End of the World: SF Futures of Hope during Ecological Devastation." I want to talk, too, about why it's important for humanists to view the stories we tell as inherently destabilizing… with or without our centrality in them.
What We Carry into the Secular World
For readers here who had strict religious backgrounds, I suspect this need for destabilizing stories will be obvious in theory… but maybe not so easy to apply in practice. One of the reasons we atheists take such issue with fundamentalist communities is that they not only teach children rigidly punitive social content, but also a rigidity of storytelling form that very often survives even when the child has grown to walk away from religious belief (or at least, those most severe manifestations of it).
So, sure, no more does the grown-child believe in hellfire, or the idea that Yahweh, Canaanite god of war living grumpily atop a mountain when not called upon by Israelite tribes, is the omnipotent, omniscient, omnipresent, omnibenevolent creator of all things.
But they still often believe in being thunderous in their narration of relationships with themselves and their communities. In using fear, and anger, and shame to bully others into accepting their authority. In stories, in general, where might makes right and humanity is absolutely central to the past, present, and future of our shared cosmos.
Moreover, we atheists still often have great difficulty recognizing similarly flawed narratives outside religious debate. Online, ever so many of us love tackling the inanities of faith… but then in the rest of our lives we buy into strongman politics; politics that favour Captains of Industry-styled stories of capitalist triumph; politics that suggest one demographic's natural superiority over another. We hold up new representations of individualistic strength and power to replace the old.
What's Old Is New Again
And so it's not surprising that Castroianni's essay, which explores the need for more de-centred SF storytelling to coax human beings to reorient themselves in the midst of our current ecological crisis, draws on older SF figures and established academics to make her claims. Ursula K. Le Guin's "The Carrier Bag of Fiction"–a key concept in Castroianni's essay–is "me"-years-old (33!), but that's because our need to shift from Human-the-Hero stories to more dispersed narrative forms hasn't changed much in the last three decades. (Or, indeed, in the last three hundred years.)
Likewise, Castroianni draws heavily on an academic figure, Donna Haraway, whose assertions will read as givens to those with a background in humanities debates spanning decades, but probably also come off as bewildering shorthand to those outside it. Haraway's most recent book, Staying with the Trouble (2016), frames Castroianni's overarching call for SF writers to remember that the genre, even at its most narratively far-flung and futurist, is ultimately about the here and now, and as such needs to embrace the complexities of present problems without giving into the all-too-satisfying purge of cataclysm that much of our dystopic fiction dwells upon instead.
As Castroianni argues,
[M]uch of old and new SF specifically relies on human exceptionalism: humanity conquering space, humanity overcoming all odds—some of them environmental. For Le Guin, science fiction is the myth of technology we tell ourselves and the fiction of this myth is either triumph or tragedy, either conquering the stars or creating the apocalypse. Indeed, Amitav Gosh notices that environmental fiction, SF or not, often is a narrative of destruction where some survive and that the purpose of these stories is to make us feel better about ourselves. He argues that, effectively, we have entered an era when fiction conceals rather than articulates the issues of our time. Climate fiction often only reassures our worries rather than urging us to think. One reason for this apparent impasse would be the concepts we're using to express concepts: the Man the Hero backstory of many (although not all) stories. A more grounded approach to the future—the par excellence subject matter of SF—would not be about one person's survival in a destroyed Earth. It can be about figuring out how to live with the trouble we have caused on this planet we share with other species. This is an already existing narrative that we need more of, urgently.
Yet whenever I read that rhetoric of heightened urgency, I find myself thinking back to evangelical rhetoric–and in particular, the notions of "imminence" and "immanence". The former refers to how believers in Christ need to be ever-ready for the endtimes that have, in truly Orwellian we-have-always-been-at-war fashion, been nigh upon humanity for 2000 years. The latter refers to the intense presentism of divinity–not as some distant legend, but as something in the here and now that must remain at the fore of our thoughts precisely because it permeates everything. It is the crisis of humankind.
Now, this isn't to say that eco-activist urgency isn't necessary–certainly, we have grave issues facing us as a species!–but it is to observe that there are uneasy resonance points between environmental rhetoric and the rhetoric of evangelism writ large.
Cyclical Forms in Western Secular Storytelling
Can we help ourselves, though? Do we have the storytelling tools at our disposal to do more than repeat old forms with new vocabulary–even vocabulary, as with climate-change and ecological disaster, for matters in which far more evidence exists?
In considering an answer, I keep recalling Occupy Wall Street, the first major activist movement that made me realize how often our activism replicates that which we are trying to surmount. Oh, I'm sure I should have clued in far sooner–I'd already read enough Margaret Drabble and Iris Murdoch to know that British anarchist movements in the 1970s and 1980s often echoed the same organizational strata of surrounding society, with predominantly white male leaders overseeing groups where feminized persons handled the cooking, cleaning, and administration.
But it was only with the Occupy movement that I finally asked the question… why now? Why did that particular demographic–predominantly white, male, younger, and "disproportionately wealthy"–rise up when it did? After all, the vast majority came from professions in marketplaces that were intrinsically imbalanced, built on egregious histories of exploitation and injustice. Surely if these folks were responding to the system's fundamental injustice, they would have checked out far sooner… right?
No, the first wave had believed the system winnable for themselves… until reality showed that the bubble had burst. And then they were angry–angry that all hope of their own ability to thrive in an inherently unequal system had dried up.
(Nor am I any better, mind you–I who for years struggled in academia, fully aware that it wasn't a meritocracy but still hoping that I could find stability for myself within it. My own bitterness with the fallout, with having to walk away from a PhD two dissertation drafts into the process, came just as darned late as the bitterness of those in the first wave of Occupy Wall Street.)
And yet, how could it be otherwise? How could our motivations for change come from any better place, when the core storytelling form for Western culture hasn't changed?
Our dystopic fictions still fixate on cycles of struggle-and-triumph over adversity… because so too does our activism.
When Form Follows Function
And this makes Castroianni's essay so striking for me–because absolutely, I agree with the content of the piece. I agree with the need to shift our narrative priorities–as humanists from all backgrounds–to better reflect our current social crises. (I've even got a short story in queue right now, with another SF magazine, that follows 16 different non-human species at the end of the world, so believe me: I am 100% on-board with such dispersal strategies in fiction!)
But I also find myself smiling, a touch ruefully, at how damned hard this is in practice.
Because so long as we are still embroiled in that highly evangelical rhetoric of heightened urgency, of the need for a transformation right now, right this instant in the way we tell our stories, or move through the world, or confront the major issues of our day…
We haven't really escaped the core problem.
We still haven't learned how to let go of needing to be the dramatic centre, the most critical and active agent, in the stories of the cosmos that we tell.
What will our critical discourse look like, I wonder, when we do?