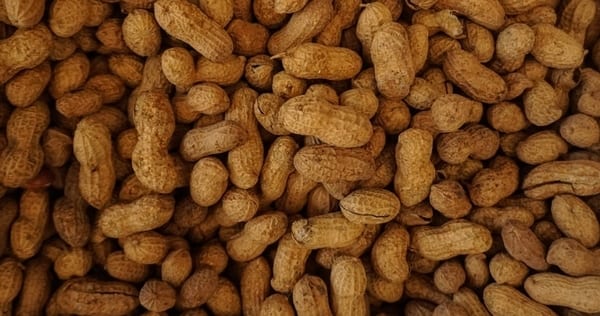 Let's begin with a story. When I was a child, Canadian culture was a touch different. There was a freezer in my public-elementary, for instance, where school-event freezies (what some of you call otter pops) were stored alongside sandwiches made up for any kids who were hungry. A child who'd forgotten their lunch. A child who'd had no lunch to forget.
The sandwiches were peanut butter–a cheap, efficient protein source. Tasty! Durable!
And most critically of all: Not yet a problem-food. The allergy epidemic hadn't yet swept over our culture, invoking bans and whole industries of peanut-free lunch products for children. But when it swept the country, and when other major allergies quickly followed suit, I remember being struck by how quickly severe allergies were naturalized. No one seemed to be asking, why are all these children suddenly dealing with extreme life-or-death food sensitivities?
We just accepted that they were.
And, okay, fair enough. Triage, right? First we'll protect children from, you know, dying… and then we'll figure out what's going on and try to nip the problem at its source.
…Right?
Nope.
Instead, today allergies play a critical role in the food economy. There are whole industries dedicated to diversifying food types available to people with severe allergies (a plus for those people, for sure!), but… very little public momentum around doing more than preventing reactions from happening at the last possible moment: the moment of contact between a person with allergies, and their allergen.
And so today I want to look at one of my biggest empathy gaps: my intolerance of allergies. This is an issue, in other words, where I am probably in the wrong. But as I did in my essay about James Tiptree, Jr. and my essay on the danger of giving too much credit to extreme positions, I hope to use a personal example–an ongoing example–to illustrate how there are still more decent ways to be wrong in our world.
Caveat
Let me be clear, though: My intolerance is for the allergies themselves, not for the people suffering from them. And yet, in a culture where some people inexplicably try to "trick" (i.e. poison) allergy sufferers by exposing them to known allergens… that's not always a comforting distinction. This is why my intolerance to allergies has often become an impediment to my humanism: because I can completely understand why an allergy sufferer would be nervous around someone who–for reasons I'll outline below–is rather furious at how allergy accommodation has been naturalized in our culture. And so I'm routinely left wondering if my fury at a broader issue is worth the possibility that suffering individuals won't feel safe around me.
I have, for instance, a lot of friends with food allergies. Toddlers who flush with hives at milk or eggs. Adults who can't eat shellfish or who have celiac disease. One friend who cannot have cow's milk at all–as an allergy, not an intolerance. Other allergies in my circles include: oranges, grass, specific nuts, all nuts, legumes. One person I knew in elementary school had idiopathic anaphylaxis; we never knew what triggered her attacks, but we all knew where her EpiPen was stored, and how to use it.
To make things even more bewildering, I have food intolerances myself! I had a bad reaction to shrimp as a child, and though I later thought I'd trounced that issue, in my twenties my throat seized from a plate of molluscs. I had a similarly awful reaction to my first lobster. And just half a year ago, I went to dinner with a friend with similar shrimp sensitivities, and only after both our throats seized up did we find out that shrimp had been used in the cooking process.
So, oh yes, I'm aware that the reactions are real!
But Then What's Your Problem, Bub?
My problem is systemic.
My problem is that our answer to the question "Why is everyone suddenly so allergic now, and only so significantly in the one-third [Western] world?" is simplistic. We'll readily argue that other parts of the world just don't have the resources to identify allergies as well as we can… but we won't consider that perhaps unidentified allergies elsewhere are also being resolved in ways that our avoidant approach doesn't allow for–and that's why we're not seeing the same horrible epidemic far afield.
My problem, too, is that we're now seeing secondary medical conditions, like ARFID (Avoidant Restrictive Food Intake Disorder), which are centrally caused by traumatic food experiences like massive allergic reactions… and yet even as allergies beget further medical crises, we're still not treating allergies themselves as anything but status quo: something you get and then just… have. For life.
And when you compare our treatment of allergies to other extreme medical issues, does this approach not seem particularly strange? Diabetes, for instance, is an awful condition, which absolutely needs to be respected and accommodated for in the moment. But we also aggressively promote research for a cure. Likewise, cancer is a brutalizer of lives, with high mortality risks–which is why we undergo extreme treatments to put an end to its tyranny over our bodies.
Where, conversely, are the ribbon campaigns for allergy-reduction research? Where is the public outcry to match the epidemic? And where is our cultural acceptance of the need for aggressive treatment when an allergy could trigger death in minutes?
Because, finally… my problem is that a lot of classism gets woven into our allergy epidemic when it's culturally regarded as a static condition: a label that will forever require external accommodation.
Not everyone can afford testing, to begin with–which means there is a class component to who gets to find out they've got food sensitivities in a secure environment. And then not everyone can afford the lifestyle modifications associated with a given diagnosis. Finally, as we saw with the gluten-free craze, plenty of people also begin to covet those specialty products, even if a person who doesn't have celiac disease, say, is probably not going to see a benefit from quitting gluten, too.
Wait, Are You Calling Allergy-Sufferers Classist?
Oof. I know. That sounds harsh, and dismissive.
But just as I know that my PhD grief was super, super classist in a world of war, starvation, and displacement pressures… yes. Yes, I think we who suffer food sensitivities have legitimate, life-threatening pain that nonetheless arises in a very classist context.
Now, I certainly don't think we mean to manifest classism. Who gets out of bed thinking, "Hey! Today, I'm going to use my sickliness as a status symbol! I'm going to risk my life every time I go to a restaurant as a way of differentiating myself! I'm going to perform or aspire to a higher-class status by ending up in the ER after dining with a 'friend' who wanted to prove I was faking it all along!"
And good heavens, who especially gets out of bed thinking, "I'm going to do all of the above, but with my child at risk instead!"
Nevertheless, it's part of our cultural background: Every generation has a body of ailments that only persons of a certain class can afford to maintain. Sometimes this implies that people in lower classes simply die of the same conditions. Sometimes this implies that people in lower classes don't have the conditions at all.
Even more tellingly, the most promising research to date… all suggests an obvious solution that works for a significant chunk of test groups. It's a solution, however, that I do 
not 
see folks quick to explore: a solution I haven't even committed to myself, in relation to my shellfish sensitivity–though I'm
pretty
sure I should.
I'm talking, of course, about gradual exposure therapy–including Oral Immunotherapy (the most effective, which involves a gradual introduction of very small samples), Sublingual Immunotherapy (diluted forms of the allergen in drops under the tongue), Epicutaneous Immunotherapy (skin-based exposure), or acclimation via exposure to baked variants of the allergen.
(NB: Obviously celiac disease is different, and can't be cured the same way. I suspect the meat allergy that the Lone Star Tick now triggers will also require a different cure.)
All these solutions, though… don't involve much in the way of specialty products, or other external accommodations. Rather, they require that we think of "food-sensitive" as a temporary label, on par with "person with a broken leg" or "person with appendicitis." And they require that we be willing to put ourselves through further discomfort with foods around which we've already had extremely bad experiences.
Like any other trauma in our lives, then, recovering from an allergy requires our willingness, first and foremost, to accept the possibility that it can be cured.
And as a culture, I don't think we're there yet. Even though our avoidant approach to allergies doesn't actually address the epidemic; even though we all know people who could literally die from a casual encounter with a specific food item; even though parents live with incredible fear over their children's life-threatening allergies; and even though we're seeing serious secondary conditions arise from these allergies, too… we still aren't collectively ready to start treating allergies the way we do diabetes or cancer: that is, with both disease-management and a cure as our goals.
Thinking Like A Humanist Through Human Frustration
Okay, but now that I've said my piece as to why I'm intolerant of allergies, let's get back to the humanist part of things.
Because boy howdy does the above make me furious–and, apparently, in the minority. A dangerous minority, too: one populated by assholes who deny the existence of individual allergy sufferers, who insist that allergies are fake, and who are even willing to expose "friends" to known severe allergens to "prove" their point.
[NB: Food tampering, by the way, is a crime in most North American districts, so if respect for your fellow human being isn't disincentive enough, remember that charges can be laid against you for trying to "trick" (i.e. poison) someone out of an allergy. Don't do this. Please don't do this.]
Suffice it to say, I hate the views of many bedfellows in this particular sceptical camp.
And I hate the idea that I make myself seem like a similarly unsafe person to be around, if I share these views about our cultural approach to allergies with other people who suffer from extreme food sensitivities.
But here, too, is where the humanist lesson arises:
Because on occasion members of this latter group, these people who also suffer from difficult-to-life-threatening food sensitivities, have expressly called me an allergy-denier. Some have even accused me of wanting to let people die through casual allergen-exposure, all for the sake of grand hypotheticals. Further, I've been told that my argument fosters a culture of denialism that the worst trashbags will exploit, which necessarily makes me an enabler for their horrific words and actions against sufferers.
And… oh, you bet: Those accusations have rankled. I've seethed and I've paced over what I regard as an oversimplification of my position, and the shutting down of a discourse that I firmly believe requires more nuance.
And yet… I still haven't let these accusations swing me retributively to the other camp.
I still haven't let someone calling me an allergy-denier make me act like an allergy-denier.
Instead, I've made sure that when faced with other people's accusations of ill-intentioned discourse, I dig deeper–not into my position, but into theirs. I make sure I'm following people, say, who are fully immersed in allergy management, or who can share the day-to-day of being an extreme-allergy sufferer, or a parent to a child with the same. I listen to their podcasts, follow their posts, and pay attention to articles about them. I don't launch into comment threads to disagree, even though my own convictions may (and do) remain unchanged–but rather, I make a concerted effort, whenever accused of dismissing a suffering minority, to keep that group's concerns and our shared humanity firmly in mind.
Funny thing, that resistance to simply switching camps when my pride is wounded.
Funny, frustratingly rare thing, indeed.
The Take-Away
Whether the topic is allergies or trans rights, free speech or freedom of association, we are not always going to be aligned with the majority perspective. And when we're not, there's a striking human tendency to feel personally maligned when our criticism is met with heated, hostile response–especially from a marginalized population.
But whatever the specific topic; whatever nuance we feel to be frustratingly absent from the discourse on whole; whatever fury boils deep within us at being accused of ill-intent toward our fellow human beings…
We have a choice.
We can choose to get angry at people arguing with us in defense of the marginalized.
We can choose to latch onto their possibly nasty accusations against us.
We can choose, furthermore, to revel in the experience of being victimized by said accusations, and so cede the possibility of meaningful debate by placing the blame squarely on everyone else.
And we can choose to tell ourselves that "PC" culture is at fault for it all.
Or…
We can choose to disengage from a given locus of debate when it gets toxic.
We can choose to remember our shared humanity, and recognize that if a group feels threatened by our arguments–for whatever reason, however stupid we might find it–there's an empathy gap we need to address before we can go forward.
We can choose, as well, to do the work that this empathy gap requires: By listening. By actively exposing ourselves to others' points of view. By learning better what's at stake for all parties involved.
And finally, we can choose to accept that it's okay to lose the battle–because one voice was never going to win the war. It never has, much as we like to pretend otherwise.
However, when one voice is trusted enough to be amplified by the right tens of thousands? Well, sure. Heck, if you're "Greta" at it, you could even mobilize the world.
That path to greater change, though, begins by recognizing the company that your sociopolitical positions keep, and who might be severely threatened by that company gaining discursive ground. Now, is this perfectly "logical"? Should the company we keep determine the validity of our statements? Of course not–but if all it takes to join that more hateful company is to receive angry comments from the "other side"… then yours wasn't a position held purely out of logic, either.
So knock it, fellow humanists with unpopular views. When society claims you're in the wrong, and you firmly disagree with its verdict, there is still a more decent way to be wrong than the ones we so often choose.