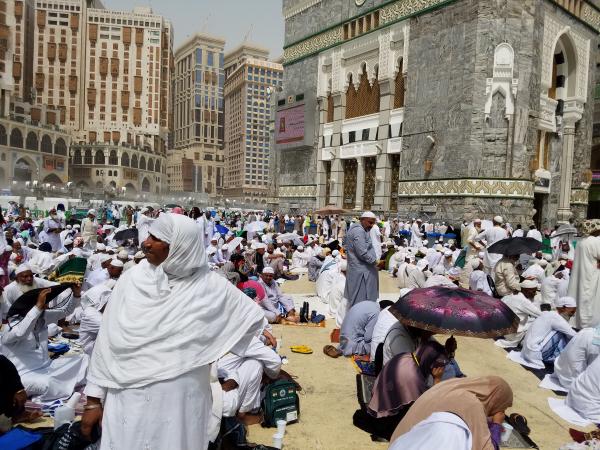 I left my hotel room around 9 a.m. for the Friday prayers at Kaa'ba, with the thought that I would beat the crowd, as we had about three and a half hours before the Friday adhan ( call to prayer).
Well, everyone must have thought the same, as I found out the gates to the mosque were already closed! The Grand Mosque was already full and pilgrims were lining up in the yard leading to the mosque and onto the streets that are typically closed for traffic for that very purpose.
Instead of the comfortable environment inside the mosque, the pilgrims were taking their spots on the concrete yard under the scorching sun with temperatures in 105 degree range around 9;30 a.m. Along with other pilgrims I actually consider myself very fortunate to even get that spot. Congregational Friday prayer at Kaa'ba is considered a pinnacle for the pilgrims and a dream for all Muslims.
Sitting outside, practically praying on the streets, waiting for more than three hours under the summer sun of Makkah made the experience that much more rewarding with a great sense of accomplishment that brought calmness to my heart.