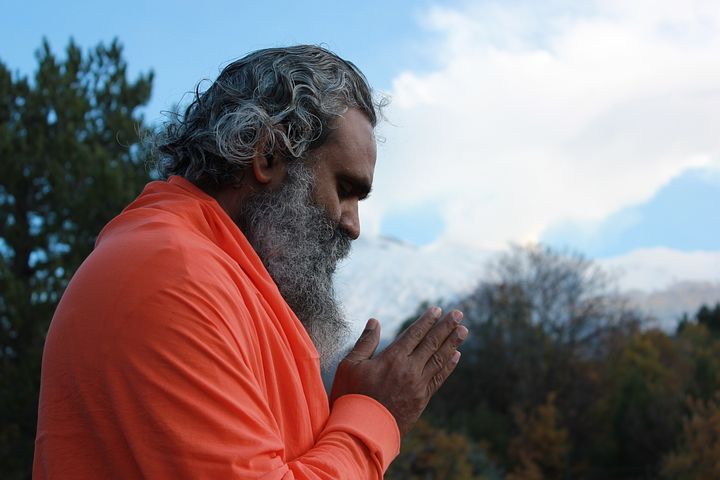 As I near my 60th birthday this year, I am starting to have some health issues. It does put a damper on your energy and ambitions in life. But rather than getting grumpy, it makes me appreciate, and recognize how incredibly blessed I have been for things that I took for granted, and gives me opportunity to show my gratitude to God Almighty – the giver of everything.
First of all, let me say at the outset, none of these are "serious" health issues, InshaAllah (God willing). But for almost 60 years, I did not have to watch my diet. Didn't have to worry about sweets or salt or Cholesterol.  Didn't have to go to ER- until recently. Didn't have to see doctors regularly. But recently as the blood sugar and BP started to get in the borderline high range, I needed to watch what I had to eat, making me realize how incredibly blessed I have been.
Then came a couple of minor health scares, including this one currently.
I found myself asking these questions: Did I thank God when I was able to eat at my pleasure without restrictions? Did I thank God when my xyz function/body part was working flawlessly? So why am i complaining when this has hit a road bump?
We take our body functions for granted, don't we- until we lose that function temporarily or permanently.
Do we not take for granted our sight and hearing?
Do we not take for granted the ability to digest food?
Do we not take for granted the ability to get all the toxins and the unnecessary ingredients removed by the liver, kidneys and other organs? Even our bowel movement and urination is a blessing. Just ask those who have lost this function.
Do we not take for granted the ability to sleep, and wake up refreshed?
This is just the tip of the iceberg in terms of health-related blessings. This does not take into account all the complex processes to maintain body function internally- the hormones, body fluids, the "homeostasis" system of checks and balances and the body's impeccable state of equilibrium. Maintaining the acid-base balance, body fluid balance, electrolyte balance, the hormonal balance, the immune function to fight the offenders- the list goes on and on.
And then there are so many other reasons we can be thankful to God Almighty. Having the faith in God in itself is a blessing. The family, the job, a thinking mind, a caring heart, peace of mind, the environment- the rain, the sun, the ocean, the pets, to name a few.
The Qur'an and the Bible put a lot of emphasis on showing gratitude to the Creator. Gratitude is also a big part of spirituality. Gratitude is often taught as a healthy psychological behavior.
The benefits for practicing gratitude
There are numerous studies showing the positive impact of gratitude on physical and emotional health. Greater Good Science Center (GGSC) at UC Berkeley is a leading institute for the study and propagation for science and practice of happiness and well-being.
Why practice gratitude?
Robert Emmons, perhaps the world's leading scientific expert on gratitude, argues that gratitude has two key components, which he describes in a Greater Good essay, "Why Gratitude is Good".
First," he writes, "it's an affirmation of goodness. We affirm that there are good things in the world, gifts and benefits we've received."

In the second part of gratitude, he explains, "we recognize that the sources of this goodness are outside of ourselves. … We acknowledge that other people—or even higher powers, if you're of a spiritual mindset—gave us many gifts, big and small, to help us achieve the goodness in our lives." [1]
According to the Greater Good Magazine, practicing gratitude has many physical, emotional and social benefits, such as:[2]
Qur'an on Gratitude
Showing gratitude and thankfulness is an oft-repeated theme in the Qur'an. There are many layers of the state of gratitude, starting with simply appreciating all the bounties in our hearts and reflecting it in our good deeds.
Practicing gratitude is for our own benefit:
The wise man, Luqman was told that the practice of gratitude is for our own benefit.
We endowed Luqman with wisdom: 'Be thankful to God: whoever gives thanks benefits his own soul, and as for those who are thankless––God is self-sufficient, worthy of all praise' (31:12).
Chapter 55 (Surah Rehman, or the Most Gracious), is one of the most inspiring, most oft-recited chapters of the Qur'an. It  reminds us of the numerous bounties and then repeatedly asks us the same question (31 times in the chapter): "Which of the favors (bounties) of your Lord will you deny?"
God's bounties are too many to compute:
Is, then, He who creates comparable to any [being] that cannot create? Will you not, then, bethink yourselves? For, should you try to count God's blessings, you could never compute them! Behold, God is indeed much-forgiving, a dispenser of grace; 16:17-18
It is He Who brought you forth from the wombs of your mothers when you knew nothing; and He gave you hearing and sight and intelligence and affection: that you may give thanks (to Allah) 16:78.
God does not discriminate when giving away bounties.
He shows and gives mercy to all, even those who continue to be ungrateful and rebellious towards Him.
Indeed God is the possessor of bounty for all people but most people do not give thanks. 2:243
Abraham, the father of monotheism, summarized his gratitude beautifully, ending with a prayer.
Who created me, and He [it is who] guides me. And it is He who feeds me and gives me drink; and when I am ill, it is He who cures me; and who will cause me to die and then bring me to life; and who, I hope, will forgive me my faults on the Day of Judgment. My Lord: Grant me wisdom, and join me with the good. And ordain for me a goodly mention among posterity. 26:78-84.
Bible on Gratitude
Praising God and showing gratitude to the Almighty goes hand and hand in the Bible. (Giving thanks to the Lord or a higher power, is preached and practiced regularly in many other religions besides Islam, Christianity and Judaism.)
Enter his gates with thanksgiving, and his courts with praise! Give thanks to him; bless his name! For the Lord is good; his steadfast love endures forever, and his faithfulness to all generations. Psalms 100:4-5
Every good gift and every perfect gift is from above, coming down from the Father of lights with whom there is no variation or shadow due to change. James 1:17

Bless the Lord, O my soul, and all that is within me, bless his holy name! Bless the Lord, O my soul, and forget not all his benefits, who forgives all your iniquity, who heals all your diseases, who redeems your life from the pit, who crowns you with steadfast love and mercy, who satisfies you with good so that your youth is renewed like the eagle's. Psalms. 103:1-5
Thanks be to God for his inexpressible gift!" 2 Corinthians 9:15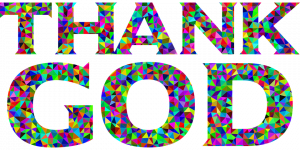 Let me end by stating some of the benefits that are similar to Robert Emmon reasoning, from a spiritual perspective.
Showing gratitude gets our eyes off ourselves, and helps us to focus back on God and others around us.
It reminds us we're not in control, and that's OK. It keeps us humble and does not let our egos get in the way. It reminds us that God is in control. We need Him, He does not need us.
It is a constant reminder how lucky we are to have all the bounties- the ones we are conscious of and the ones that we are not even aware of.
So thank you, God for everything you have blessed me with- ones I am aware of, and the ones that I don't even know about.I know I won't be able to thank God enough for His blessings, even if I stayed in prostration 24/7.
And I would end by what Muslims say when expressing their gratitude to God- Alhamdulillah.(Praise be to God).
[1] https://greatergood.berkeley.edu/topic/gratitude/definition#what-is
[2] https://greatergood.berkeley.edu/topic/gratitude/definition#why-practice