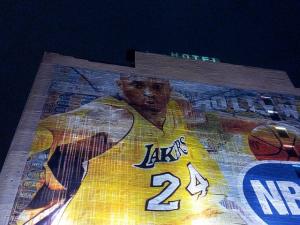 Like everyone around, I am still in shock and disbelief after hearing the news of the tragic death of NBA megastar Kobe Bryant. It has not sunk in yet. After all, he was more than a Lakers and an NBA star and his legend only grew after he retired from NBA about 4 years ago. It is also a stark reminder that we really don't know what lies ahead of us despite planning hard for times to come.
I have been a huge Lakers fan ever since the days of the 'Show Time' Lakers of Magic Johnson era and have watched in amazement Kobe Bryant's unparalleled competitive gamesmanship that followed. What's perhaps even more tragic is the death of his 13-year-old daughter, Gianna, known popularly as Gigi. He was apparently taking her to her basketball game along with 7 other passengers in a helicopter that crashed Sunday morning near Los Angeles.
The entire sports world, not just the NBA has been in shock and mourning the loss of a legend. He had ambitions beyond basketball and was primed for a second act- as great as the first act of his playing career.
His death is a stark reminder that we don't know what life has in store for us. A year ago I wrote a post on retirement planning after attending a retirement seminar and how unprepared we are for the 'post retirement' life. We plan for things in years down the line, often times not realizing we may never live to see them come true.
We take life for granted.
But the truth is that the only certain thing in life is death. Yet we tend to not plan for what's to come after death.
Every soul will taste death. The Qur'an 3:185
After hearing the news of his death, it felt unreal to recite, 'We belong to God and to Him is our return'. (The Qur'an 2:156)
Kobe is one of those rare athletes known only by their first names.  He will be greatly missed. His legend will only grow with time. My heart goes out for his wife, his three daughters he left behind, along with his parents. May he and his daughter Gianna (and the other 7 victims of the crash who remain unidentified) rest in peace. Amen.
In his speech at the Staples Arena in Los Angeles after he scored 60 points in his final NBA game, he gave a rousing speech and concluded with these final words, as he put the microphone on the ground.
'Mamba out.'
It is hard to fathom that this time Mamba is out for ever- but not from our hearts.