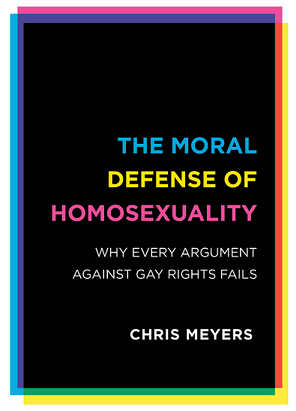 Therefore if methodical investigation within every branch of learning is carried out in a genuinely scientific manner and in accord with moral norms, it never truly conflicts with faith, for earthly matters and the concerns of faith derive from the same God. . . . we cannot but deplore certain habits of mind, which are sometimes found too among Christians, which do not sufficiently attend to the rightful independence of science and which, from the arguments and controversies they spark, lead many minds to conclude that faith and science are mutually opposed. (Gaudium et spes, §36)
In the past few days I've been reporting/commenting on a story in Memphis, TN, of a high school senior (Lance Sanderson) who was banned from bringing his same-sex date to homecoming.
Most of my readers are highly sympathetic to his situation; and in the aftermath many are wondering what can we do about it?
From the beginning, the biggest complication here has been the fact that Lance attends a private, Catholic school—which as a general rule has broad (legal) authority to do whatever it pleases here. As such, the most obvious and direct route to change here would only come in the form of limiting the authority of private schools in matters like these.
Truth be told, I have little to contribute in terms of how to accomplish that. Perhaps, in the future, there will a universal sort of "Student Bill of Rights" that, among other things, protects expressions of a student's sexuality, and which must be adopted by all accredited schools, whether public or private.
But another reason I've become interested in this story is precisely because of the inflexibility of Catholicism here. That is, even if there was never much hope for a positive outcome to this situation in particular, this could be an opportunity for a bigger conservation and some brainstorming on where to go from.
---
So, on one hand, there's the actual legislative/educational reform angle. But on the other—and I've only barely broached this subject in a previous post—I'm also interested in the possibility of reform from within Catholicism.
Now, the #1 thing you'll hear whenever issues like these are broached is that the Catholic Church does not change in matters like these (theology on sexuality)—that it actually cannot change. But I think there's room to question this truism.
Think of the challenge that biological evolution (and all its accompanying implications) posed to traditional Catholic thought here, in terms of uprooting truisms that had gone unquestioned for centuries. In fact, there are still several aspects of evolutionary anthropology that are highly problematic in orthodox thought, i.e. relating to a historical Adam and Eve; and despite that the Catholic Church has definitely made major concessions toward accepting evolution, it's still not yet clear that this acceptance won't be the undoing of some "unimpeachable" traditional dogma here.
There are indications that other strongly-held Catholic dogma could be unraveling, as well: i.e. the fact that advances in metaphysics have rendered traditional Catholic understanding of transubstantiation virtually indefensible.¹ The ordination of women is another huge issue in which there's been a lot of dissent; though honestly, I think that this issue and the revision of Catholic views on homosexuality are pretty comparable issues here, in the sense that there's still a long way to go before any real progress is made at the institutional level.
There's a sort of common denominator to the dissent and calls for revision on several of these issues, too; and I think that if we can really understand this, we might find another potential route for making progress here. This is that the issues of homosexuality and gender have become firmly implanted as subjects of academic and scientific discourse/understanding; and here there's a sense in which we can look toward the insights of academic history, other social sciences, and indeed the natural sciences in order to uncover true knowledge about homosexuality and gender.
This is important in several regards, vis-à-vis Catholicism.
For one, just as Catholic doctrine on sexuality belongs first and foremost to the ethical deposit of faith here, so too both the "social" and "natural" sciences also have ethics as their subject, to various degrees—indeed this constitutes its own academic discipline. More importantly, though, the Catholic Church also professes a tradition of respecting general knowledge about the world we live in, to the extent that efforts are taken to ensure that this knowledge is not being denied, even in spite of its own theological doctrines.²
Even though this itself might constitute somewhat of a development in some ways, nonetheless (by its own insistence) there is now room in Catholicism to reject the naive thought of earlier Christians on various issues of science—the type of things that they are usually not blamed for, due to their being "limited by the perspectives of their time." However, by many of the same principles here, there may also be room to reject other more general pre-critical doctrines that they held—on sexuality, etc.—when these, too, are challenged upon critical inquiry from academic disciplines.
Because of this, it seems like an unavoidable and recurring problem that there are certain "tipping points" where the evidence of something or another here—again, based on the accumulated knowledge from academic history, science, etc.—is too much for traditional Catholic understandings to bear, and consequently the latter has to be radically revised.
---
I don't think the issue is so much that Catholic authorities don't realize some of these things, as much as no one wants to make that opening salvo and risk pushing people down a slippery slope.
Interestingly, however, for decades now we've been seeing a widening gap between many Catholic scholars, in academia itself—who are largely afforded great freedom to work independently, and even rigorously challenge traditional Catholic thought—and higher-level "institutional" Catholic authorities. (One of the most dramatic historical moments here took place in the 1960s, with Pope Paul VI's rejection of the conclusions of the Pontifical Commission on Birth Control in favor of a much more conservative view on contraception.)
It might be objected that one of the reasons that, say, evolution in particular came to be accepted in Catholicism is because it's something more "purely" in the realm of science; and so Catholicism has room to concede to its insights, precisely because the Church has never understood itself to be in the business of making scientific proclamations anyways, but rather has limited its magisterium to matters of "faith and morals"—in short, that its ultimate authority centers around matters of salvation, not science.
But it's become more and more clear that this is a false dichotomy in many if not most cases. There is no neat division between matters of faith and more secular areas of critical inquiry. Further, if the idea that faith and critical thought about the world can be—must be—harmonized is to be meaningful at all, then tenets of faith must be warranted: they must be historically, scientifically, metaphysically meaningful and true, too.
As mentioned, it is precisely things like the doctrine of transubstantiation—something that has been traditionally thought to fall squarely in the domain of "faith and morals" in Catholic thought—where I think we're seeing some major cracks, under the weight of critical metaphysical inquiry, etc. And it may indeed be the case that these will eventually be fatal to the traditional understanding.
---
Part of my overarching goal with this blog as a whole is in inviting those who might not otherwise be interested in (or familiar with) these things to the broader academic conversation.
For those of us who might have also have a moral investment in challenging Catholic views on sexuality and their tangible effects in society, I think one of the biggest areas of pressure on these traditional authorities comes precisely from an intellectual/academic angle; and the more people involved in those areas—and helping to disseminate and parse their insights—the better.
Maybe, at the end of the day, it will be the legislative/educational reform approach that produces the most immediate change in terms of protecting the rights of gay students in Catholic schools. But the ultimate edifice is not just political, but ideological (and "intellectual"); and I think we should be doing whatever we can to hold Catholicism accountable to the same intellectual standards that everything else in the world is held to.
⁂       ⁂       ⁂
---
Notes
[1] Not only advances in metaphysics but also historical studies, too, have weakened this. See P.J. FitzPatrick, In Breaking of Bread: The Eucharist and Ritual for a superb blend of these.
[2] Exactly how well this has worked out (and continues to be worked out) in practice, though, is a matter of some debate. As an interesting anecdote, however, when St. Augustine is commenting on how literally Genesis is to be taken, he writes "if it became utterly impossible to safeguard the truth of the faith while accepting in a material sense what is named as material in Genesis, what alternative would be left for us except to take these statements in a figurative sense rather than to be guilty of an impious attack on Sacred Scripture?" (De Gen. ad. Litt. 8.1.2). Of course, this displays a disturbing sort of attachment to inerrancy; but nonetheless it displays a remarkable concession to the sciences.