I live about a 40-minute drive from Old Winchester Hill in Hampshire.  It's a pretty walk with breath taking views of southern England countryside.  In early autumn, you can pick blackberries and elderberries as you meander your way to the Iron Age fort with its Bronze Age burial mounds.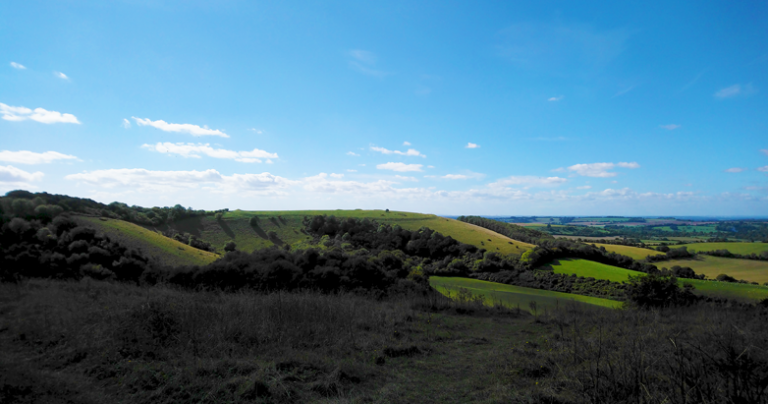 You have to go out of your way to get to Old Winchester Hill, which means you encounter only a few dog walkers and hikers.  On most days, you're surrounded by nature and the stillness that comes from getting away from the busy-ness of life.  There's no Wi-Fi and mobile phone signal is negligible.
We often take picnics and sit on the burial mounds to eat.  We spent part of my husband's 50th birthday there in September and I've eaten my birthday cake on burial mounds in the past.  Old Winchester Hill has never been properly excavated so at best guess, we're sharing our celebrations with those who departed life about 6,000 years ago.
It's become a tradition to journey to the burial mounds on Samhain.  We have taken this pilgrimage on dark, moonless nights with heavy rain and no flashlights (I have never been so scared of sheep before in all my life) and we've gone in fairer weather (when I was not startled by sheep).  The weather changes but our focus never does: we go to leave an offering for the unknown ancestors on the burial mounds.
I have no idea who is buried underneath the mounds.  Male, female, young, old… doesn't matter.  I know that we're all one and somehow in the beautiful interconnection of the Universe, those old bones are part of my living blood.
We share our food with the unknown ancestors (while being mindful of wandering sheep, of course) and pour them a drink.  We give our thanks because while we don't know their stories, we know they have contributed to ours.
On Samhain, I will leave out food for ancestors whose names I know but even then, I realise that my connection with the past only goes as far back as my living memory.  The names I have collected through genealogical research are just names, and those direct relatives are as much unknown to me as the old bones buried on Old Winchester Hill.
Samhain ritual to honour the unknown ancestors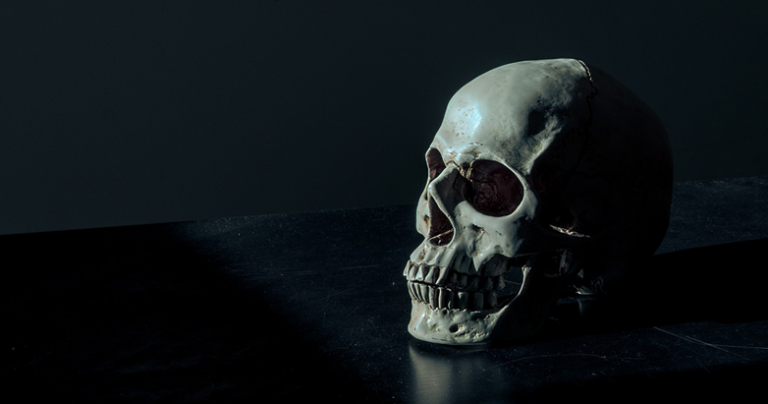 I appreciate that not everyone has easy access to burial mounds so you'll be relieved to hear that this ritual is burial mound free!  Unless you live in a very remote location, there's usually a cemetery within a reasonable distance to you.
Visit a cemetery and take with you a food and drink offering.  Be mindful of wildlife and the environment – you really can't go too wrong with fruit or berries.  You can be a bit more adventurous with drink as you'll be pouring it on the ground.
When you get to the cemetery, allow your intuition to guide you to a grave that needs your attention.  In many older cemeteries here, graves become weather-worn and neglected through time.  You're bound to find the final resting place of someone who has become forgotten.
You'll know when you've found the right grave (trust your intuition).  Take a few moments to reflect on how interconnected we are – take your mind from Mitochondrial Eve to the beat of your heart.  And just wonder how the person buried in front of you is connected… think about his or her stories and then expand outwards again to consider the stories of the whole human race back to Mitochondrial Eve.
This will put your life into perspective and hopefully, give you an indication of how vital you, and everyone before and after you, are in the intricate web of life.
Now, recite the following:
Ancestor whose bones lie within
And to the others who lie elsewhere
I give thanks to you for coming before me
I do not know all names, for there are millions
But I know your lives have shaped and formed me
In ways I cannot understand from this side of the veil.
Take the food and take the drink
For all lives are not forgotten and all are remembered on this night.
I leave you in gratitude and bid you remain in peace.
Leave the food on the grave and give your libation.