Moon Magic: Samhain & October, when the gopher looks back…
Obviously, October is particularly special because of Samhain (Hallowmas/All Hallows) at the end of the month. It is a period between times. The leaves are changing and the air is crisp and clear as the dark nights begin to draw in.
The veil between the worlds is said to be thinner at this time. Remember those that have gone before you and honour your ancestors.
October lends itself to drama and atmosphere. It is a good excuse to make the most of this time by overloading on the witchy decorations.
If you can work some magic outside then even better. Get a fire going and plenty of candles on the dark evenings. The October full moon is an especially good time to work divination of all kinds.
Scrying outside under the moon is perfect. It doesn't need to be fancy, a cauldron or dish filled with water or even an old bucket will do. Drop a silver coin into the water or sprinkle on a handful of herbs to help with the images. Allow the light of the full moon to shine on the surface.
October is also a good month to work protection spells or create protection amulets and pouches.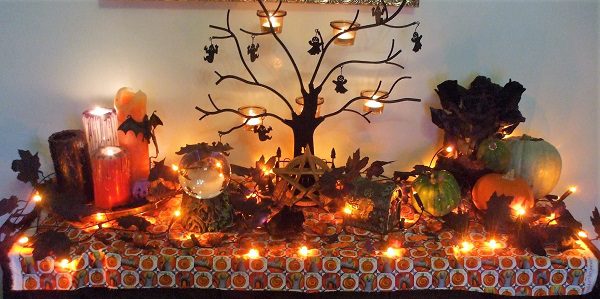 October full moon magic
There are several things to focus on with this full moon such as bringing energy back into whatever you are doing and finding a way to balance your feelings, emotions and what goes on in your everyday life.
Also take a moment to look at how you have been over the past few weeks…what negative energy have you been putting out into the world? What have you not done that you should have?
Recognise and acknowledge those issues, actions and feelings and then…let them go…allow the October full moon energy to remove them from you.
Then re-focus and put plans into action to bring heap loads of positive energy into your life, be thankful for what you have and move forward with a leap in your step and a song in your heart…well OK maybe not quite that musically dramatic but you get the idea.
Leave out a plate of food and drink for the spirits on All Hallows Eve. Decorate your altar with pumpkins, squashes, apples, pomegranates, marigolds and chrysanthemums along with autumn leaves, nuts, seeds and corn dollies.
'Tis the season of the witch.
October Correspondences:
Herbs: Pennyroyal, thyme, catnip, angelica, burdock, sandalwood, copal, benzoin, wormwood
Colours: Dark blue green, orange, black, autumn colours
Stones: Opal, tourmaline, beryl, turquoise, jet, bloodstone, obsidian, carnelian, onyx, smoky quartz
Trees: Yew, cypress, acacia
Animals: Stag, jackal, elephant, ram, scorpion, heron, crow, robin, cat, owl, bat
Sign: Libra
Deities: Ishtar, Astarte, Demeter, Kore, Lakshmi, Horned God, Belili, Hathor, Anubis, Odin, Osiris, The Horned God, The Morrigan, Lilith, Kali, Hekate, Hel and Crone goddesses
October & Samhain Magical energies:
To let go; inner cleansing. Karma and reincarnation. Justice and balance. Inner harmony. Introspection and reflection.
Work candle magic, past life work and astral projection. Mirror spells are particularly good this month.
Protection, inner work, removing obstacles, transition, changes, transformation and uncrossing.
Divination, meditation, fire magic, spirit work, sex magic and faery magic all lend themselves to the energy of this month.
October Moon Names:
Falling Leaf Moon – which is pretty obvious, as this is the time when the leaves start to fall.
The Blood Moon – this name refers to the time of the year when animals were slaughtered to provide food for the winter.
Hunter's Moon or Hunter's Moon – time to hunt and lay in store for provisions over the winter.
Gopher looks back – the gopher is looking behind him at lost summer days.
I have also found reference to October being a Travellers' Moon, Blackberry Moon, Seed Fall Moon and Kindly Moon, Harvest Moon, Shedding Moon, Winterfelleth, Windermanoth, Ten Colds Moon, Ice Moon, Blackberry Moon and Moon of the changing seasons.
Hoi An – Vietnam
In the port town of Hoi An in Vietnam they celebrate the full moon each month with a festival. They pay respects to their ancestors and make offerings at altars, burning fake money to bring prosperity and luck. In the temples monks hold candlelit ceremonies and the fishermen out on the water honour the goddess of the sea. Cardboard lanterns are lit and floated on the river to bring happiness, luck and love. Games are played and lots of festival food is eaten.
Greater Eleusinian Mysteries
1st October is the ninth day of nine days celebrating the Eleusinian Mysteries and was devoted to 'the pourings of plenty' in liquid form.
Isis
The Egyptian goddess Isis had two great festivals, one in the spring and the other in autumn often the autumn one began on 31st October and ran for four days. The celebration consisted of a passion play.
Shemini Atzeret / Simchat Torah
4-6th October is a Jewish holiday that marks the day after the end of Sukkot.
Many religious Jews observe a rota of weekly readings from the Torah which allows them to read it through from Genesis to Deuteronomy on a yearly basis. Simchat Torah means "Rejoicing in the Torah" and is the day when this annual cycle of rereading the Torah ends and starts anew.
Navaratri
Mid October Navaratri is celebrated by Hindus as a nine-day festival of music and dance to honour the female divine in the forms of Durga, Lakshmi and Saraswati.
Fontinalia
October 13 To Fons or Fontus, god of fountains, springs, and wells. Fountains and wellheads around the city of Rome were decorated with garlands.