December – Working with Magic of the Month
I will admit I am a total festive season fanatic, in fact if I am honest our Yule celebrations usually start around 1st November (don't judge).  This time is not about shopping and material things, but it is about the existing positive energy of the season.  Spending time with family and friends.  Wishing compliments of the season to strangers and bringing festive cheer wherever you go.
December hosts the winter solstice, the ending of the darker nights and the very slow beginnings of the greater light.  This is a celebration of the returning Sun, albeit that it will take a long while to arrive!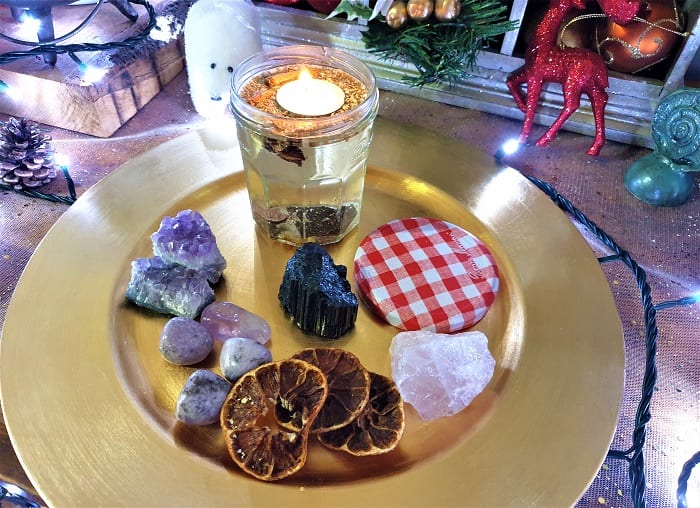 December Magical Energy
To endure, die, be reborn; Earth tides turning. Darkness. Personal alchemy. Spiritual paths. Introspection. Purification. Meditation. Reach out to friends and family, the lonely and needy. Revitalisation. Divination. Relaxation and reflection.
Creating prosperity and setting goals for new projects and ventures. Planning for the future.
Being thankful and gratitude rituals.   Peace, harmony and love.  Bringing in happiness.  Work prosperity magic and a bit of the passion stuff too.
Colours:
Red, white, black, green, silver and gold
Sign: Sagittarius
Element: Water
Season: Winter
December Moon Names
Cold Moon, Oak Moon, Wolf Moon, Moon of Long Nights, Long Nights Moon, Aerra Geola, Wintermonat, Heilagmanoth, Big Winter Moon, Dark Night Moon, Bitter Moon, Peach Moon, Younger Hard Time Moon and Moon of popping trees.
Cold Moon because…well, it is pretty cold!
Moon of Long Nights could refer to the full Moon closest to the winter solstice.
Aerra Geola/Foreyule an Anglo Saxon name meaning 'before Yule', or more accurately 'moon before the sun wheels' i.e. the winter solstice.
Heilagmanoth meaning 'holy month'.
Plants to work with for December
These are my suggested herbs to work with that correspond with the energy of this month.  But, trust your intuition and the supplies that you have in your cupboards.
Alyssum
Borage
Frankincense
Horehound
Hyacinth
Lavender
Meadowsweet
Pennyroyal
Sweetpea
Vervain
Violet
Yarrow
Foods, Herbs and Spices to work with for December
Whether you chose to include the foods in a recipe for the table or add them to spell work, here is my suggested list of foods to work with for the energy of this month.
Basil 
Blueberries
Butter
Cake
Cheese
Chocolate
Cumin
Honey
Orange
Poppy seeds
Saffron
Thyme
Turmeric
Wine
Crystals to work with for December
As always, go with your intuition and what you have in your collection when working with crystals.  The list below is my suggestion of crystals that work particularly well with the energy of this month.
Agate (blue lace)
Agate (moss)
Amethyst
Fluorite
Howlite
Larimar
Lepidolite
Rhodochrosite
Rhodonite
Quartz (rose)
Sunstone
Tourmaline
Moon Herb Water/Candles
You can use charged Moon water for this and add to the energy by popping in plant matter, herbs and spices that correspond to the phase.  I like to put the Moon water in a jar, add the herbs and plants and then float a tealight on the top.  This transforms it into a jar candle spell.  You can create similar jar spells using regular tap water if you don't have Moon water.  You don't have to put a candle on the top.  Just add the plant material and then use the water to anoint candles for magic, splash the water on ritual tools or dab on your pulse points to impart the Moon phase magic.
I use dried or fresh plant matter or spices, but you can also add essential oils if you prefer.  Be careful with the candle if you add essential oils to the water! And it goes without saying…don't drink the water…
December Herbal Water
Add any of these to your water: Alyssum, basil, blueberries, borage, cocoa nibs, cumin seeds, frankincense, horehound, hyacinth, lavender, meadowsweet, orange peel, slices or pips, pennyroyal, poppy seeds, saffron, sweetpea, thyme, vervain, violet, yarrow
Video
To watch the video of my talk, click the link below
Book
The information above comes from the book Beneath the Moon by Rachel Patterson
Working with the magic of the moon to take you on a practical, spiritual and emotional in depth journey…
​
Beneath The Moon: Living, playing and working in tune with her rhythms can change your life and the way you look at the world. She will help you to connect not only with her magic but your own, your intuition and every thread that wraps its way through this big ole world of ours. She has the power to transform your life, you have the power within you to do the same…