Learning Witchcraft: The Journey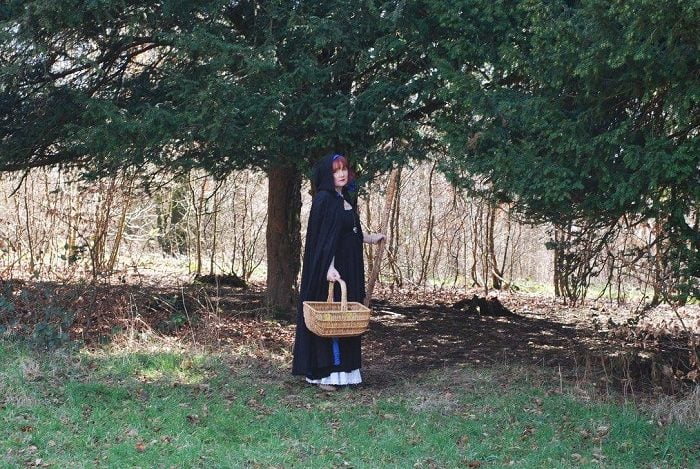 Quite often people will share with me their concerns that they have stalled in their learning journey or have lost connection to their pathway.   My response is always 'don't worry – it happens to us all' and it honestly does.
I also have students from the Kitchen Witch Online School on occasion who are upset because they haven't had time to do a lesson recently or aren't progressing as fast as they would like to.    My answer to this is always along the lines of: 'Witchcraft is about the journey – taking time to learn as you go, enjoying the scenery and taking it all in. And also about making friends and being part of a community along the way. The 'prize' isn't the certificate at the end, it is what you gain from the pathway you walk to get there'.
My own Pagan journey has been a long one that has not had a straight line in any part of it.  But I have succumbed to the pressure, self induced, of feeling that I haven't done the lessons, course work, study, 'insert other self imposed deadlines here' as quickly as I would like.  I am a bit of a certificate tart and I love completing a course.  But over the years life has taught me that it isn't all about the goal, it is more important to enjoy the course work as you are doing it.
I love to learn and even a gazillion years later I still love to learn.  I usually have something on the go that I am studying.  Currently I am in the second level of the Avalon Mysteries and the second level of Water Priestess training.   The Avalon studies first part took me three years (it was ten lessons), the second part I am nearly two years into and am only half way through.  The Water Priestess training second level I started in August, I have only completed two lessons.
Admittedly I am not in the middle of a house renovation so life is a bit chaotic, but that's the point really.   Life gets in the way!  It happens to us all.
It took me eight years to work through the three Wiccan degrees and gain my High Priestess title.  Traditionally level one takes a year and a day and level two the same.  The third degree often takes a couple of years.  I took eight years, although to be fair I did give birth to a baby in the middle of it!  Don't get me wrong I am incredibly proud of my High Priestess title, although I don't use it very often.  It took a lot of hard work to get there.  In particular finding myself out in the middle of the moors with a group of people, finding a stone circle and my mentor telling me I had to perform a ritual right there.  No preparation, no script, no materials.  It was part of my third degree training.  I did it, I can't say it was the best ritual I have ever performed and definitely not the most poetic, but I got there.
Personally I learn best from a structured set up.  I like to have lessons laid out and be given tasks and exercises to work through.   Although I have learnt a lot from books, in fact originally right back at the beginning of my Witchcraft journey (some time in the Stone Age) I only had access to books and only a few of those, having a home computer wasn't a thing!   But I still learnt a lot from reading about the Craft, particularly useful if the books set tasks or exercises to work with.
Once we had a home computer, which was enormous and probably only had a fraction of the memory that my mobile phone does now.  A whole other world opened up to me.
It was through the internet that I met like minded people and began to get out there and participate in open rituals and learning face to face.  This took my journey to another level.
There is no right or wrong way to learn the Craft.  I love that I have had a mixture.  Books are wonderful (obviously, otherwise I wouldn't write them myself), the internet has a whole host of places to learn online whether it is online schools (Kitchen Witch being one of them of course), online talks and workshops too.   In fact just being part of online social media groups is incredibly helpful and supportive.  Then outside in the big ole world you get face to face workshops, talks and rituals.   Each one of them gives you a different perspective and way of learning.
Wicca was my foundation, perhaps because at the time it was the only form of the Craft I had access to.  But it gave me a good grounding.   I soon ventured off the Wicca track and discovered Hedge Witchcraft, mainly via books.  This felt more comfortable to me.  My journey has dipped, delved and veered off into many different pathways, from each one I have taken bits that work for me and added them to my own practice to make it personal to me.   I spent a year studying the first level of Druidry with OBOD, I jumped into workshops for Shamanic practices and being a Shield Maiden.  Along with several workshops investigating the world of cacao ceremonies and of course discovering the magical practice of Hoodoo.  Hoodoo in particular struck me, because it is so similar to the folk magic I was already working with.
Each of us will learn at a different pace and most of us learn in different ways.  We will all favour one format more than another.   We will each have our own favourite subjects too.   Some lessons will take longer than others because of the subject material, others because we just don't get on with the subject we are working with.  There will also be lessons that you sail through because you love them!   I favour working with plant and herb magic, food magic and candle magic, these have now become second nature to me.   But put me in front of numerology or sacred geometry and I would probably still be there the following year.
What do you want from a teacher or course?   I have signed up to a lot of different courses, some have been good, others not so much.  One in particular was on the Cailleach and I was so excited to be taking it.  Only to find the course work was a cobbled together with work from other people, book excepts written by other authors and videos lifted from YouTube, disappointing indeed.   If you are looking at training or learning my recommendation would be to do some research first.  Find out about the person running the course or who wrote it and what they do.  If you can, find some reviews or recommendations from others.
Video
To watch a replay of my talk, click the link below: