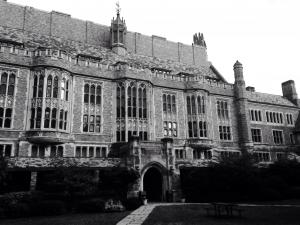 I've hesitated to write anything about the storm currently brewing at my alma mater, mainly because the phenomenon of "conservative writers bashing the schools they attended" is practically a cliché. But as I've pondered the story a little longer, the more I think it raises some profoundly important questions about what educational institutions are really for.
A few weeks ago, the Yale chapter of the Federalist Society hosted Kristen Waggoner, an attorney from the Christian legal organization Alliance Defending Freedom (ADF), for a lunch talk. Waggoner recently argued the case Masterpiece Cakeshop v. Colorado Civil Rights Commission before the U.S. Supreme Court, which led to a 7-2 victory for ADF's client.
Notably, ADF takes socially conservative positions on the issues of abortion, same-sex marriage, and gender identity, and has handled many high-profile lawsuits involving these issues. As a result, ADF has been labeled a "hate group" by the Southern Poverty Law Center (SPLC), a left-leaning public interest law firm (which has found itself mired in recent controversies of its own). Given the frequent vindication of ADF's arguments by the Supreme Court, I find it baffling that the SPLC characterizes their positions as "fringe" (what could be more "mainstream" than the law of the land?) but that's a separate discussion.
What happened next was, frankly, rather predictable. Scandalized student emails flooded the school-wide email listserv, accusing the Federalist Society of fomenting intolerance on campus, questioning whether the students who invited Waggoner should've been admitted to the law school in the first place, and so on. Now as nasty as that sounds, this is really nothing new for Yale. During my time there, I witnessed plenty of these flurries of indignation, often in response to conservative speakers. Just like Twitter, things quickly died down and that was the end of it. And it's worth noting that the outrage wasn't a consistent thing: notwithstanding their social conservatism on issues of sexuality, both R.R. Reno (editor of First Things) and theologian Stanley Hauerwas spoke on campus without incident.
What was different this time, however, was what followed the Waggoner event: an official announcement by the school that its nondiscrimination policy—which bars on-campus recruiting by employers that discriminate on the basis of various protected characteristics—would extend to the school's summer public interest funding, postgraduate fellowship funding, and loan repayment assistance funding.
The distinctions here haven't been explained very well in any of the various articles I've read, so I'll break them down. Summer public interest funding is a one-time grant (usually in the low- to mid-four figures) by the school to subsidize students' work over the summer at a particular nonprofit organization. Public defenders' offices, for instance, often don't have extra funding to pay for student interns, so Yale's resources ensure that students can get that experience. Postgraduate fellowship funding is a grant (mid-five figures) by the school to subsidize the work of a particular alumnus/a at a particular nonprofit organization for one or two years. This is often a pathway to a career in that field—a school-funded fellowship with the ACLU, for instance, can lead to a position as an ACLU staff attorney. Finally, loan repayment assistance funding is a ten-year process during which the school itself repays any loans accrued by students who choose non-lucrative career paths. For example, if you take out $250,000 in loans to attend Yale and subsequently accept a job as an immigrants' rights attorney making $40,000, the school covers all your debt payments. It's the ultimate form of "academic insurance."
Yale's expanded nondiscrimination policy—at least in its initial iteration—would seem to exclude from eligibility any organizations requiring their employees to sign a statement of faith. That is, a graduate serving as general counsel for her church denomination would be ineligible for any loan repayment assistance at all—whereas if she'd chosen to work for the National Abortion Federation, she'd be fully covered.
Following a sharply worded letter from Senator Ted Cruz, Yale subsequently clarified that the expanded nondiscrimination policy would include some sort of religious exemption (no such exemption was mentioned in the initial policy announcement) and would not make funding judgments on the basis of an organization's legal positions.
This move, while welcome in one sense, raises more questions than answers. If ADF was the intended target (which seems plausible), why backtrack at the first hint of resistance—particularly since it wouldn't be the first time Yale's approach to nondiscrimination policies triggered litigation? The policy, if it does indeed turn out to contain broadly written religious exemptions, would seem to have no real effect at all. I can't think of a single graduate who has ever received a postgraduate fellowship from the school to do socially conservative public interest work, and (let's be honest) there is no meaningful risk that any Yale Law alumni will work at white-supremacist organizations on the school's dime. So why make the change?
I think at bottom, the issue here is not one of public interest funding, but rather one of institutional identity. It has not been lost on anyone involved that the school's policy change was a direct response to student protests directed at a socially conservative speaker. By making this policy revision—a revision calculated to impact not just students of the school, but the school's alumni—Yale is clearly sending the message that we are not interested in admitting the type of person who chooses to be part of an "exclusionary" organization.
As a member of a church that practices "closed communion"—and as someone who finds it self-evident that to maintain any degree of cohesion over time, faith groups need binding creedal commitments—this saddens me. I actually have very positive memories of my time in law school, in part because I tried to appreciate the experience for what it was. In between lectures on criminal prosecution and federal courts, I tried to seek out classes that would challenge me not just intellectually, but ideologically: "Sociology of Law" and "Progressive Scholarship Workshop" were particularly memorable. Despite my disagreement with some of the content, I never felt unwelcome in those settings, and I learned a great deal from both professors and other students. Unfortunately, that general attitude—the sense that there's a little space at the table, if not institutional endorsement, for those who hold traditional views—seems to be changing.
From another angle, though, I really do respect the school's decision to be transparent about where its ideological commitments lie—in fact, I wrote about this a few months ago (I suppose I should be careful what I wish for). In fact after the release of Sen. Cruz's letter, one Yale lecturer-in-law even quipped on Twitter, "Has anyone checked if Liberty University is funding students to work at the Transgender Law Center?" The facial distinction, of course, is that Liberty is an explicitly faith-based school, whereas Yale claims neutrality—but the point is well taken, if in a roundabout sort of way. Both Yale and Liberty plainly espouse certain orthodoxies that cannot be questioned; one institution just happens to have far more cultural prestige than the other.
In fact, there's a sense in which the Yale/Liberty dichotomy is a very old one: it's an exemplar of the longstanding clash between mainline Protestantism and evangelicalism. Yale's policies can't really be said to be "secular," but rather reflect a very particular vision of humanity and its place in the world. On this account, the march of history, and the consequent expansion of nondiscrimination principles, is a necessary movement towards a more enlightened world. Those who disagree simply need not attend—the same principle, ironically, that administrators at conservative schools routinely explain to rebellious students.
But frankly, I had hoped Yale had a more pluralistic bent.
I'm still glad I went there. I made good friends, learned from brilliant faculty, and was held to a high standard of academic rigor. Recent events don't change that. But I can't pretend that the school's move—understood not as a genuine effort to fight discrimination, but as a cultural flag-in-the-ground—doesn't leave a bad taste in my mouth. And I don't think I can recommend the school to prospective students without certain caveats—for instance, the fact that those looking for an intellectual culture committed to robust debate would probably fare better at, say, the University of Chicago Law School.
At the very least, I don't think I'll be cutting Yale any alumni donations anytime soon.