Pope Francis has now issued a letter in response to the recent heart-wrenching revelations regarding clerical sexual abuse and cover-up in the United States. I've seen plenty of criticism of it already: empty words with no action; didn't mention X, Y, or Z; those who are victims in some respect (including those who weren't directly abused, but whose trust in the Church has been shattered through no fault of their own) should be explicitly excused from the call to prayer and fasting. I don't fault anyone for having strong, visceral, critical reactions to anything put out by the Vatican on this issue right now. But if you'll permit me again, I would like to share the reasons why this letter gives me hope that the Church is on the verge of great healing and renewal from the depths of a crushed and contrite heart.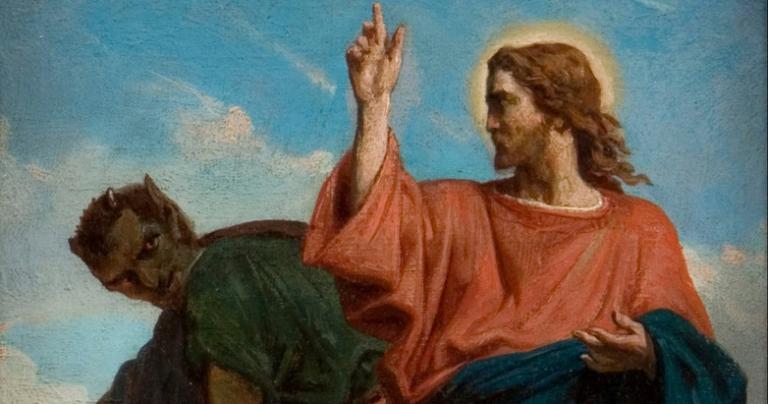 First of all, Pope Francis does not scapegoat anyone or anything, unlike too many clerics and commentators have done. I am very sympathetic to René Girard's theory that God choosing to redeem the world by allowing the crucifixion of His own Son was designed to, among other things, crush the worldly lie that scapegoating cleanses the community after catastrophe, exposing it through the manifest injustice of killing the only perfectly just One and God Himself. There is no place in the converted Christian heart for blaming the abuse of children and of power on homosexuality, celibacy, Vatican II, sexual morality of the laity, the male-only priesthood, or any other group or cultural phenomenon. The issue at hand is abuse—of children, of spiritual authority, of institutional power—and pointing the finger at anything other than abusers and structures that enable abuse is a dangerous distraction at best, and grave injustice to the ones being scapegoated at worst.
Pope Francis squarely identifies the problem, and repeats the phrase four times in the letter: "abuse of power and abuse of conscience." This is closely tied to clericalism, "an approach that 'not only nullifies the character of Christians, but also tends to diminish and undervalue the baptismal grace that the Holy Spirit has placed in the heart of our people.' Clericalism, whether fostered by priests themselves or by lay persons, leads to an excision in the ecclesial body that supports and helps to perpetuate many of the evils that we are condemning today. To say 'no' to abuse is to say an emphatic 'no' to all forms of clericalism." It is remarkable that he recognizes that the laity themselves can sometimes be promoters or enablers of this authoritarianism, and thus just appointing lay people to more positions of oversight and authority is not a simple solution. Anyone who has spent a few hours observing the behavior of outspoken lay Catholics on social media should be able to discern that they can be among the worst proponents of authoritarian and exclusionary religion, and apparently Pope Francis gets this, even while using the term "clericalism" to describe the disease throughout the Body of Christ.
The passing mention of lay enablers notwithstanding, Pope Francis puts primary responsibility on the ecclesial community, including himself. He accuses in the first-person plural:
With shame and repentance, we acknowledge as an ecclesial community that we were not where we should have been, that we did not act in a timely manner, realizing the magnitude and the gravity of the damage done to so many lives. We showed no care for the little ones; we abandoned them. I make my own the words of the then Cardinal Ratzinger when, during the Way of the Cross composed for Good Friday 2005, he identified with the cry of pain of so many victims and exclaimed: "How much filth there is in the Church, and even among those who, in the priesthood, ought to belong entirely to [Christ]! How much pride, how much self-complacency! Christ's betrayal by his disciples, their unworthy reception of his body and blood, is certainly the greatest suffering endured by the Redeemer; it pierces his heart. We can only call to him from the depths of our hearts: Kyrie eleison – Lord, save us!
Pope Francis does not stop at public confession and contrition, but insists on committing to suffering in solidarity with the victims as an essential part of healing their pain and preventing future abuse.
Today we are challenged as the People of God to take on the pain of our brothers and sisters wounded in their flesh and in their spirit. If, in the past, the response was one of omission, today we want solidarity, in the deepest and most challenging sense, to become our way of forging present and future history. And this in an environment where conflicts, tensions and above all the victims of every type of abuse can encounter an outstretched hand to protect them and rescue them from their pain (cf. Evangelii Gaudium, 228). Such solidarity demands that we in turn condemn whatever endangers the integrity of any person. A solidarity that summons us to fight all forms of corruption, especially spiritual corruption. The latter is "a comfortable and self-satisfied form of blindness. Everything then appears acceptable: deception, slander, egotism and other subtle forms of self-centeredness, for 'even Satan disguises himself as an angel of light' (2 Cor 11:14)" (Gaudete et Exsultate, 165). Saint Paul's exhortation to suffer with those who suffer is the best antidote against all our attempts to repeat the words of Cain: "Am I my brother's keeper?" (Gen 4:9).
Mary figures prominently in this relatively brief letter, as the model for all Christians. The second paragraph invokes her Magnificat: "Mary's song is not mistaken and continues quietly to echo throughout history. For the Lord remembers the promise he made to our fathers: 'he has scattered the proud in their conceit; he has cast down the mighty from their thrones and lifted up the lowly; he has filled the hungry with good things, and the rich he has sent away empty' (Lk 1:51-53). We feel shame when we realize that our style of life has denied, and continues to deny, the words we recite." The penultimate paragraph reminds us all to look to Mary as "the model of a true follower of Christ."
I believe this focus on Mary as our model is more than mere pious practice. It is an implicit contradiction of those who call on the Church to become more "masculine," more hard, more engaged in "battle" as the cure for what ails us. As members of the Church, the mystical bride of Christ, we are all to approach God from a "feminine" posture. That even goes for priests and prelates, despite their cameo roles in persona Christi. Moreover, the cooperation between Mary and God perfectly models the right exercise of power and submission, being the antithesis of abuse. In the Annunciation, God—He who possesses all power and has every right to demand obedience—incredibly asks for Mary's free consent. He also gives her the means, the plenary grace, to be able to give it. And in her fiat, she gives that consent and freely submits herself to God's power and authority, even while transgressing cultural norms that she should submit such weighty things to Joseph's (or a father's) authority. We learn that rightful power and authority asks and enables, rather than demands. We learn that rightful submission is to God alone, and while He indeed appoints agents of His authority that we must respect, we also must learn to hear the voice of conscience that protects us from illegitimate assertions of authority to speak for God.
Coming down from the heights of hierarchical authority to ask for the participation of the faithful, Pope Francis assures us that "every one of the baptized should feel involved in the ecclesial and social change that we so greatly need." He is clear that the laity is not an undifferentiated mass, in which the participation of a few can somehow represent the consent of the many. "It is impossible to think of a conversion of our activity as a Church that does not include the active participation of all the members of God's People. Indeed, whenever we have tried to replace, or silence, or ignore, or reduce the People of God to small elites, we end up creating communities, projects, theological approaches, spiritualities and structures without roots, without memory, without faces, without bodies and ultimately, without lives."
It is difficult to conceptualize exactly how the Church hierarchy will listen to and receive the willing participation of all the faithful—there being over a billion of us!—and this has been a constant unanswered question since Vatican II. But it is one we can put off no longer. If we truly believe that the Holy Spirit guides the Church in history towards all truth, through both the Bishops and the prophetic witness of all believers, then we must establish and practice the means by which magisterial authority can perceive the sense of the faithful, gently propose and generously enable what it would have the bride of Christ do, and thereby receive the willing and joyful participation of its members. There is no clear precedent for this. We can look back to the early Christian Church, but so much has changed in terms of size of the Church and cultural circumstances that it will still require monumental translation and innovation. Only by the gracious intervention of the Holy Spirit can we begin to hope that such reform is possible.
This is why it is right for the Holy Father to "invite the entire holy faithful People of God to a penitential exercise of prayer and fasting, following the Lord's command." Note that word, "invite." He does not "call upon" all the faithful to engage in this prayer and fasting, but he proposes to us. And the point is not to suggest that we are all responsible for the sins of abuse that have been committed, or to make reparations to an angry God as some traditionalists propose. Rather, "[t]his can awaken our conscience and arouse our solidarity and commitment to a culture of care that says 'never again' to every form of abuse."
[P]enance and prayer will help us to open our eyes and our hearts to other people's sufferings and to overcome the thirst for power and possessions that are so often the root of those evils. May fasting and prayer open our ears to the hushed pain felt by children, young people and the disabled. A fasting that can make us hunger and thirst for justice and impel us to walk in the truth, supporting all the judicial measures that may be necessary. A fasting that shakes us up and leads us to be committed in truth and charity with all men and women of good will, and with society in general, to combatting all forms of the abuse of power, sexual abuse and the abuse of conscience.
In short, penitential prayer and fasting awakens our self-satisfied hearts to a hunger for God and docility to the Holy Spirit. If the Holy Spirit is to speak through the faithful and not rely solely on Pope Francis to renew His Church, we need to participate in this fasting too. We do not have to, but do we want to accept the challenge of placing ourselves in the service of God's saving work?
The invitation to fast is itself a challenge to conversion and docility for me, personally. I've always struggled with seeing the purpose of it, because fasting is hard for me, and I find myself more distracted by hunger than drawn into prayer by it. But our Lord's own words are crystal clear that this is sometimes a necessary part of the Christian life, especially for driving out demons. I must have the docility to receive those words even if it doesn't feel helpful to me. And indeed, I have seen miracles happen when I have fasted (as poorly and minimally as I practice "fasting"), even when it seems to have been a spiritually dry exercise. The Holy Spirit takes my act of blind but free "yes" and creates something new and good out of it.
Will you join me? Will you join Pope Francis in putting yourself at the service of the Holy Spirit to convert and open hearts, enkindle in us the fire of His love, and renew the face of the earth? Or will you impatiently grumble about what hasn't been said or done yet, lobby for your preferred institutional reforms, and complain about being invited to help clean up a mess you didn't make? Do you believe this is a mess that a man or men can clean up, if only worldly powers can be better managed and balanced precisely against each other? Or do you believe that a better Church can only be conceived by the Holy Spirit in the whole Body of Christ that says "yes" to the uncomfortable and unprecedented?