Blinky & Sal: cartoons to scream about.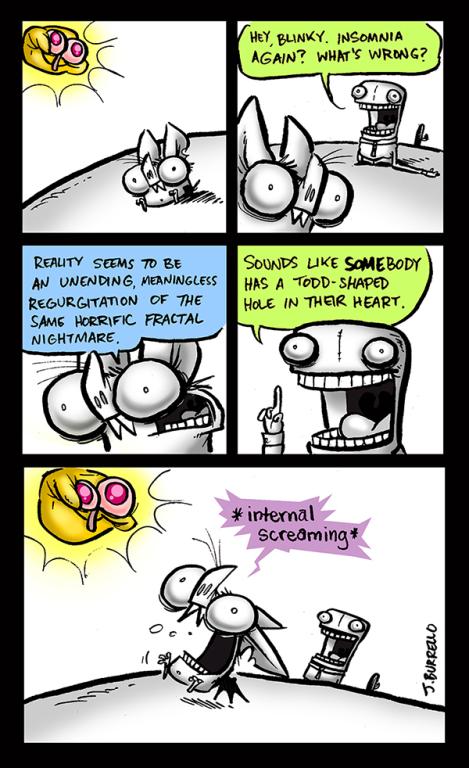 Todd is love.
You know when you're trying to get deep and get vulnerable, exposing your doubts and fears and insecurities and then this moment of naked human trust and fragility is misinterpreted as a window to proselytize? We hate that.
Understand both areas here. The deeply religious may feel a serious need to "save your soul" from eternal damnation in a wacky make-believe afterlife of arbitrary judgement and never-ending torture. In their mind, they may feel they are behaving in a wholly selfless and loving way when they try to convert you when you are at your most emotionally unstable.
Nonreligious (and even many religious) people who suffer from depression or other emotional issues may not want to hear their religious friends or relatives using these distress calls as opportunities to proselytize (or tell them to just be more faithful). In many cases it only adds to anxiety and can cause the sufferers to shut down and avoid seeking help altogether.
We're all human. Sometimes life is hard. Many of us just want someone who will sit and listen and maybe offer constructive support. Please, don't take advantage of people when they are at their lowest points. Even if you truly believe this is all a giant game of cosmic chess. Think twice.
Sit tight. More cartoons to come!