Now more than ever, pastors are asking themselves whether to continue in ministry, retire early, or change professions altogether. If you're a pastor, what are you going to do?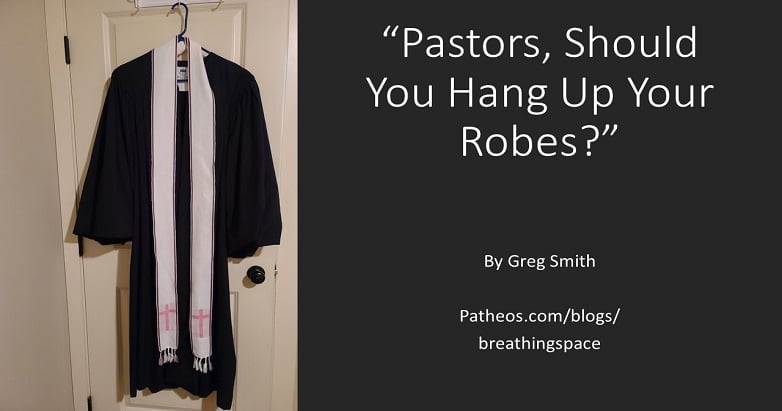 PASTORS LEAVING THE CHURCH
These days, many pastors are leaving the church, hanging up their robes and collars, taking their certificates off the wall and stuffing them in drawers. Ministers are finding it difficult to navigate the polarization in our society. From COVID guidelines to issues of racial and social justice and so much more, it seems a pastor can't say anything without offending someone in the congregation. Add to that the increased number of pandemic deaths, economic woes that affect the church, and pastors' need to learn technology at a rapid pace, and it all contributes to clergy exhaustion that results in pastors leaving the ministry.
I used to think that, at all costs, pastors needed to stay on the playing field. I even attended a multi-day conference called "Staying in the Game."  Ostensibly, the gathering was to discern whether or not to leave the ministry or a current ministry field, but the title indicated the true purpose–stemming the tide of early retirements and career changes. The church is losing pastors in epidemic proportions–and my state convention naturally wanted to encourage their ministers to stay. At the time, I decide to remain–and did stick with it for another eight years.
WHY I LEFT THE MINISTRY

While I certainly felt frustrated, manipulated, exhausted, and so many other things that cause pastors to leave the ministry, that's not the reason I left the pulpit. I loved the churches that I served. My church was fully supportive of me as I went through an amicable divorce. I had heard horror stories about Baptist pastors forced out of their pulpits due to divorce, but my church stuck by me beautifully. When time passed and I found a new long-distance relationship my church supported that, as well. But as we looked toward marriage, one of us had to move. As we prayed, it became clear to us that the one to move would be me.
Most of the 26 years I spent in ministry were in Southern Baptist churches. I knew I needed to make a change for a couple of reasons. First, there are no Southern Baptist churches in the Fraser Valley in British Columbia, where I now live. Second, I was never a good Baptist theologically. My divorce threw me into a time of spiritual deconstruction and reconstruction that made me even more of a theological misfit. So, I knew my days in Baptist churches were done.

In addition, I didn't want to jump through the hoops required to transfer my ordination to another denomination. Truthfully, I couldn't find another denomination that was a good fit for me anyway. I like the vitality of contemporary worship, but my theology is progressive. It's hard to find a left-leaning ministry setting that embraces contemporary worship music. All this makes me a poor fit for any church or denomination.
Plus, I saw the damage that ministry had done to my first marriage, and to my children. Although my new wife, Christina, was ready to join me in ministry, I wasn't sure it was a hardship I wanted to subject her to. The church is a difficult employer, and I didn't want to add that stress to an international move and a new marriage. So, I knew I'd look for employment outside the church.
Besides that, I'm now fully convinced that even if I had not remarried and moved, I still would have left ministry by now. I was finding it hard to keep my mouth shut about certain concerns that were dear to my heart. Various social and theological issues have come up in the last three years that would have made it difficult for me to maintain the tactful neutrality that the pastorate demands
. Once I voiced my perspective on LGBTQ rights, BLM, immigration, and other issues, I would not have lasted long in rural Southern Baptist life.
THE JOB HUNT

To discourage ministers from leaving the ministry, I was told that nobody wants to hire former pastors. Supposedly, we possess a unique set of skills that's specific enough to disqualify us from secular work, yet not specific enough to qualify us for jobs in the private sector. This belief that I couldn't get a good-paying job elsewhere held me bound to the idea that, in terms of career, I was "stuck" in ministry.
Fortunately, another former pastor who happened to work at an employment agency helped me refine my resume. Instead of a history-based resume that said, "Church, church, church," we developed a skills-based resume that highlighted the soft skills that do transfer from ministry to the secular job market. Things like, "Office management, public speaking, time management, supervision of staff," and so on. As soon as I re-worked my ministry resume into a secular one, that overcame the first hurdle. I quickly learned that former pastors have skills that translate to the secular job market–especially in the field of nonprofit and social work. After that, it wasn't difficult to find meaningful and gainful employment.
WHY I'M OK OUTSIDE OF THE PULPIT

At one time, I felt that if I left the ministry, I was betraying my calling. I encouraged other hurting pastors to stay the course, no matter what. Those days are no more. Today, my ordination certificate and license to ministry lie folded in a drawer with my underwear–something else that people know I have, but never need to see. When a friend asked me, "Do you think you'd ever need those papers to pastor a church again?" I snorted and almost blew coffee out of my nose.
"Hell, no!" I told her. Of course, I should never say never, but probably not. Here's why I don't think I'll ever pastor a church again:
1.    I've realized that calls to ministry aren't necessarily for life. There's no doctrinal or ecclesial reason a pastor must remain a pastor until he or she dies. There's also nothing stating that if a pastor leaves ministry, it's a failure. When a person puts in twenty years, they can retire from the military at age thirty-eight, with full honors and full pension. So, after I put twenty-six years into church ministry, why can't I retire with dignity and have a whole other career? I can!
2.    I'm still making a positive difference in the world. If my motivation for ministry were to help the hurting and empower the powerless, that role is filled by the past few years I've spent as a case manager, working mostly with clients experiencing homelessness. I think I've learned far more by doing social justice work than I did from seminary or church work. But I've also learned that I could drive a truck, work a toll booth, or have any other job, and still care for people as Jesus would. This Jesus-style love fulfills my calling, regardless of my employer. I used to preach that all Christians are ministers. If I believe that truth, then I can live that truth.
3.    There are more people who read my blog than heard my sermons. So, if I were motivated by the need to have an audience, the blog's better than a pulpit any day. Sure, there are times when I miss public speaking–but sermons always start with writing–and I'm doing more of that than I did before.
4.    It's good to not be in control. If I felt like ministry was about being a spiritual authority or having power over others, that would have been the wrong motivation. Certainly, some pastors see themselves as "over" their parishioners–but that was never my view. In fact, this method of ministry can be the gateway to spiritual abuse. With writing, there's no suggestion that I have any spiritual guardianship over my readers–and that's a good thing! I'm not responsible for your spiritual welfare–I just tell the truth as I see it, and let the Holy Spirit do the rest. I'm not about controlling your beliefs.
5.    Nobody's policing my beliefs, as was frequently the case in the twenty-six years I served the Church. While not everybody likes the things I write, the worst they can do is leave a negative comment–they don't control my paycheck. This financial control over a pastor's spiritual development and theology is probably the biggest reason for not going back to the pulpit. Each time I stuck my neck out to express a new spiritual thought, I knew that my detractors within that congregation would use it to convince others that I was a heretic, or a liberal, or whatever label they wanted to use to gain control over me. In the churches I served, we talked about the pastor having the "freedom of the pulpit," but that was more of a theory than a reality. I feel so much freedom, now that I don't have any theology watchdogs breathing down my neck.
WHAT ABOUT YOU?
Today, I'm as certain as I can be that I won't pastor another church. But what about you? 
Are you prayerfully considering leaving full-time ministry? Are you thinking of retirement or changing careers?
 If you are, you've likely told others who are doing their best to convince you to stay. Perhaps they've said you're abandoning your call from God. Or maybe they've spread guilt on thick about all the folks who need you. I'm guessing you're hearing voices saying that you should stay.
So let me be a voice from the other side. The only"should" is what you decide to do, and whatever you can live with, in your own conscience. Don't let anybody manipulate you to believe otherwise.
The same Holy Spirit who called you to ministry can also release you from it. There's good you can do, outside the role of pastor. Don't let anybody convince you that there's no other employment for you. You've gained great skills as the leader of a nonprofit and can build your resume on those. You can still make a positive difference, helping people. You can still share your faith–with a wider audience than before. I'm not saying you ought to step out of your pulpit. I am saying that if you do, you're not abandoning your ministry. You may just discover a new facet that you've never seen before.