Evangelical pastors look at me as if I've grown two heads when I say I don't believe in church discipline.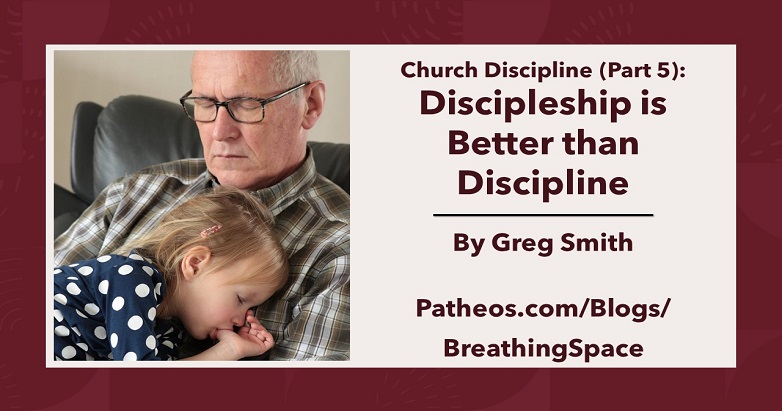 "How can you lead a church without church discipline?" they ask. I look at the ministry of Jesus, who never disciplined people, but discipled them instead. When you "Matthew 18 someone", you bring them under Church control, as if it is your religious duty to enforce behavior modification. When you first "Corinthians 13 somebody", you disciple them in love. If they want to modify their own behavior, that's great for them! But their church membership should not be contingent upon your behavioral expectations.
Pastors as Parents?
Some denominations call their male clergy father. Attending a Baptist seminary, I was told that even though we don't use that term, pastors are very much like the parents of the church. It took me awhile to unlearn that troublesome teaching. When parents are raising children, often they need to focus on behavior modification. Setting up rules and teaching the difference between right and wrong are a parent's job. But one day I realized that a pastor is not the parent of the church—a pastor is more like a grandparent.
I don't make rules for my grandchildren. I don't enforce their behavior. That's up to their parents to do. As a grandparent, my job is to pull them up in my lap and give them unconditional love. My job is to listen to everything they have to tell me about their lives. It's my joy to empathize with their struggles and understand that many of the "bad" things they do are actually coping mechanisms based on limited understanding and experience. As a grandparent, my job is to give them advice and guidance, when they want it—not to force my will on them. A pastor's role is much the same. It's about discipling, not discipline.
A Celebration of Discipline
Richard Foster wrote an amazing little book called Celebration of Discipline: The Path to Spiritual Growth. I have used it many times, teaching classes on the spiritual life. The one thing I would change is the title. It should be called Celebration of Discipling instead. For many, the word discipling is better than discipline, which evokes images of dunce caps, noses in the corner, and switches. A better word is needed. Discipleship isn't too far off the mark, but it's a noun rather than a verb. Every chapter of Foster's book describes an active way of living, so Celebration of Discipling would make a better title.
Foster's book is divided into three sections. The first is called, "The Inward Disciplines." These chapters cover the practices of meditation, prayer, fasting, and study. The second part is titled, "The Outward Disciplines." These include simplicity, solitude, submission, and service. The third division is, "The Corporate Disciplines." These chapters explore confession, worship, guidance, and celebration. Together, these twelve discipling practices guide the believer into mature faith.
Maturity versus Modification
When faith is mature, and Christians are living out the way of Christ, church discipline is unnecessary. Instead of behavior modification, church leaders must focus on building mature believers. This is what the author of Ephesians 4.11-16 (NRSVUE) had in mind when he wrote that Christ…
…granted that some are apostles, prophets, evangelists, pastors and teachers to equip the saints for the work of ministry, for building up the body of Christ, until all of us come to the unity of the faith and of the knowledge of the Son of God, to maturity, to the measure of the full stature of Christ. We must no longer be children, tossed to and fro and blown about by every wind of doctrine by people's trickery, by their craftiness in deceitful scheming; but speaking the truth in love, we must grow up in every way into him who is the head, into Christ, from whom the whole body, joined and knit together by every ligament with which it is equipped, as each part is working properly, promotes the body's growth in building itself up in love.
 This means that God didn't give the church its leaders so they could manipulate them into compliance. Instead, leaders are to invest in the lives of believers and encourage them to grow. When they do this, the church will become mature and have no need to practice church discipline.
Church Discipline Never Ends
The problem with church discipline is that it never ends. If you always treat church members like children, they will never grow up. If you act like their parent instead of their grandparent, you will forever focus on behavior modification. But if church leaders focus on discipling members rather than disciplining them, the result will be mature Christ-followers who naturally live like Jesus.