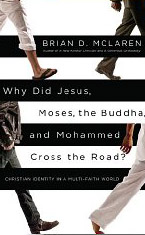 Why Did Jesus, Moses, the Buddha, and Mohammed Cross the Road?: Christian Identity in a Multi-Faith World

Copyright: 2012
Publisher: Jericho Books
Summary:
When four religious leaders walk across the road, it's not the beginning of a joke. It's the start of one of the most important conversations in today's world.
Can you be a committed Christian without having to condemn or convert people of other faiths? Is it possible to affirm other religious traditions without watering down your own?
In his most important book yet, widely acclaimed author and speaker Brian McLaren proposes a new faith alternative, one built on "benevolence and solidarity rather than rivalry and hostility." This way of being Christian is strong but doesn't strong-arm anyone, going beyond mere tolerance to vigorous hospitality toward, interest in, and collaboration with the other.
Blending history, narrative, and brilliant insight, McLaren shows readers step-by-step how to reclaim this strong-benevolent faith, challenging us to stop creating barriers in the name of God and learn how affirming other religions can strengthen our commitment to our own. And in doing so, he invites Christians to become more Christ-like than ever before.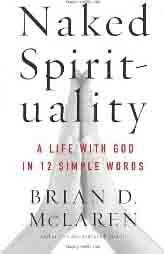 Naked Spirituality

Copyright: 2011
Publisher: HarperOne
Summary:
In Naked Spirituality, McLaren takes his prophetic work a step further by confronting how the lack of a simple, doable, durable spirituality undermines the very transformation God is calling us to undergo. As a result, our religious structures become tools to maintain the status quo and not catalysts for personal and social change. McLaren presents a four-stage framework for understanding the spiritual life, and he unfolds spiritual practices appropriate to each stage. Each practice is rooted in a simple word: here, thanks, O, sorry, help, please, when, no, why, behold, yes, andsilence. Naked Spirituality offers accessible, practical wisdom for living a truly spiritual life. Staying true to Jesus's core message while engaging faithfully with our postmodern world, McLaren presents a proven spiritual program for engaging in and sustaining a meaningful relationship with God.

Copyright: 2011
Publisher: HarperOne
Summary:
We are in the midst of a paradigm shift in the church. Not since the Reformation five centuries ago have so many Christians come together to ask whether the church is in sync with their deepest beliefs and commitments. These believers range from evangelicals to mainline Protestants to Catholics, and the person who best represents them is author and pastor Brian McLaren.
In this much anticipated book, McLaren examines ten questions facing today's church—questions about how to articulate the faith itself, the nature of its authority, who God is, whether we have to understand Jesus through only an ancient Greco-Roman lens, what exactly the good news is that the gospel proclaims, how we understand the church and all its varieties, why we are so preoccupied with sex, how we should think of the future and people from other faiths, and the most intimidating question of all: what do we do next? Here you will find a provocative and enticing introduction to the Christian faith of tomorrow.

Copyright: 2006
Publisher: Zondervan/Youth Specialties
Summary:
A Generous Orthodoxy calls for a radical, Christ-centered orthodoxy of faith and practice in a missional, generous spirit. Brian McLaren argues for a post-liberal, post-conservative, post-protestant convergence, which will stimulate lively interest and global conversation among thoughtful Christians from all traditions. In a sweeping exploration of belief, author Brian McLaren takes us across the landscape of faith, envisioning an orthodoxy that aims for Jesus, is driven by love, and is defined by missional intent. A Generous Orthodoxy rediscovers the mysterious and compelling ways that Jesus can be embraced across the entire Christian horizon. Rather than establishing what is and is not 'orthodox,' McLaren walks through the many traditions of faith, bringing to the center a way of life that draws us closer to Christ and to each other. Whether you find yourself inside, outside, or somewhere on the fringe of Christianity, A Generous Orthodoxy draws you toward a way of living that looks beyond the 'us/them' paradigm to the blessed and ancient paradox of 'we.' Also available on abridged audio CD, read by the author.

Copyright: 2008
Publisher: Jossey-Bass
Summary:
A New Kind of Christian's conversation between a pastor and his daughter's high school science teacher reveals that wisdom for life's most pressing spiritual questions can come from the most unlikely sources. This stirring fable captures a new spirit of Christianity–where personal, daily interaction with God is more important than institutional church structures, where faith is more about a way of life than a system of belief, where being authentically good is more important than being doctrinally "right," and where one's direction is more important than one's present location. Brian McLaren's delightful account offers a wise and wondrous approach for revitalizing Christian spiritual life and Christian congregations.
If you are interested in joining a discussion group devoted to a A New Kind of Christian please visit groups.yahoo.com/group/NKOC.
The Word of the Lord to Democrats

Copyright: 2012
Publisher: Creative Trust Digital
Summary:
THE WORD OF THE LORD TO DEMOCRATS helps Americans, regardless of party affiliation, sift through the polemical rancor of the 2012 presidential elections and recover what has been lost to elected officials whose interests are controlled by their financial supporters.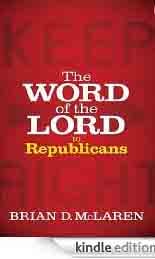 The Word of the Lord to Republicans

Copyright: 2012
Publisher: Creative Trust Digital
Summary:
THE WORD OF THE LORD TO REPUBLICANS helps Americans, regardless of party affiliation, sift through the polemical rancor of the 2012 presidential elections and recover what has been lost to elected officials whose interests are controlled by their financial supporters.

Copyright: 2012
Publisher: Creative Trust Digital
Summary:
Imagine this: You're on the early shift at the bar . . . you're cleaning and setting tables, and preparing for the lunch rush. The front door swings open—and four men quickly stumble in as if taking refuge.
Taken aback, you study their faces. One is a kind-faced Asian man with a shaved head, another looks as ancient as the hills with shocking white hair and beard, and the other two, well, they look awfully familiar. If you were a betting person, you would put down money that they were Jesus, Moses, the Buddha and Mohammed . . . but then again, this is Sunset Strip, so it could just be reality TV.
Meet Crystal—a waitress who ends up in just this predicament. What seems like the beginning of an old joke turns into the conversation of a lifetime.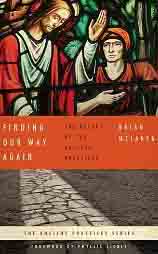 Finding Our Way Again

Copyright: 2008
Publisher: Thomas Nelson
Summary:
In a sense, every day of our lives is labor. It is questionable if you can ever be exactly the same person waking up on two consecutive days. How are spiritual sojourners to cope with the constant change? Many are beginning to explore the ancient Christian spiritual practices that have been in use for centuries, everything from fixed-hour prayer to fasting to sincere observance of the Sabbath. What is causing this hunger for deeper spirituality?
Brian McLaren guides us on this quest for an explanation of these spiritual practices, many of which go all the way back to Abraham and the establishment of Israel. In the midst of contemporary Christianity, we discover the beauty of these ancient disciplines and the transformation through Christ that each can provide.

Copyright: 2009
Publisher: Thomas Nelson
Summary:
How can the life and teachings of Jesus impact the most critical global problems in our world today?
For the last twenty years, Brian McLaren has been unable to escape this life-shaping question. In Everything Must Change, he unveils a fresh and provocative vision of Jesus and his teachings, and how his message of hope can ignite purpose and passion to change the economic, environmental, military, political, and social crises that have overtaken our world.
The Good News is more than a ticket to heaven. It is an invitation to personal change and a radical challenge for global transformation. Imagine what would happen:
if we believed that God's will really could be done on earth and not just in heaven
if the world's leading nations spent less on weapons and more on making peace, alleviating poverty, and caring for creation
if a renewed understanding of Jesus and his message sparked a profound spiritual awakening in a global movement of faith, hope, and love
If you are hungry for a fresh vision of what it means to be a person of faith, Everything Must Change shows what would happen when Jesus' Good News collides with a world in need.