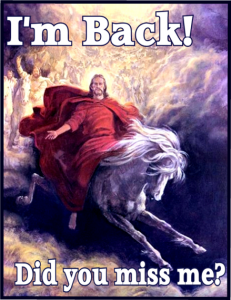 Just when you thought it was safe to go back in the water… I'm back. I tried to get out, but they pull me back in. Today, I consider myself the luckiest man on the face of the earth. Enough movie quotes yet?
A long time ago in a galaxy far far away (sorry had to), I wrote a blog. It went by the name, "Life Without Faith," and provided a tremendous venue for this ex-preacher to vent his frustrations. It was the conduit through which the non-theist world became acquainted with me, and the albatross which hung the moniker: Brother Richard around my neck. (I've given up trying to get away from it, and the title of this blog marks my embracing.) It was even because of the blog that I ended up becoming the president of Atheist Nexus.
As my responsibilities expanded with Atheist Nexus, I regretfully decided that it was necessary for me to temporarily walk away from the world of blogging. For Nexus to be successful, I wanted to keep it from being branded with my personality, opinions, and worldview. I thought I would return within a couple months, but as it is said, "A year passed. Winter changed in to spring. Spring changed in to summer. Summer changed back in to winter. And winter gave spring and summer a miss and went straight on in to autumn."
So many crucial events have transpired in the nontheistic world since I've been away. We have seen countless individuals come to terms with their nontheism, and they have begun to come out of the atheist closet. The number of freethought conventions has exponentially increased throughout the world, and in America we had a wonderfully successful Reason Rally in Washington DC (of which Atheist Nexus was a proud sponsor).  We have suffered the loss of the unfathomable Christopher Hitchens, and the "lion of humanism" Paul Kurtz. All of these stoked the embers of my blogging fire, and I came close to returning.
A couple months back, Atheist Nexus began its fourth year, and a decision was made that it was acceptable for me to return to blogging. After hearing nothing but positive evaluations from my friends
Hemant
and
JT
, I decided
Patheos
was the best place for me. I have always been intrigued with Patheos. It has provided a wonderful refuge for those desiring to communicate and discuss issues of faith. And let's face it; what we have here is a failure to communicate.
So, In case I wasn't clear, let me begin with a disclaimer. All the views expressed in this blog will be mine and mine alone. I'm not speaking for Atheist Nexus, Patheos, or any other great atheist organization in which I am involved. Of course, I think I'm right, and I'll love arguing my point. However, I do not presuppose that everyone who thinks differently than me is automatically wrong. Many issues are black and white, right and wrong, but many issues emit innumerable shades of gray. Or, are there actually 50 shades of gray? Perhaps I shall write my own soccer mom porn and entitle it "Mostly Gray and Balding." But I digress.
I'll leave you now with a quote from our favorite Mormon (before Romney), Stephen Covey. He said, "Seek first to understand, and then to be understood." We all, especially in the atheist world, would accomplish much more if we attempted to live by these words. Do you agree? Do you disagree? Post your comments below and I'll try to respond; at least to those who are attempting to fulfill this motto.
Please help spread the word. Please consider subscribing to the RSS feed. If you subscribed to the old feed, be sure to update it. Thanks!