I have just returned from a wonderful week long trip to California. The highlights of my journey included speaking to these three local groups:
Also, I had a great time being a guest on the Ardent Atheist podcast which is hosted by Emery Emery and Heather Henderson. Emery is a fun guy and a talented comedian. And Heather deserves much nerd love due to the freaking Magic: The Gathering card and bad-ass comic book character which were modeled after her. I'll be sure to post the episode link when it is available.
Additionally, I was honored to attend the event to launch the
Pathfinder Project
.  If you don't know, this is a new international service trip which is sponsored by the
Foundation Beyond Belief
. I truly believe it has the potential to be one of the most effective ventures created by the nontheist community.
Finally, here's a picture taken during my Atheist United talk. Basically, it all boils down to Carl Sagan.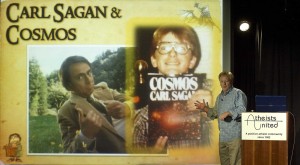 Thanks to everyone in California! I look forward to visiting again soon.