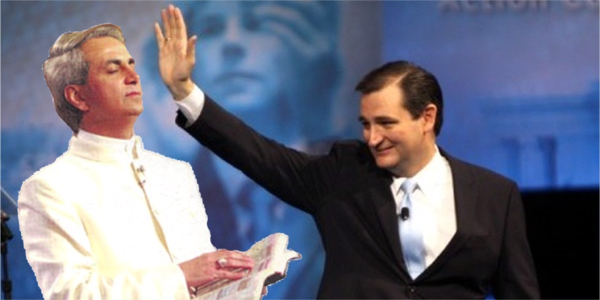 The Christian Post is reporting that televangelist Benny Hinn has suffered a heart attack. Of course, I would never wish anyone any harm, but the irony speaks for itself. All we can do is wish for his speedy recovery, and collectively ponder how, the world's most famous "faith healer" could suffer such a thing.
Here's a few possibilities:
Perhaps Hinn had forgotten to donate to his own $1,000 "higher seed-level giving" fund and therefore was not able to enter into God's "new dimension of favor and increase."
Or, it could be that the stressful life of being a servant of the Lord. Apparently Hinn is only worth $42 million, and is force to live in a $10 million mansion by the sea. He has to get around in his "private jet, a Mercedes SUV and convertible."
And what about the jet lag? Traveling the world is exhausting, and Hinn has to endure layover after layover between his crusades that cost "$900 – $3,000 per night at locations including Hawaii, Cancun, London, Milan etc."
Conceivably, it could be that Hinn has been missing out on all those private prayer meetings with televangelist Paula White. They were forced to cut back on them when The National Enquirer published a photograph of them holding hands as they exited a hotel in Rome.
Hmmm… all of that's old news… I've got it!
Surely the heart attack occurred after the director of Purifying Fire International Ministry (founded by Hinn's wife), asked Benny to pray for his son to get the new job he is hoping to obtain. That director's name is Pastor Rafael Cruz, and his son is none other than Ted Cruz, who just announced that he is in the running to be the President of the United States.
Come on, even Benny doesn't have that kind of faith.