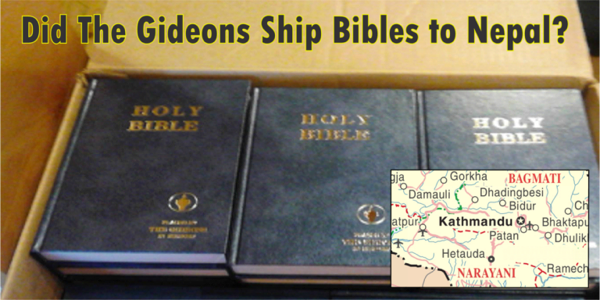 The death toll from the Nepal earthquake may soon reach 10,000. Add to that another 6,500 injured, and you understand the scope of this tragedy. To get an idea of the destruction in Kathmandu alone, check out this drone footage from The Guardian:
Thank God the goodness of humanity, millions of dollars in supplies and food continue to be sent to help out. Along with these needed resources, doctors, medics, and rescue teams are arriving by the thousands.
There is so much support coming into Kathmandu that according to Time: "Kathmandu's tiny airport is struggling to cope under the strain. Agencies warn that if you want to help, donate money not stuff and avoid hopping on a plane to Nepal to help with relief efforts in person."
So did the Gideons really ship emergency Bibles to Nepal?
Social media is abuzz with a story from The Lapine which reports:
"More than 100,000 paperback-edition Gideon Bibles have arrived in Nepal to provide relief for the millions of Nepalese desperate for help following the devastating 7.8 magnitude earthquake that has struck the country."
Now if you don't know, The Lapine is a satirical website, so their stuff should always be read skeptically. The ironic part of the story (and what makes for good sarcasm) is that it is not that unbelievable. Things like this have been done numerous times.
Curious as to the truth, I spoke to a representative of Gideons International this morning and was told that the organization does continually ship Bibles all across the world. However, they send them on container ships, not planes.
Concerning Nepal specifically, I was told that they had their own printing operations within the country, and that they had printed 200,000 copies of the Bible in December. Therefore, I need not worry, the Gideons in Nepal had plenty of Bibles to hand out to the victims.
It's too bad the Gideons don't have sandwich making facilities in Nepal.
Join me in making an actual difference in the lives of the victims of the Nepal earthquake. Donate to The Foundation Beyond Belief's disaster recovery drive.