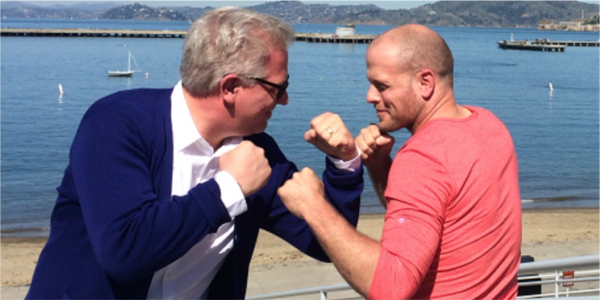 Yesterday, I posted the following Tweet:
Very moved by @tferriss' interview of @glennbeck. Modern woes may demand unorthodox cooperation http://t.co/RCxS2Gf7vs

— BrotherRichard (@BrotherRichard) April 11, 2015
It being a beautiful relaxing and contemplative Sunday in Georgia, I thought I might elaborate.
I have been an admirer of Tim Ferriss' for many years now. I have read all of his books, blog posts, and applied many of his "life hacking" strategies to my own life. Even though I am not sure he has ever commented on it, I have always believed it safe to assume that he is not the religious type. And based on his questions and comments during podcast interviews with people like Sam Harris, I have pretty much guessed he was an atheist.
So why did he interview Glenn Beck?
As Ferriss declares, on his podcast page, "the goal of my blog and podcast is to push you outside of your comfort zone and force you to question assumptions." And he accomplished just that by interviewing Beck on his show (which by the way, is the #1 business podcast on iTunes).
Regardless of how one feels about the religious and political views of Beck, there is no doubt that he is an intriguing business man. He was one of the first to bypass cable companies and go directly to his consumers. Ferriss points out that TheBlaze.com gets "between 30 and 50 million unique visitors per month," and that for earning $90 million in 2014, Forbes named Beck as one of its "Celebrity 100 Power List." This puts him above "people like Mark Burnett, Jimmy Fallon, Leonardo DiCaprio, and Will Smith."
Besides all of this, and the reason I am writing about this today, is due to my admiration for how Ferriss conducted the interview. As Ferriss said, the interview would be "neither a 'gotcha' interview nor a softball interview." He even asked Beck questions like: "If you were reborn as a disabled gay woman in a poor family, what political system would you want in place?"
I was moved with the way Ferriss asked his questions with respect and decency. As someone who earns part of his income from the number of "hits" they can generate, I am quite aware that much more money can be made with what my friends at the Secular Polity Institute have called 'shock jock' blogging. Don't get me wrong, I love to point out silliness all around. However, I do try to avoid wallowing in someone else's pain, or resorting to Straw Man arguments. I'm not perfect, but I try.
It is no secret that I have been disheartened by the state of modern atheism (at least in the United States). A couple years back I drastically cut the amount of speaking engagements that I accepted. Part of this was because I had begun the long and arduous journey to obtain my PhD, and to be honest, it has been due to my disappointment with the atheist "state of affairs." I could elaborate on this quite a bit, but perhaps that is for another time.
I have been brewing on some ways in which the waters can be tested to see if people would respond to a "kinder/gentler" approach. To be honest, I am not confident, but Ferriss' interview of Beck has given me some hope.