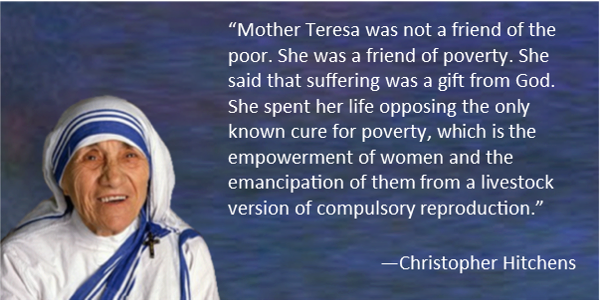 Nineteen years after her 1997 death, and thirteen years after her 2003 beatification, Mother Teresa of Calcutta will be canonized in September 2016.
At least, this is what Archbishop Salvatore Fisichella was quoted as saying to the Italian media. According to Coconuts Manila, Fisichella declared that Pope Francis would perform the ceremony as part of the "upcoming Jubilee Year declared by the pontiff," and that that the event would occur on September 4, 2016, with a celebration of Mother Teresa the following day.
Nonetheless, The Express Tribune, reports that a Vatican spokesman has said that these plans had not yet been finalized, and that it was, "premature to talk of this date having already been fixed." There was nearly 300,000 individuals who came to Rome in 2003 for her beatification, and a canonization would require much more planning.
I am quite interested to see how all of this plays out. Mother Teresa would be one of the first to individuals to become a saint who had much of their life recorded or written down. After one lays aside the desire to award her apparent selflessness, there is much evidence that points to Mother Teresa as being anything but "saintly."
I'm sure many of you have seen Penn and Teller's BS episode, about Mother Teresa, but if you haven't here is the video segment (warning: may not be NSFW).
Fewer of you have seen 1994 short film, Hell's Angel. It was made three years before Mother Teresa's death, and provides quite a few damning accusations. Here's that video:
One of the most shocking statements, is MT's reference to an impoverished orphanage as, "how we fight abortion and contraception in Calcutta." Hitchens wrote more about this specific interaction in a Slate article entitled, Mommie Dearest, and about Mother Teresa generally, in a book entitled, The Missionary Position: Mother Teresa in Theory and Practice. It's a must for all the good Catholics on your Christmas list.