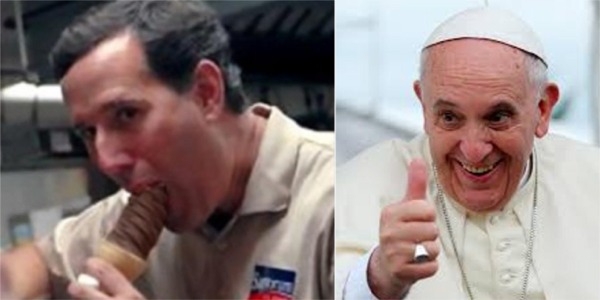 So, this happened.
Our good buddy, and presidential candidate Rick Santorum said on the "The Dom Giordano Show" that he wants Pope Francis to stop talking about climate change, and should instead "leave the science to the scientist." Why you ask? Because:
"The church has gotten it wrong a few times on science, and I think that we probably are better off leaving science to the scientists and focusing on what we're really good at, which is theology and morality," Santorum said. "When we get involved with political and controversial scientific theories, I think the church is not as forceful and credible."
What?!?!
Is this the same Santorum who in 2011 called for public schools to undermine the teaching of evolution? Is this the same guy who told George Stephanopoulos in 2012 that listening to JFK's infamous "separation of church and state" speech made him "want to throw up."? A man, who by the way, in that same Stephanopoulos interview said:
"I don't believe in an America where the separation of church and state is absolute. The idea that the church can have no influence or no involvement in the operation of the state is absolutely antithetical to the objectives and vision of our country."
Who knows? Perhaps Rick has had a change of heart. Perhaps he no longer believes:
"There are a lot of problems with the theory of evolution, and do believe that it is used to promote to a worldview that is anti-theist, that is atheist."
Color me cynical, but I tend to think that Santorum's worldview only acknowledges science when it agrees with his brand of faith. And even then, he picks and chooses various research that also supports his politics. But hey, I could be wrong.
If you are interested in listening to the entire Dom Giordano interview, here it is. If you would just like to hear Santorum's comments on Pope Francis, it begins around the 10 minute mark.