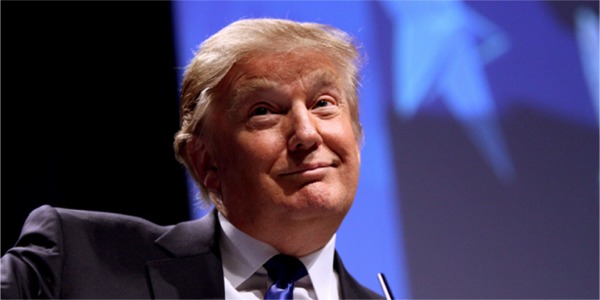 I previously wrote about the work that had begun to "Make Donald Trump Palatable to the Religious Right," and how it all began with Trump being "The Self-Proclaimed New Savior of Christianity." Now, Trump has gone to Twitter to call Penn Jillette a "goofball atheist."
Referring to Jillette's appearance on The Apprentice, Trump tweeted:
I loved firing goofball atheist Penn @pennjillette on The Apprentice. He never had a chance. Wrote letter to me begging for forgiveness.

— Donald J. Trump (@realDonaldTrump) July 16, 2015
This was a follow-up to this tweet Trump posted earlier the same morning. I t was concerning Jillette's six week stint in New York for: Penn & Teller on Broadway:
I hear @pennjillette show on Broadway is terrible. Not surprised, boring guy (Penn). Without The Apprentice, show would have died long ago. — Donald J. Trump (@realDonaldTrump) July 16, 2015
Yeah, because none of us knew who Penn and Teller were before Jillette was a contestant on The Apprentice.
Personally, I only watched that season because Jillette was on it. But what do I know? Like Jillette, I'm just a "goofball atheist."
Always a gentleman, Jillette texted Las Vegas Sun reporter, John Katsilometes saying:
I've always liked Trump for having no filter. I'm embarrassed to say I even like this. He's never seen our show, and I think that matters.
Further, Katsilometes also points this out:
Trump's assertion that he heard the Penn & Teller Broadway show is "terrible" seems dubious, as it has received almost uniformly glowing reviews. The show is a hit at the box office. In its first week, it was the top-grossing, nonmusical production on Broadway, delivering $1,075,000 in gross receipts.
It seems to me that Donnie is still a little upset that he was fired from The Apprentice. No, he didn't need the money, but he loved the celebrity.
Perhaps, like Pat Robertson, Trump should look on the bright side. He has a new claim to fame.
Upset about Trump's comments about Mexican immigrants, The Guardian is reporting that artist, Fernando Sosa, has fashioned Trump's likeness into … a … well, a butt plug. Here's what that looks like: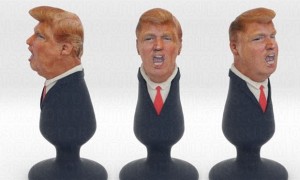 Proving that I, also like Jillette, am always a true gentleman, I'll let you insert your own joke here. You can tell Trump where to stick it, point out what he is full of, or even, since the plug's mouth is open, perhaps you might suggest what the Donald should eat.
Subscribe to Richard's New Full: RSS Feed