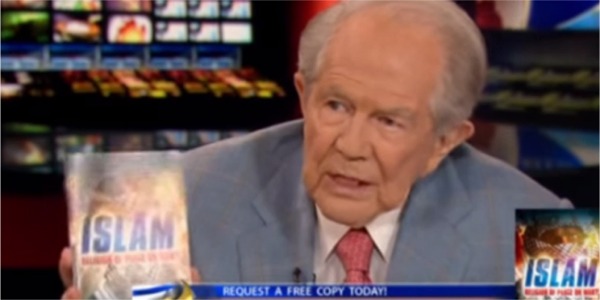 Our good friend, Pat Robertson, has a nifty new book he wants to give you free-of-charge. It is called, "Islam: Religion of Peace or War?"
Here's Pat promoting the book:
Now, I must maintain my pledge to not bring God's wrath upon America. Therefore, I will not comment on the inanity of this clip. Instead, I want to congratulate Pat for choosing an optimistic outlook on beheadings.
By suggesting that beheadings just might be "the best thing that ever happened to the world," Robertson is looking on the bright side. Truly, only a person inspired by God wouldn't forget to laugh and smile and dance and sing when life seems jolly rotten. If only there was a song…
Thanks Pat! You are truly inspirational.
Subscribe to Richard's New Full: RSS Feed
Top photo is a screen capture from rightwingwatch.org YouTube video.