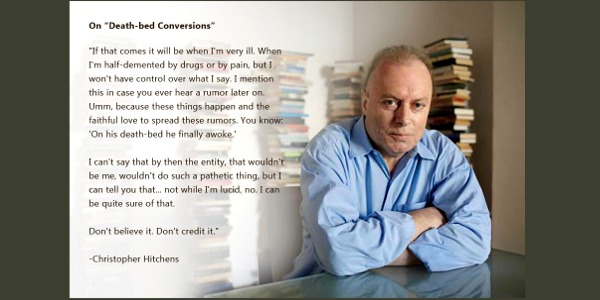 Knowing he was facing death, it seemed Christopher Hitchens scheduled more speaking engagements than he did while healthy. During these talks, Hitch would prognosticate that there would be rumors of his "deathbed conversion."
Those who were with Hitchens when he died, made it clear that there was no such last minute salvation plea. Furthermore, any speculation of the contrary should have been squelched when his widow, Carol Blue, made it clear in interviews that the subject of God was not even discussed leading up to his death. Here's one such interview she did with Charlie Rose where she makes this clear:
Regardless of these little things called facts, a man going by the name Don Goembel, included this statement in a letter to Illinois' Dispatch/Argus:
Death, on the other hand, affects everyone! Christopher Hitchens, a notorious atheist, discovered God on Dec. 15, 2011 — the day he died.
This is quite laughable, but if history is any indicator, this hoax will flourish and will eventually make its way into sermons (if it hasn't already).
Among others, this same falsehood was said of Voltaire, David Hume, Thomas Paine, Robert Ingersoll, and Charles Darwin. I'm sure Hitchens would be honored to be in such good company, and he truly deserves to be.
My recent posts about Christopher Hitchens:
Richard Dawkins and the Last Interview of Christopher Hitchens
Remembering Christopher Hitchens on Hitchens' Day
Subscribe to Richard's New Full: RSS Feed