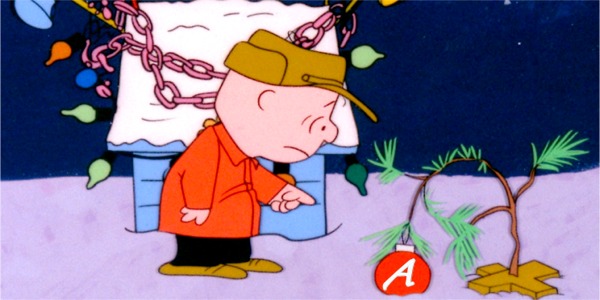 I love Christmas. I loved it as a kid, and even more as a parent. I loved it as a Christian, and even more as an atheist. Nonetheless, I completely understand that others don't agree with me.
Perhaps one of the best arguments against atheists celebrating Christmas, has been made by my friend, Tom Flynn.  If you don't know Tom, he is, among other things, the Executive Director of The Council for Secular Humanism and the author of the book, The Trouble with Christmas. He knows all the "pagan" and "secular" arguments very well, but he still isn't buying it. He proudly tells his friends that he will be in his office on December 25, and yearly, I keep meaning to call him. However, I get distracted playing in boxes and wrapping paper.
Based on all of that, part of my annual Christmas festivities has been throwing Tom some friendly jabs across the internets. Around the time I was writing about the "Turncoat at Starbucks Has Ruined Our War on Christmas," I joked in some private emails that, to do my part in the war on Christmas, I tell the Starbucks barista that my name is "Tom Flynn." Tom's response was, "Ho! Ho! Ho! No! No! No!"
While I entirely respect Tom's view, it is comforting to know I am not alone. Louise Ridley has written a piece for the Huffington Post which highlights how many famous atheist authors and scientists celebrate Christmas. It is a pretty good read, and includes the likes of Richard Dawkins, Philip Pullman, Robin Ince, and A.C. Grayling.
I think Tim Minchin's, "White Wine In The Sun," sums up the beauty of Christmas better than anyone. I'm sure you've heard it, and I have dozens of times. Not once have I done so and been able to keep from tearing up.
For me, Christmas is about family. It is about Rudolph's Hermey Dentist, Charlie Brown, and the Misers: Heat and Snow. I love Christmas the way Doctor Who and Harry Potter love Christmas. And while I have a big problem with a baby being born from a virgin who was destined to become a human sacrifice, I have no difficulty with the message, "Peace on Earth and goodwill toward man."
Happy Holidays!