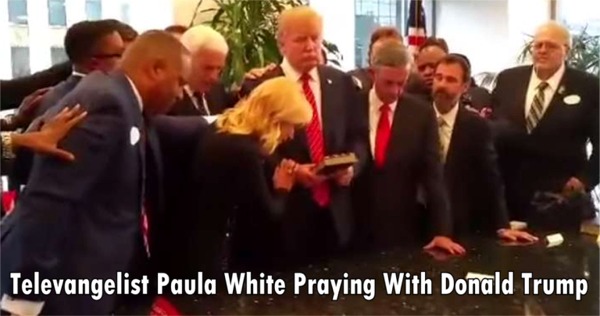 Last week I told you that Focus on the Family's, James Dobson endorsed Trump for the Presidency.
Now, with the disclaimer, "Only the Lord knows the condition of a person's heart," Dobson has doubled down on his claim that Trump has been born again.  He says that he doesn't know the details, but he heard that televangelist, Paula White, who has "known Trump for years," prayed with The Donald personally and "led him to Christ."
If you don't know, White is the three-time married pastor of Apopka, Flordia's 10,000 member mega-church, New Destiny Christian Center, who was busted coming out of a hotel in Rome with televangelist Benny Hinn. So, take that as you will.
Borrowing from
Duck Dynasty's Phil Robertson
, Dobson concludes his message by making excuses for Trump's erratic, and not-so-Christian behavior. He says:
If anything, this man is a baby Christian who doesn't have a clue about how believers think, talk and act.  All I can tell you is that we have only two choices, Hillary or Donald.  Hillary scares me to death.  And, if Christians stay home because he isn't a better candidate, Hillary will run the world for perhaps eight years.  The very thought of that haunts my nights and days.  One thing is sure:  we need to be in prayer for our nation at this time of crisis.
And isn't that what it's really about?
Follow Richard: Twitter, Facebook, RSS, Newsletter
Photo Credit: YouTube Screen Capture