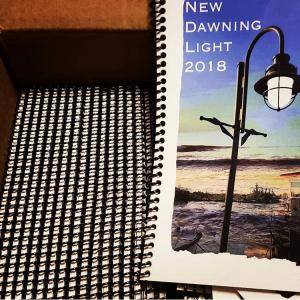 Yesterday began the Advent season. I have the pleasure this year of contributing to an Advent tradition, the New Dawning Light journal. Some of the other contributors this year are Onleilove Alston, Shawn Casselberry, Corey Pigg, Jose Humphreys, Britney Winn Lee, Bruce Reyes-Chow, Hugh Hollowell, and Shawn Casselberry. The journal is an initiative of Walking Tall Wilmington (WTW) –  a North Carolina organization that exists to build interpersonal relationships with individuals experiencing poverty. In addition to gathering for weekly lunches, hosting a community garden, and meeting tangible needs such as transportation, identification cards, money for medication, and sleeping bags, WTW offers copies of the New Dawning Light journal to those experiencing poverty to help them explore their faith in a safe and sacred way. 
When the Risk Of Hope Is Too Much
Contemplation. Preparation. Anticipation.
During the four weeks of Advent, these are the words that permeate so many of our reflections and conversations. We are celebrating the birth of Jesus of Nazareth and we are anticipating His second coming.

Particularly in the West, there is this assumption that people don't regularly exercise these muscles – that the many distractions of our lives have prevented us from doing a deep dive into the practices of
contemplation and anticipation. There's a presumption that we need to be taught what it is too long for what was and what will be.
This idea goes as far back as the 1930's when Dietrich Bonhoeffer wrote:
"Celebrating Advent means being able to wait. Waiting is an art that our impatient age has forgotten. It wants to break open the ripe fruit when it has hardly finished planting the shoot. But . . . whoever does not know the austere blessedness of waiting — that is, of hopefully doing without — will never experience the full blessing of fulfillment. Those who do not know how it feels to struggle anxiously with the deepest questions of life, of their life, and to patiently look forward with anticipation until the truth is revealed, cannot even dream of the splendor of the moment in which clarity is illuminated."
This is true for many, but there are also those of us that that are uniquely familiar with not only these practices, but with its more intense and pained sibling – yearning. To yearn is to "have an intense feeling of longing for something, typically something that one has lost or been separated from."
While we're all in a constant state of growth, there are things that the Church is regularly teaching about anticipation that simply do not work for me. My entire life has been a lesson in yearning. Childhood abuse and abandonment, broken homes, failed relationships, and persistent financial struggles mean that I have, seemingly always, been in a state of yearning for things that have been lost or never attained.
We can yearn for so many things: relationships, belongings, memories, and homes. Some of us have known suffering so persistent that others cannot imagine its weight – a weight so great that allowing oneself anything resembling yearning is always accompanied by grief. Some of us cannot bear to long for something again. Some are not ready for a season of anticipation. The risk of hope is too much.
It's okay to not be ready to hope. It's okay even to despair.
Struggling to hope can invite its own unique guilt. This serves no one and it wears on the spirit. There's a freedom in accepting the seasons, however long they may be, where hope is too great a demand. Those of us that are strong enough can carry the burden of hope for one another and we can all take comfort in this truth:
At Advent, we are looking to a promise already fulfilled. It may be a season poised for reflection but it does not require our hope or our preparation.
It simply is. Christ simply is.
We are not lost or separated. His promise endures.
Visit here if you'd like to follow along with the journal this season and here to learn more about the work of Walking Tall Wilmington and how you can support their community.