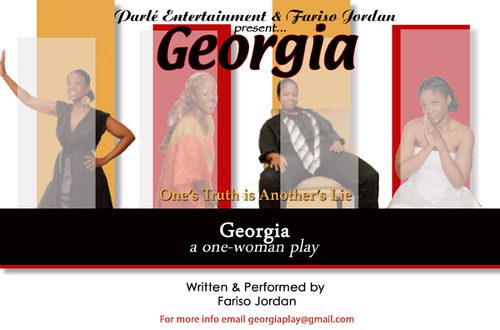 For this week's Camels With Hammers Show I interviewed the playwright and actress Fariso Jordan about her one woman play Georgia which examines the theme of rape within committed relationships. Full disclosure: Fariso is one of my former students.
I have not yet seen the play but I read the script and was impressed with its nuance, subtlety and sensitivity dealing with various complex ethical, psychological, religious, and social issues. She lets characters from diverse points of view speak in authentic ways and successfully conveys a great deal about her own thinking without becoming didactic and browbeating the audience. You can see her perform Georgia live over the next two weeks in New York City at Stage Left Studio (214 West 30th Street, between 7th and 8th avenues). You can get the (very affordable) tickets for the show here. She has already taken her show on the road in the past and you can reach out to her to bring her to your college or your city by contacting Parlé Entertainment at 646.262.6026.
Below, is a brief documentary she made as a trailer for her show, followed by my interview with her from this morning and then a couple of short clips of her playing the characters from the play.
Your Thoughts?