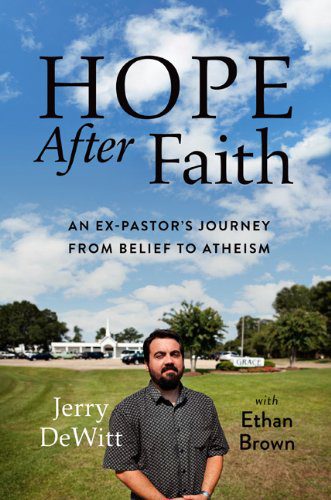 I am delighted to announce that Jerry DeWitt will be my first guest for my summer revival of The Camels With Hammers Show. [UPDATE: The show has now happened and can be viewed in its entirety here]. We can watch us talk live using this link tomorrow, Sunday June 16, at roughly 3pm to roughly 4pm Eastern time. Below is Jerry DeWitt's fantastic sermon at the 2013 American Atheists convention that I wrote about in my post, Preacher or Parodist? Jerry DeWitt's Inspired Self-Deconstruction and Self-Affirmation.
I have seen Jerry preach live twice, once at each the 2012 and 2013 American Atheist conventions. And both times I left with my head swimming with thoughts that I am looking to run by him tomorrow. (Here was my response to my first experience of Jerry). Jerry was the first "graduate" of the Clergy Project, a confidential support group for closeted clergy who have stopped believing and who are working through what lies ahead for them. You can pre-order his book Hope after Faith: An Ex-Pastor's Journey from Belief to Atheism
, which will be available June 25. And you can help tell Jerry's story by contributing to the fundraiser by the documentary crew chronicling Jerry's journey to create a secular ministry to make "The Outcast of Beauregard Parish". As part of beginning that secular ministry, Jerry will be giving what he's calling "Louisiana's first secular service" a week from Sunday. If you are anywhere in range, I highly recommend you make it.
Below check out the trailer for the documentary being made and consider donating here:
Finally, Jerry's first American Atheists convention sermon, in 2012, which initially blew my mind is below:
Your Thoughts?