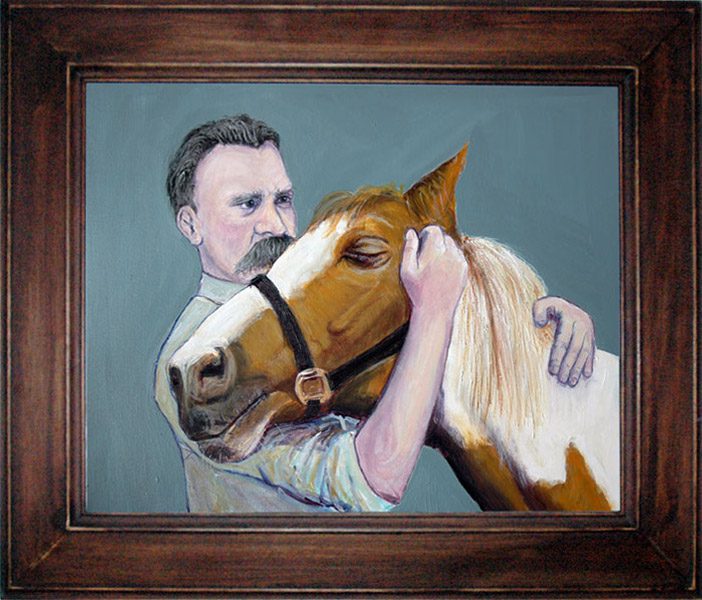 You can buy this painting itself or a print of it here.
Here's the description:
Nietzsche and the Horse

Friedrich Nietzsche was a hugely influential German philosopher. Much misunderstood and misrepresented, he is perhaps best known for his notion of the Will to Power.

I have painted him embracing a horse, a reference to the event which is generally considered to be the point of his mental breakdown.

From Wikipedia:

On January 3, 1889, Nietzsche suffered a mental collapse. Two policemen approached him after he caused a public disturbance in the streets of Turin. What actually happened remains unknown, but an often-repeated tale states that Nietzsche witnessed the whipping of a horse at the other end of the Piazza Carlo Alberto, ran to the horse, threw his arms up around its neck to protect the horse, and then collapsed to the ground.
He also has a most amusing portrait of Schopenhauer with one of his pet poodles. Another of Schrödinger with cat and a series on "Corporate Fight Club" that gave me a chuckle. I love "A Moral Compass", which is macabre and dramatic. Finally if you're one of those (like my ex-girlfriend was) who really digs the visuals of anatomically correct hearts where people traditionally use the heart symbol, there is the Elvis Presley song lyric, "take my heart take my whole life too", rendered like this.
He also has an entire tumblr meming Nietzsche's Thus Spoke Zarathustra
as cat pictures. Like this one about the lion, from the "Three Metamorphoses" section, that I took the camel image from for the name of my blog: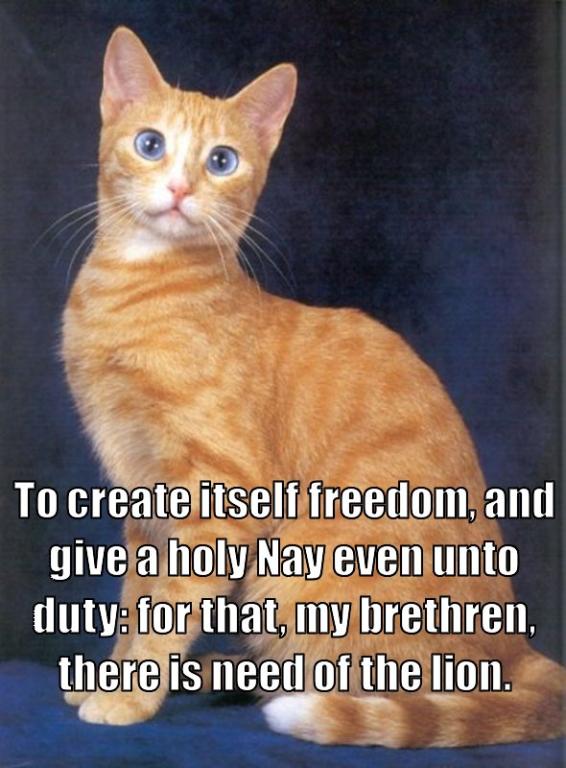 Your Thoughts?