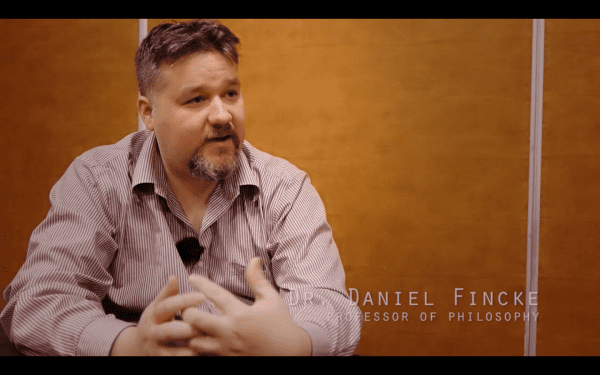 You know that feeling when you're watching a show and people are saying things about a topic you have strong, informed opinions about and you just wish you could jump in and fill in the missing pieces of what they're saying, or maybe shade what they're saying with the nuances you're passionate about and which are usually overlooked? I just was screening Sylvia Broeckx's new documentary Hug An Atheist and had that longing to jump in. And then, lo and behold, there I was on screen jumping in! And I was saying literally exactly the things that had been going through my head and which I wanted to add to the discussion as I watched up to that point. And that was a really gratifying feeling.
Sylvia did an extraordinary job distilling an hour of my sprawling, complex, extemporaneous philosophical argumentation into a relatively crisp 4 minutes and 55 seconds that captures nearly all the essential moves of a multi-level argument that I have spent years honing. I am only in two, relatively long and uninterrupted segments; one that runs from the 5 minute point to 6:40 and the other that runs from 11:45 all the way to the 15 minute mark of the film. This worked great because I was allowed enough runway and uninterrupted time to really get a substantive and complete creative philosophical account of ethics that I'm passionate about, and which is idiosyncratic to me, off the ground.
And, also gratefully, my arguments are slotted seamlessly into the middle of an almost 14 minute long sequence on how atheists think about morality and live morally without God. Many others fill out points I do not have room to talk about and expand on some of the things I would have wanted to say in ways better than I would have said them. I was particularly delighted to see that right after my segment makes it across the goal line to the culmination point that I was building up to (which I was desperately hoping would not wind up on the cutting room floor), I am followed up by my incredibly eloquent friend James Croft providing a special, surprising, and inspiring variation on that same key point.
So I am really relieved, impressed, and grateful to see Sylvia's editing skill and the care she manifestly took to understand my argument, preserve all its most integral steps, and essentially collaborate with me in expressing my thinking concisely, clearly, and thoroughly within the constraints and possibilities of the documentary medium. Hopefully this all amounts to me being persuasive! But if it turns out that I'm not, that's my fault. There's only so much an editor can do with the raw material one gives her and it would be hard to see how she could get much more out of what I gave her.
Seeing the film brings full circle the wonderful experience I had working with Sylvia and her husband and cinematographer Niels Puttemans. They are truly delightful, cheery, funny, talented people. (And their ten year anniversary is today! Happy anniversary Sylvia and Niels!) Sylvia indulged me as I took about four hours to answer something like six questions in Manhattan last November. Then after some of the sound for the original interview was corrupted, they made sure to follow up with me and reshoot at the American Atheists convention in Austin, Texas this past April. And everything came out great, even though I accidentally wreaked havoc with the microphones (maybe breaking one). Hanging out with them throughout that convention weekend, I also appointed myself a talent scout (for which I wound up officially credited in the credits!) and hooked them up with a few extra interview subjects.
Below is the film's trailer. If you are interested in seeing it, start spreading the word about its existence. If you know people involved in film festivals and film distribution, let them know you want to see it:
Hug An Atheist premieres in San Francisco as just one of seven atheist films, spanning several genres, at the Atheist Film Festival on Saturday, September 14, 2013 at the Roxie Theater. In my next post I will write a proper review of the film that will be less about navel gazing about my five minutes of it and more about the other 85 minutes and all the articulate and passionate atheists from various walks of life who define what the film is all about. Then I am going to send Sylvia interview questions tomorrow. What should I ask her?
Your Thoughts?