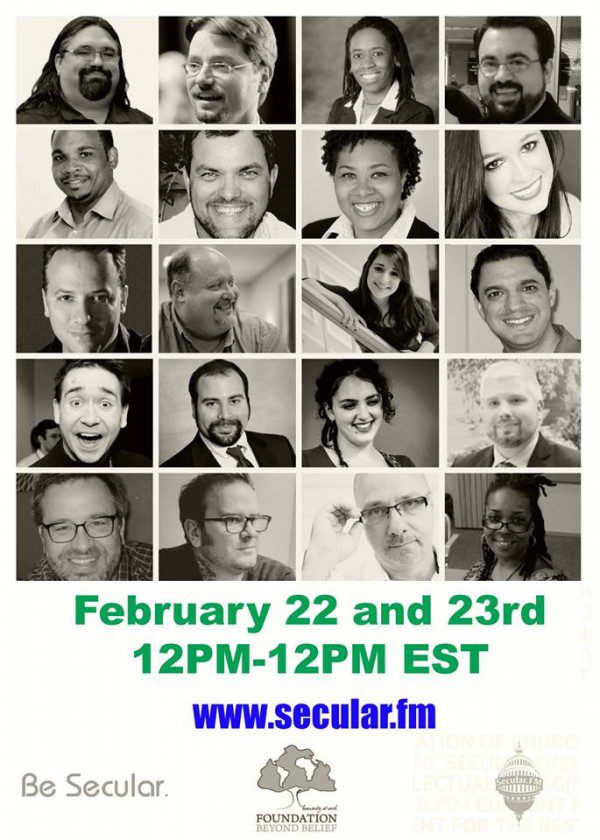 When my new Hammering Out Ethics podcast premieres (any day now), it will be added to the rotation on the website Secular. FM which is going to run like a round the clock radio station that always plays podcasts for the secular community. You can already listen to it at any time so check it out and bookmark it. Secular.FM is related to the Secularite digital magazine, which I am writing monthly exclusive articles for, and the Secularite website where my companion blog to Camels With Hammers called Empowerment Ethics is located.
And this weekend, Be Secular is running a podcast marathon to raise money for the Foundation Beyond Belief on Secular.FM. There's a huge lineup of atheist movement favorites who will be interviewed this weekend:
Saturday February 22nd

1200-1230 Warm-up and Introduction
1230-1300 Dale McGowan
1315-1345 Alix Jules
1400-1430 Neil Wehneman
1445-1515 Dave Muscato
1530-1600 Jaclyn Glenn
1615-1645 Muhammad Syed
1700-1730 Mark Sandlin
1745-1815 Dan Arel
1830-1900 Jessica Ahlquist
1915-1945 JT Eberhard
2000-2030 James Croft
2045-2115 Rob Boston
2130-2200 AJ Johnson
2215-2245 Seth Andrews
2300-2330 Shelley Segal
2315-2345 Nathan Phelps

Sunday February 23rd

0000-0030 D.J. Grothe
0045-0115 Staks Rosch
1445-0215 Eric Bandholz
0230-0300 Emery Emery
0315-0345 David Fitzgerald
0400-0430 Andy Cheadle-Ford
0445-0515 Armin Navabi
0530-0600 Isaac Bigikecomedy Smalls
0615-0645 William Hamby
0700-0730 Brian Fields
0745-0815 Jamila Bey

0830-0900 Jerry DeWitt
0915-0945 Mc Brooks
1000-1030 'Bria' Crutchfield
1045-1115 David Silverman & Paul Loebe
1130-1200 Dale McGowan
Your Thoughts?